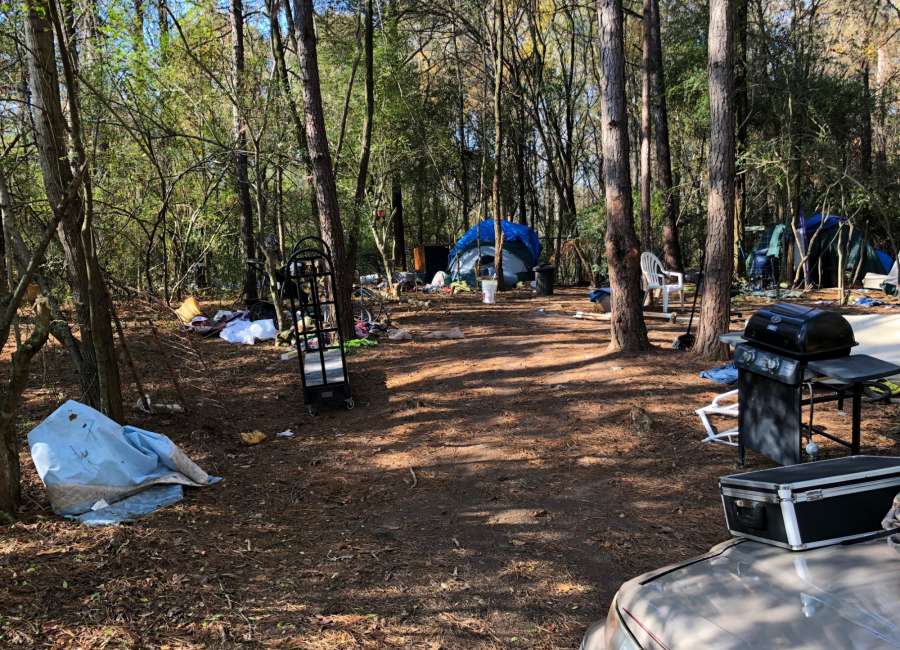 Several homeless camps in unincorporated Coweta were vacated by residents in December, but no one was forcibly removed, according to Coweta officials.

Coweta Code Enforcement Officer Tim Shelnutt said residents were given warning times of several days to a few weeks before they needed to vacate the unauthorized camps.
One camp, located between the Interstate 85 Southbound on-ramp and the interstate itself at Exit 41, was closed on shorter notice by the Georgia Department of Transportation. A couple was still living there when Shelnutt and GDOT crews arrived to clear out the area. The couple were able to call friends who came with a truck to collect their belongings, Shelnutt said.
County officials didn't help the residents of the camps find new places to stay, but Shelnutt said he did reach out to local organization Bridging the Gap, which provides services to local homeless people, and told several of the residents about Bridging the Gap.
"We do care about the people," Shelnutt said. "But we have no control over it and it's got to be cleaned up."
David Gregory of One Roof Outreach, which provides limited short-term lodging in local motels for homeless Cowetans, said he worked with one couple that was living in a camp and got them into a motel. The man's sister had taken the couple to One Roof. The couple then returned to the camp, and One Roof was later able to put them in a motel again, he said. One Roof was able to help the couple with getting back on some medications, which helped their situation, he said.
There are no shelters in Coweta, and few affordable housing options.
Without affordable housing, "this is what we get," Gregory said of homeless camps in the woods.
Gregory said that in the last few months, he has been in discussions with a few people about the possibility of getting a real homeless shelter in Coweta.
"It's time to move in the direction of doing something about it instead of just tearing it down," he said. "They can tear it down, but if the situation is as bad as it seems to be, people will go back somewhere else. They've got to have a place to live."
From 2008 to 2010, at the height of the housing crisis and recession, Coweta County did have a homeless shelter, of sorts. The Belair Family Center, a former personal care home, operated as a shelter until neighborhood complaints led the Coweta County Commissioners to put extensive conditions on the shelter's operation – conditions it was never able to meet.
The facility was on Old Newton Road near Sargent, far from any services. Having residents walking up and down rural roads, occasionally asking children playing in their yards for money, didn't sit well with local residents. The building was declared unsafe by the fire marshal.
A few months later, the county passed new ordinances regulating "transitional housing shelters." Shelters must have a commercial kitchen and food service permit, can only be in multi-family, office/institutional or commercial areas, and can't house anyone on parole or probation, anyone convicted of a felony in the past five years, or anyone convicted of domestic violence or sex crimes.
Before the vote, in July of 2010, former Commissioner Robert Wood asked the commissioners not to implement the strict regulations.
"What you have done in this ordinance is say there will be no shelters in this county because nobody is going to spend the kind of money to put together a shelter," he said at the 2010 meeting. "They've got to use prime land. Prime office facilities, prime commercial facilities ... they're not going to do it. They can't afford it."
The largest camp, referred to as "tent city," was located on property behind the McDonald's on U.S. Highway 29. Part of the property is owned by McDonald's, and part is owned by St. Luke's Episcopal Church in Atlanta. A smaller camp was nearby behind Greenway Amoco, and another camp was along Hwy. 34 near the entrance to Yamaha.
When contacted by code enforcement, McDonald's, Greenway and Yamaha began working to clean up the remains of the camps. But St. Luke's wasn't responsive, according to Shelnutt. He spoke to someone at the church about the issue, then sent a certified letter, as required by the county's ordinance, in early January. Shelnutt said he then called church officials again and said that cleanup needed to move forward. With no action from the church, the county was set to do the cleanup work itself.
A call to St. Luke's by The Newnan Times-Herald was not returned Tuesday.
Coweta Code Enforcement got involved at the request of the Coweta County Sheriff's Office.
Deputies occasionally visit the homeless camps and talk to the residents, said Major Mark Fenninger. Several arrests have been made of people living at the camps with active warrants.
There have also been crimes associated with the homeless camps, according to Fenninger. Most are property crimes including stealing items from vehicles.
Recently, while Shelnutt and deputies were at the camp, a vehicle pulled up. The passenger, who had an active felony warrant, gave false information then fled from deputies, Shelnutt said.
The camp on U.S. Hwy. 29 South was "a particular problem we have been trying to get cleaned up," Fenninger said. Some of the areas have been camps for over a year, he said. Previously there was a homeless camp on the east side of U.S. Hwy. 29 South. It was cleaned up, Fenninger said.
Fenninger said he thinks there are also some problems in the city of Newnan with a homeless camp.