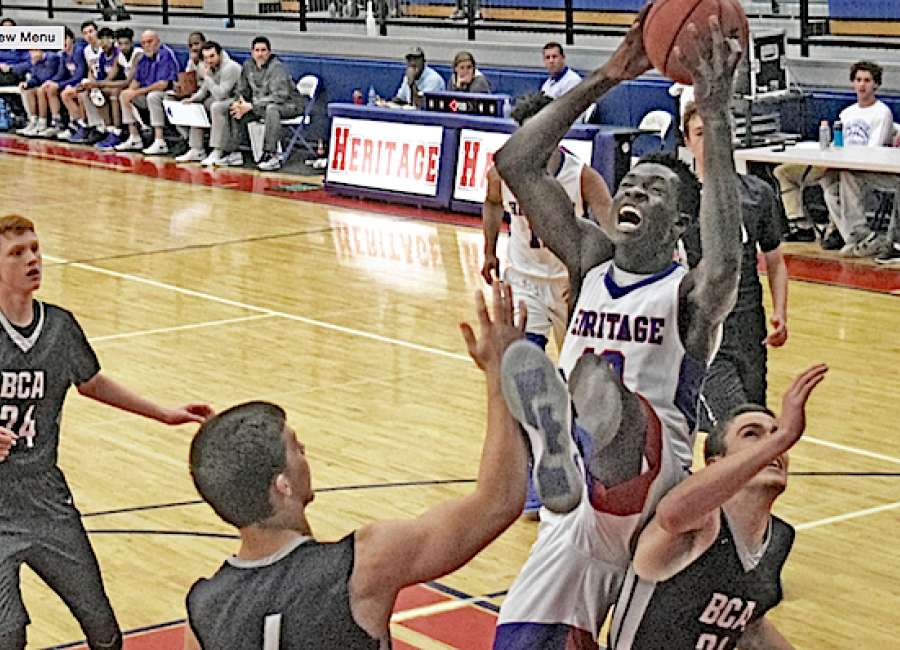 The Heritage School basketball teams had no problems with Bethlehem Christian's hoops teams Tuesday afternoon in GISA Region 1-AAA action at The Heritage Center, getting the home sweep.
Heritage 72, Bethlehem 26 (boys):
The Heritage Hawks sprinted to a 13-0 lead in the first quarter and rolled from there, routing the Bethlehem Christian Knights 72-26 Tuesday for a perfect start to region play.
The Hawks improve to 11-4 overall and 1-0 in the region.
The Hawks led 20-7 at the end of the first quarter and 41-15 at halftime over the overmatched Knights (6-7, 0-3). Heritage head coach Mark Lieberman substituted early and often and soon the Hawks led by by 40 points, 64-24, at the end of the third quarter.
The Hawks played well defensively, holding the Knights to single-digit scoring in each quarter and the home team also shot well from the charity stripe, making eight of 13 free throws in the game. The only blemish for the Hawks Tuesday was poor shooting from a distance, as they missed 11 shots from 3-point range.
Drew Peevy led the Knights with 13 points. 
Ebe Dowuona scored 16 points. Dylan Mclean scored 15 points and had six rebounds, and Jake Canter and Alex Bean chipped in 12 points each. Canter had five assists. Bean grabbed seven rebounds and Anthony Williams snagged 12 rebounds for Heritage, which travels to play region opponent Loganville Christian at 7:30 p.m. Friday.
Heritage 49, Bethlehem 27 (girls):
The Heritage Lady Hawks had balanced scoring and that led to a huge 49-27 blowout of the Bethlehem Christian Lady Knights Tuesday afternoon in region action at The Heritage Center.
The Lady Hawks improved to 4-1 overall and 1-0 in the region with the big win.
Bethlehem was no match for the homestanding Lady Hawks, who led 29-9 at halftime and cruised from there.
"I guess the cold temperature outside had us a bit sluggish at times, but I'm really proud of what the ladies did tonight. They buckled down and fought through the mistakes, played hard and won as a team," said Lady Hawks head coach D.J. Clay.
Carissa Vazquez scored 10 points. Emily Walker added nine points and five rebounds. Olivia Ayers had seven points, seven rebounds and two blocks, and Cate Yancey and Emily Cushing chipped in six points each for Heritage, which plays at Loganville Christian in region action at 6 p.m. Friday.