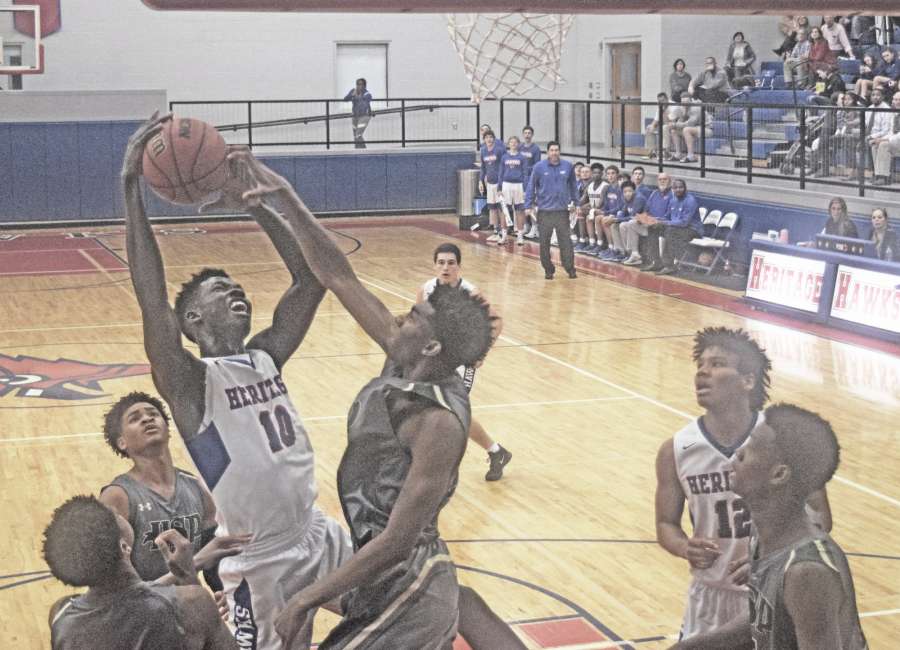 It doesn't happen too often, but the Heritage School basketball teams were swept on their own floor Tuesday night, losing to visiting Holy Spirit Prep in a GISA Region 1-AAA doubleheader.

Holy Spirit 47, Heritage 33 (boys): Going up against the defending GISA state champions, the Heritage Hawks kept it close in the first half.
Heritage trailed 14-12 at the end of the first quarter and 30-24 at the break.
The Hawks kept the game close early by converting on 3-point shots. Jake Canter hit two 3-pointers in the first half.
His second trey gave the Hawks a brief 7-6 lead.
After the Cougars jumped out to a 14-9 lead late in the first quarter, Lance Terry got into the act with his 3-point shot to cut the lead back to two points at 14-12.
Ebe Dowuona's play under the basket led to back-to-back scores for the Hawks, who took a brief 16-14 lead.
Holy Spirit pulled away with four 3-point shots in the second quarter.
The Cougars' Anthony Edwards had the hot hand for Holy Spirit, with three of the long-range jumpers.
Holy Spirit lulled the Hawks' offense to sleep in the third and fourth quarters, allowing Heritage to convert just one 3-pointer from Terry.
The Cougars extended the lead to 38-28 at the end of the third quarter.
Edwards led all scorers with 23 points. Terry finished the game with 11 points for the Hawks.
Holy Spirit 57, Heritage 23 (girls): The Lady Hawks fell behind early and never could get in the offensive groove at home Tuesday night.
Heritage is normally the team that uses tough defense against its opponents, but against Holy Spirit, it was the Lady Cougars' turn to frustrate the Lady Hawks.
Holy Spirit turned several Heritage turnovers into baskets in both halves.
The Lady Cougars opened the game with a 3-point shot and never trailed in the game.
Holy Spirit led 14-5 at the end of the first quarter and extended the lead to 27-10 at the half.
The Lady Hawks managed to hit just four shots from the field in the first half.
Holy Spirit extended the lead to 27-10 at the end of the first half and 42-19 at the end of the third quarter.
Carissa Vasquez attempted to keep Heritage in the game with her 12-point effort.
Heritage won't have too much time to dwell on the loss. Heritage hosts rival Trinity at the Heritage Center Friday night.
The girls start at 6, followed by the boys at 7:30.