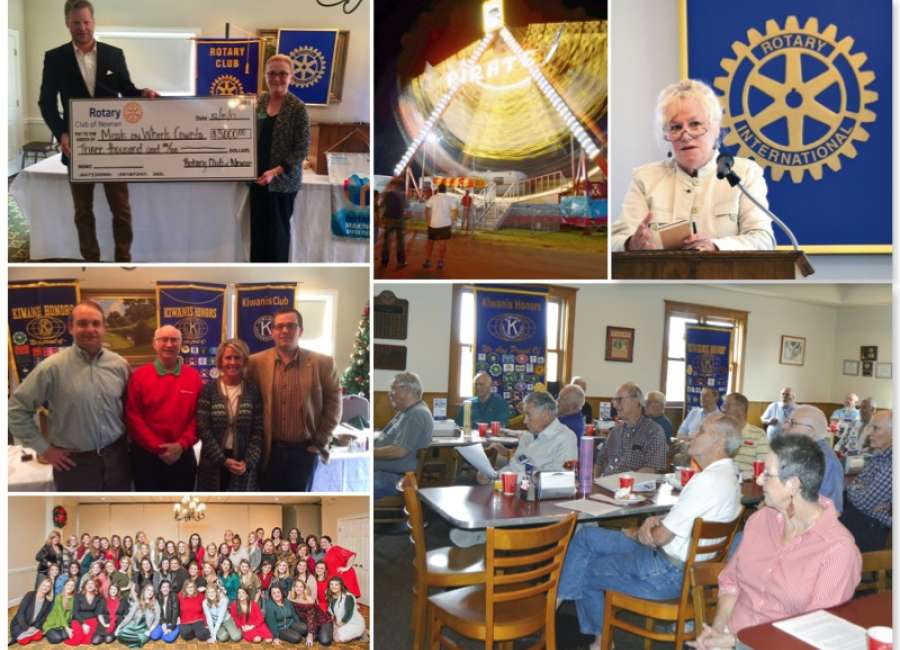 While communities like Coweta County are watching their population grow, many traditional civic clubs are working overtime to keep their membership numbers up.
Last December, the Newnan Lions Club officially disbanded just a few years after the Senoia chapter closed its doors. Longtime club member Dunk Hale said the decision wasn't easy, but the group couldn't see any alternative.
"We only have five active members, and it has been impossible to recruit new and especially younger members," Hale said. "We're all in our mid-70s, so we just looked around and had to say 'Well, that's it.'"
Prior to moving to Coweta, Hale had been a member of the Lions Club since the early 1970s, and said the closure of the Newnan chapter just another sign of the times. Getting younger people involved in service-oriented organizations is a common challenge, Hale said.
"I think churches are also experiencing similar patterns with younger people," he said. "There's just so much families have to do seven days a week, and it's difficult for them to be involved in a club."
The story of the Lions Club in Coweta isn't unique. Across the country, membership numbers in civic clubs are waning. Hale recalled that in the 1960s and '70s, many larger companies encouraged employees to be involved in their community. That meant joining organizations like The Lions Club.
"Many companies would even pay your dues," he said. "I don't think they even encourage community involvement anymore."
Coweta is home to several service organizations including Rotary, The Newnan Junior Service League, and several Kiwanis Clubs. While they maintain healthy membership levels, most would agree the "golden age" of civic clubs has long passed.
Alec Smythe, district governor of Rotary, addressed some of these concerns during a recent meeting of the club in Coweta. Although the club is holding its own for membership – 1.2 million members worldwide – he sees storm clouds on the horizon.
"Every year there are more Georgians, but fewer Rotarians," he said.
He cited a recent internet survey where half of the respondents had never heard of Rotary. The rest believed the club was a group of "rich, old white men having lunch together."
"Pale, male, frail and stale' – that's how many people see us," Smythe said. "But that's not the whole picture and certainly doesn't indicate the service we do."
Groups like Rotary are also competing in a world with more options for busy people.
Opportunities abound for those who want to donate their time and resources, so traditional civic groups must learn to compete in order to survive.
So how will traditional civic clubs make their comeback – or plan their survival?
Michael Brand is a long-time Rotarian from Portland, Oregon. With more than 30 years of civic club experience, he confirms the decline in interest in the traditional clubs, but says there's always a future for those willing to think outside of the box.
"People are still civic-minded and want to serve. They're just doing it in different ways," he said. "Millenials are incredibly philanthropic, but there is a hesitancy towards long-term commitment where people meet on a weekly basis. It's just not their style."
Traditional civic clubs that face dwindling numbers must find new ways to reinvent themselves, he said. Quite often, this means turning the reins over to younger people who have different ideas about helping the community.
Brand cited the emergence of "New Generations," a Portland-based Rotary Club started by millennials who've adopted a rotating schedule rather than weekly lunch meetings. One week will feature a speaker, the next will be a work session. The third week is a service project and the fourth week is open for anything.
"It's a flexible and action-oriented organization, and allows people to get involved in a way that fits their lifestyle," he said. "Rotary has gone through this before when they began admitting women – it changed the nature of the club and brought in a new wave of people."
When Lauren Smith moved to Newnan from South Carolina four years ago, she joined the Newnan Junior Service League as a way to meet new people and learn more about her community.
Now serving as president of the club, Smith attests to the challenges many clubs are facing, including her own.
"Twenty, 30 years ago, the club was a powerhouse. Our numbers were up and we were active constantly," she said. "Five years ago, that wasn't the case any more so we had to figure it out."
Smith said the sole purpose of the club is to help serve the county, but people can do that in a number of places on their own time.
"We asked ourselves 'what can we do to make them connect with us and our mission?'" she said.
In the last few years, the club has made some changes to appeal to more members.
"There's such a demand on women for everything, and they have million hats to wear," Smith said. "We needed to figure out a way to include everyone and fit into their schedules."
The group began building on its networking and social side, moved its meeting location from a basement to the Newnan Country Club, and focused on making fellowship an equal partner with philanthropy.
"That's made a big difference," Smith said. "We have normal attrition like most clubs, but we've gone from 20 or 30 members a few years ago to over 70 today."
The club is celebrating its 91st anniversary this year and Smith said there are currently more than two dozen women who have submitted applications for membership.
"We put in the hard work to rebrand the league and get us back to what we were decades ago," she said. "It's coming full circle."