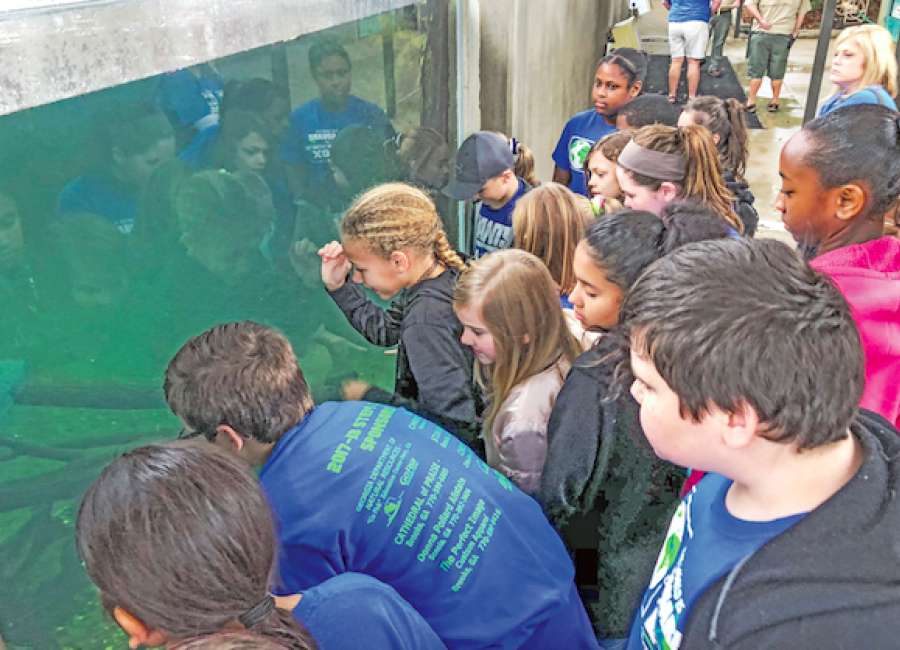 Students participating in Eastside Elementary School's new STEM Club have been busy this year, attending meetings before school, building fish attractors and even raising money to support the club.
STEM Club members recently hopped a charter bus for a trek to Perry, where they visited the Georgia Department of Natural Resources' Go Fish Education Center.
"The children were engaged, they were asking good, intelligent questions and the DNR staff was wonderful," said Eastside P.E. teacher Tim Manley, who sponsors the STEM Club.
Manley, a fishing enthusiast, had made the trip before. He had contacted the DNR as the STEM Club was getting started to learn about the organization's hatchery, conservancy efforts and STEM programs. He also looked to DNR staff for assistance writing a STEM Club curriculum.
As a result, Eastside STEM Club members are learning the basics of aquatic biology (predators, prey, adaptation and niche), ecology, conservancy, lure building (hydrodynamics and triggering methods) and boat and water safety. They meet once a week before school to add to their knowledge, and their first project was to build a man-made habitat, creating fish attractors from donated buckets and plastic pipe.
"We built them so algae will form on them, and the fish will come to eat the algae," club member Alana Arnold said. "That forms a small ecosystem. And then the big fish come to eat the little fish."
Weighed down with concrete, the attractors will be sunk at an as-yet-undetermined location. Manley said underwater cameras will be utilized after a period of time to help the students see the results of their project, which took weeks to finish and were completed around the time club members went on their Christmas break.
"When they're doing them, they don't know how they'll turn out," Manley said. "It'll be nice for them to see."
Meanwhile, they headed to Perry to "Go Fish."
Students raised money for the trip and other STEM Club-related activities and supplies through two fall fundraisers. One involved selling smoked pork and one resulted in Manley having to kiss a goat. Kyleigh Perry and Rylee Wright raised the most money among club members, and Manley said every penny was put to good use.
"Through the BBQ and the Kiss the Goat fundraising, we were able to charter a bus and go down there – we had a blast," Manley said.