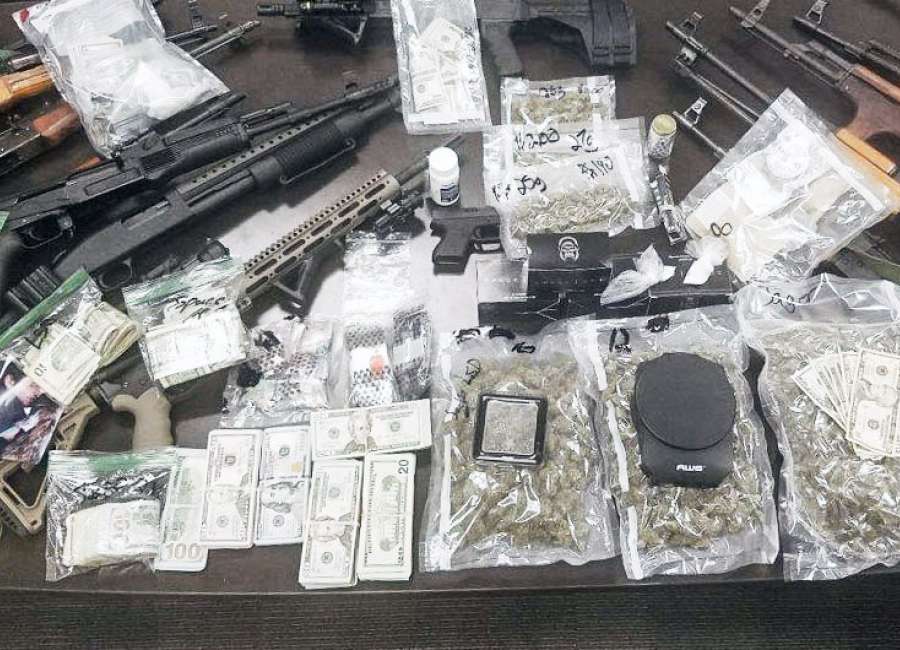 Drugs, guns and more than $55,000 in cash were seized during a search of a Senoia home.

Dallas Dinofer, 25, is facing several felony charges, including narcotics possession with intent to distribute.
Authorities with the Coweta County Sheriff's Office said they received a tip that Dinofer was selling drugs out of a home located at 875 Sid Hunter Road.
On Tuesday, Deputy Ryan Anderson reportedly noticed Dinofer traveling down Sid Hunter Road on the wrong side of the roadway and was able to conduct a traffic stop at the intersections of Hwy. 154 and 54.
Before making contact with Dinofer, investigators said they noticed the driver's side door open and saw Dinofer reach down to where a vape containing THC oil was reportedly later discovered.
Dinofer reportedly told investigators that he does not reside at 875 Sid Hunter Road, although property tax records indicate he is the owner, according to Chief Deputy James Yarbrough.
A search of the vehicle uncovered a full vape cartridge containing suspected THC oil, which matched the cartridge found on the ground by the driver's side door, Yarbrough said.
After placing Dinofer under arrest for possession of THC oil, a Schedule 1 narcotic, investigators arrived at the home on Sid Hunter Road and attempted to talk to the people inside the residence.  
Because of the strong smell of marijuana coming from the residence, investigators obtained a search warrant. Once animal control responded to the scene to secure the two large dogs inside the residence, investigators were able to make entry into the home.
Inside the kitchen, a variety of drugs were reportedly discovered including 50 Xanax bars and several bags of Gummies and Rice Krispie treats containing THC oil.
Inside the only bedroom in the house, more suspected THC oil and THC wax was discovered, along with 17 guns, Yarbrough said.
Coweta County Fire Rescue were summoned to open a gun safe, where three pounds of marijuana were found, along with 158 "Space Ape Vape" containers that stated containing 79 percent THC, investigators said.
Several bags of suspected methamphetamine and cocaine were discovered inside the safe, along with a variety of pills including hydrocodone, clonazolam, oxycodone and oxycontin, according to Yarbrough.
A total of $55,840 in cash was also recovered from the residence.
Dinofer was charged with marijuana possession with intent to distribute, narcotics possession with intent to distribute, and failure to maintain lane.
He was released Wednesday on a $110,557 bond, according to jail reports.