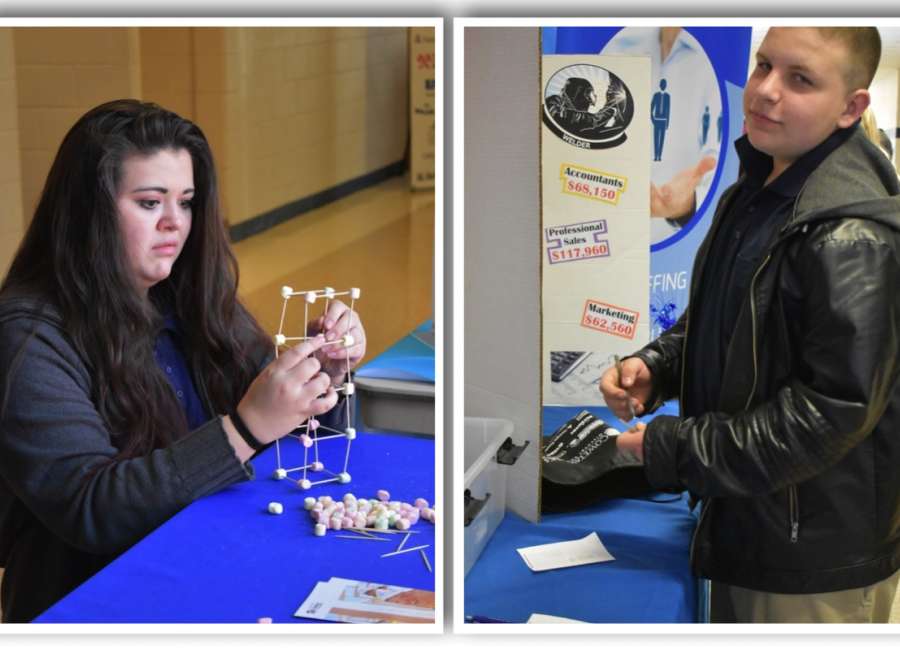 Nearly 2,000 eighth-graders roamed the halls of the Central Educational Center last week, exploring six career "worlds" during the two-day 'Coweta Works' Career Expo.
Coweta County's workforce development efforts expanded this year to include the middle school expo – featuring exhibitors in agriculture, construction, energy and utilities, health care, manufacturing and engineering, media and communications, public safety, and transportation and logistics –  designed to aid students in tailoring their initial high school courses to focus on potential career pathways.
"We had 40 career presenters," said Cynthia Bennett, vice-president of the Newnan-Coweta Chamber of Commerce and co-chair of the Coweta Works Career Expo. "It has been such a community effort."
The expo was the latest in a concentrated effort to expose students to a variety of career opportunities. A partnership between the chamber, the Coweta County Development Authority, the Coweta County School System, CEC, the University of West Georgia and West Georgia Technical College, the event challenged students to participate in interactive displays and to explore career pathways by seeking information from various exhibitors.
Students also were encouraged to choose their top three career choices and research each one, asking questions like what they like most about the career, what they'd find most challenging, what education and training would be required, salaries and pay rates, and what they can do now to prepare themselves for those careers.
They're questions exhibitors like Jessica Jackson was more than prepared to help them answer.
"For me, it's really important for the kids to see how you being a warehouse worker can lead to better opportunities," said Jackson, an interviewer for the staffing company. "You can become a logistics manager, an accountant or go on to a career in sales or marketing. There are a lot of opportunities.
"It's been a lot of fun to work the expo," Jackson said.
Among career presenters at the event were:
Agriculture: Georgia Forestry Commission, Dogwood Veterinary Hospital, the Georgia Department of Agriculture and UGA Extension.
Construction: Four Points Construction, Newnan-Coweta Habitat for Humanity, Progressive Heating and Air Conditioning and Tiernan & Patrylo.
Energy and Utilities: Coweta County Water & Sewerage Authority, Coweta-Fayette EMC, Georgia Power, Newnan Utilities, J&L Backflow and RDJE, Inc.
Health care: Cancer Treatment Centers of America, Healthy Life Chiropractic, Healthsouth Rehabilitation Hospital of Newnan, Kindred Hospice, OrthoAtlanta, Piedmont Newnan and the University of West Georgia.
Manufacturing & Engineering: Bonnell Aluminum, EGO, Elite Comfort Solutions, Kason, MAU Workforce Solutions, West Georgia Technical College, Yokogawa, Winpak, Groov-pin and Grenzebach.
Media & Communications: NuLink, Wow!, 92.5 The Bear and 93.3 The Joy FM.
Public Safety: Coweta County Fire Department, Newnan Fire Department, Coweta County Sheriff's Department and Newnan Police Department.
Transportation & Logistics: PetSmart and West Georgia Technical College.