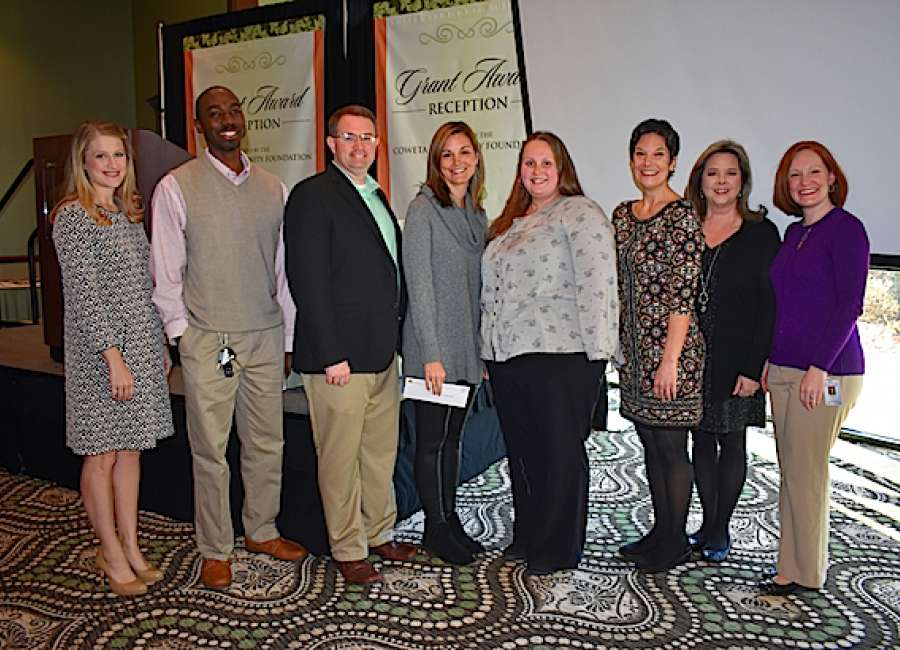 Eight grants totalling $4,500 were awarded to local educators by the Coweta Community Foundation Friday.
The foundation annually presents six $750 grants, but because some requests this cycle were for smaller sums, eight grants were awarded. They included:
 
Newnan Crossing Elementary
Educator: Elizabeth Deganian
Principal: Terri Lassetter
Project: DTT Trial Training Software – Software enabling students with disabilities to learn basic skills through technology.
 
Ruth Hill Elementary School
Educator: Rachel Moore
Principal: Dr. Aaron Corley
Project: Behavior Education Attitude Recovery (BEAR) Social Skills – A program that will provide additional school success skills instruction to first- and second-grade students.
 
Ruth Hill Elementary School
Educator: Anne Graner
Principal: Dr. Aaron Corley
Project: Taking Literacy to the streets – A street-based bookmobile that will travel the Ruth Hill community to deliver books to students during the summer.
 
Northside Elementary School
Educator: Susan Paulk
Principal: Dr. Dana Ballou 
Project: Art education – Providing art supplies for students who are unable to afford them to promote creativity and building of art portfolios. 
 
East Coweta Middle School
Educator: Blaire Booth
Principal: Jeannette Hallam
Project: It's Electric! – Providing Snap Circuit Junior Kits so students can safely explore the field of energy and power through circuit combinations.
 
Madras Middle School
Educator: Christal Wagner
Principal: Lorraine Johnson
Project: Percussion instruments for band – Creating the Madras Eagle Pep Band.
 
Winston Dowdell Academy
Educator: Nekada Lewis
Principal: Kevin Jones
Project: Reinventing the Media Center – Building an updated reading and learning center to prepare students for their next steps in education.
 
CEC – Central Educational Center
Educator: Michael Britt
Principal: Mark Whitlock
Project: Studio Set – Construction of a new studio set for the students to film local television shows.