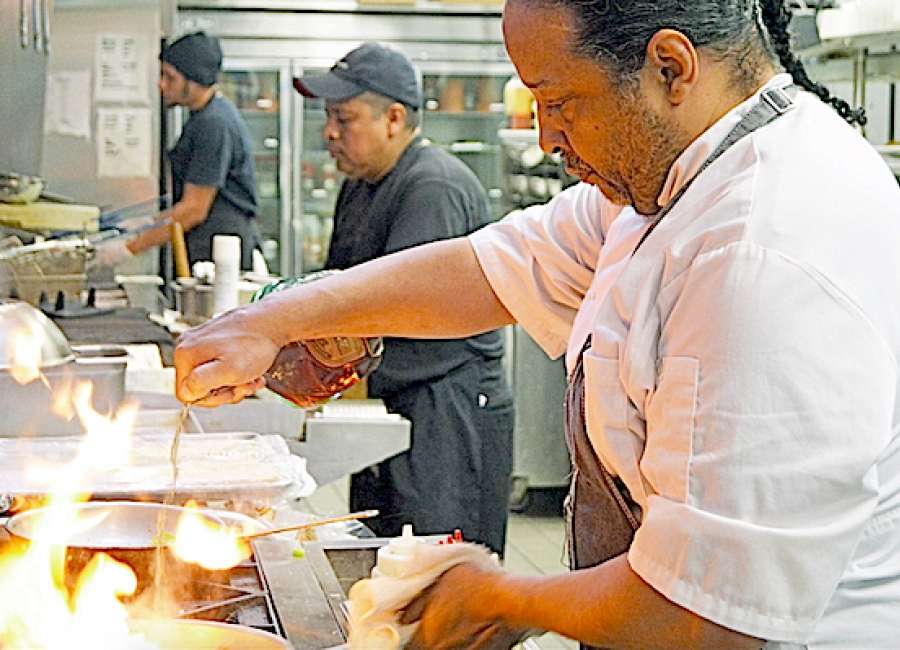 Every day is a learning experience for the cooking staff inside the kitchen at Art & Jakes Sports Bar and Grill off Newnan Crossing Bypass. 

They're studying under one of the top masters in the culinary field – Chef Michael Walters. 
"I'm in the building every single day. They can't get rid of me," Walters joked. "Every dish that comes through (this kitchen) has my name on it … every day I am on my 'A' game." 
Walters is not only the chef of Art & Jakes, but a co-partner in the business too. He defines the restaurant's cuisine as  "sports bar with fine dining flavor." 
Walters and his staff create a variety of dishes from wings and nachos, to cedar plank salmon and stuffed shrimp with crab meat plus burgers, New York Strip steak and blackened lobster, just to name a few. 
Brian Jones, general manager and co-partner of Art & Jakes, said Chef Walters is not only talented but is enthusiastic while in the kitchen.  
"He's very passionate about food," Jones said. "It can be Asian, French or Italian cuisine. Michael has knowledge and background about each one and its distinct flavor. 
"He'll halt an item leaving the kitchen because it doesn't look right, doesn't have the right height or color temperature," Jones added.  
Walters started his culinary career in Washington D.C., washing dishes at the infamous Watergate hotel. The hotel chef took Walters under his wing and taught him to use a grill. 
A short time later, Walters trained and worked under two of the biggest names in the culinary industry: Jose Andres and the late Michel Richard. 
His talent landed him gigs where he cooked for former presidents George H.W. Bush and George W. Bush. He also catered Chelsea Clinton's 21st birthday party, plus numerous events for Hollywood actors. 
Walters eventually moved to New York City and worked for David Burke at the renowned Park Avenue Cafe. 
In 2005, Chef Walters opened his own restaurant in Tampa, Fla. 
Each morning, Walters shopped for the day's ingredients and wrote out the menus for lunch and dinner.
He never duplicated the same meal twice, he said. 
Two years ago, Chef Walters put his culinary skills to the test on national TV, when he appeared on the Food Network show "Beat Bobby Flay." 
Walters did just that, winning the culinary battle against Flay with swordfish. 
"I had just worked with it two nights before the taping," Walters said. "I didn't have to look for any equipment or ingredients … I wasn't worried at all … I knew I was going to beat him because I had so many good teachers in the past. They gave me passion and drive. I feel like I owed it to them to win.
"I've done fine dining all my life," he added. "I've worked a lot of places, but that's what makes the food so good. You take the best of everything you see and learn and incorporate it into your own flavors and dishes." 
It's the same valuable lesson he teaches his staff on a daily basis at Art & Jakes. 
Walters said he shows employees to not only prepare and cook food, but to take pride in every single dish they create and serve. 
"I show them that food has to have height and color … but I also teach the cooks and servers if something looks wrong, to 'get the chef.' That's not acceptable,'" Walters said. 
"This is not the Sun Dial in Atlanta, but why can't it be? It's all about the mindset," he added. "I might be just frying wings, but they're going to be the best wings in Newnan. David Burke told me once food leaves the truck and hits the back door, you treat it with love. Store it, season it, prepare it and cook it correctly."
Jones has also noticed a distinct difference in his kitchen staff. 
"The guys are putting up their dishes to take pictures of them," he said. "They're taking pride in their work, and the guests feel that through their food." 
Walters hopes his passion for cooking will be passed on to his staff, whether they stay at Art & Jakes or not. 
"Cooking has taken me all over the world. I tell the guys, 'It can take you anywhere – from Newnan to Beverly Hills,'" he said.