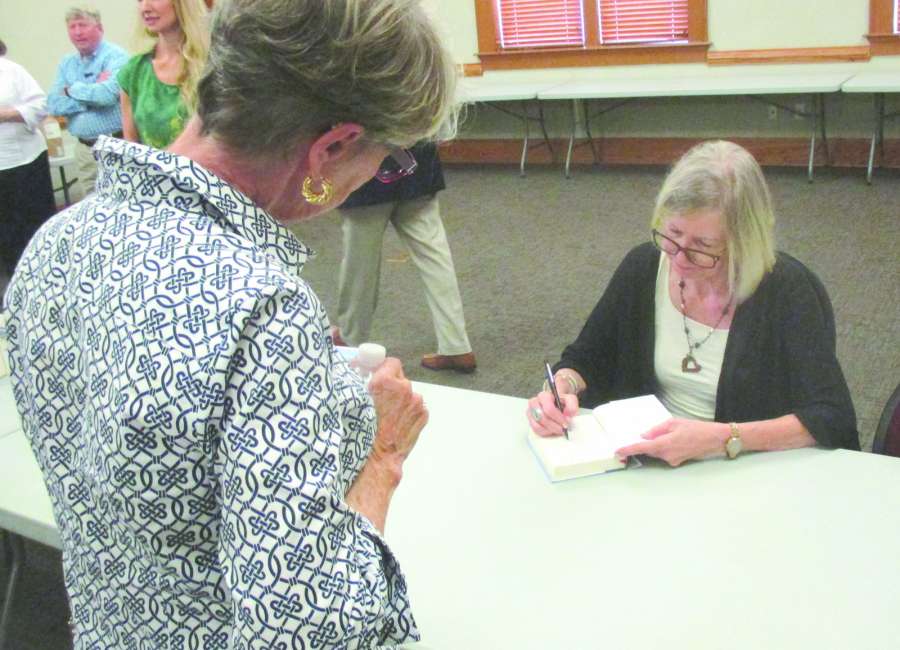 Novelist Cassandra King visited Newnan recently where she reflected on her writing career – and shared memories of her husband, novelist Pat Conroy.

About 75 people gathering in the upstairs meeting room at the Carnegie Library to hear King, who signed books after the program. "Cassandra and Pat Conroy were happily married for 17 years. It was a perfect union of two wonderful storytellers," Lauren Jones of the Newnan Carnegie Library Foundation said in her introduction.
"The Conroys have brought their love of the South to their work," Jones said.
The couple met in 1995. King was living and teaching college in Birmingham. Her first book was coming out.
They met at the refreshment table and immediately hit it off. Later he said, "Why didn't you tell me you were a writer? I thought you were the caterer."
When Conroy died in 2016, his last book, he left behind work that was used to create "A Lowcountry Heart" by King and Nan Talise.
"For almost a year, I've been doing something a tad unusual for a writer …  going around and speaking about another writer's book," King said.
"I've been doing this on and off … talking about Pat, talking about this book ("A Lowcountry Heart) in particular, but also about Pat in general, what I would want people to know about him," she said.
"If you read his books, you knew him," King said. "He was his characters."
She said in each of Conroy's best-selling novels there is a character much like Conroy. Some in his family teased him, saying, "You always had to be the hero."
King said her husband was able "in a very human level" share some of who he was as he wrote fiction. "He did reveal a lot about himself."
Conroy "was very, very funny," King said, noting that she had enjoyed the humor in his books before she ever met him.
The first Conroy novel she read was "The Water is Wide." "It's just hilarious, but it's also sad, very poignant," she reflected.
"He was a typical Irishman," King said. "He went to Ireland and said he met himself coming down the street. The Irish blue ues. He was just so full of blarney all the time. "
She recalled a joke she told: "Do you know why the Lord invented whiskey? To keep the Irish from ruling the world."
Conroy "didn't think that was very funny," she said.
She said Conroy had a big personality and was generally personable. "He could be very combative – that scrappiness. He definitely had that," King said.
"He was never at a loss for words," she added. "He always had this quick comeback."
Conroy attended The Citadel and wrote about his experiences there, often in ways that ruffled school officials.
"He was always picking fights with The Citadel He did have a very complicated relationship with The Citadel," his wife said.
Conroy was not military material and was – in his senior year – a private. "In his senior picture, his cadet uniform is buttoned incorrectly, which I felt was just a metaphor for something," King said.
She noted that "The Lords of Discipline" was at one time banned on campus a Conroy's alma mater, and that the school did not allow the campus to be used for filming the movie.
"Pat's name was mud for several years" at the school, King said.
King remembered one time when her husband was at  loss for words. The couple traveled to Atlanta, and an elderly bellhop helped them with their suitcases. The man remarked that he understood both husband and wife were writers.
"My wife writes pornography," Conroy quipped. "I write Christian fiction."
"Praise God," the old man replied. "I run a Christian radio station, and God promised me he would send me a speaker for today."
"I treasure that time," King said with a smile.
King said she usually cannot come up with a quick response, but she did once at a book festival in Orlando. She was on a panel with other Southern women writers including Lee Smith and Fannie Flagg.
King was asked, "What does it feel like to live with a world class writer?" She replied, "I think he likes it pretty well."
In telling of the experience, she added, "I must have been channeling Pat."
Conroy's love of storytelling was something King loved about him. "He would draw a story out of you. He had a gift for that," she said.
In booksignings with fans, Conroy spent a lot of time talking with fans. The lines ran long – and late – but Conroy often came home with a nugget to be incorporated into a future book.
"He would chat with people. He would always stand up and lean over and shake your hand," she said, often asking where people were from.
"It was amazing to me to witness this," she said.
"He was such a wonderful, generous open-hearted person. He never met a stranger. He'd get that look of mischief on his face, and I knew he was up to something," King said.
"It was a great, great loss to the literary world when we lost him," she reflected. "I get some consolation from knowing that he had such a huge fan base and that he meant to much to so many people."
King was complimentary of Newnan. "What a beautiful town it is. I usually expect that in a town that has a Carnegie Library. They're always beautiful buildings in a beautiful setting," she said.
Jones noted King has another big in progress. "She's writing a memoir cookbook and should have that out next year, we hope," Jones said.
King's Oct. 15 talk was funded through a bequest from the Edgar B. Hollis Testamentary Trust, Jones said.