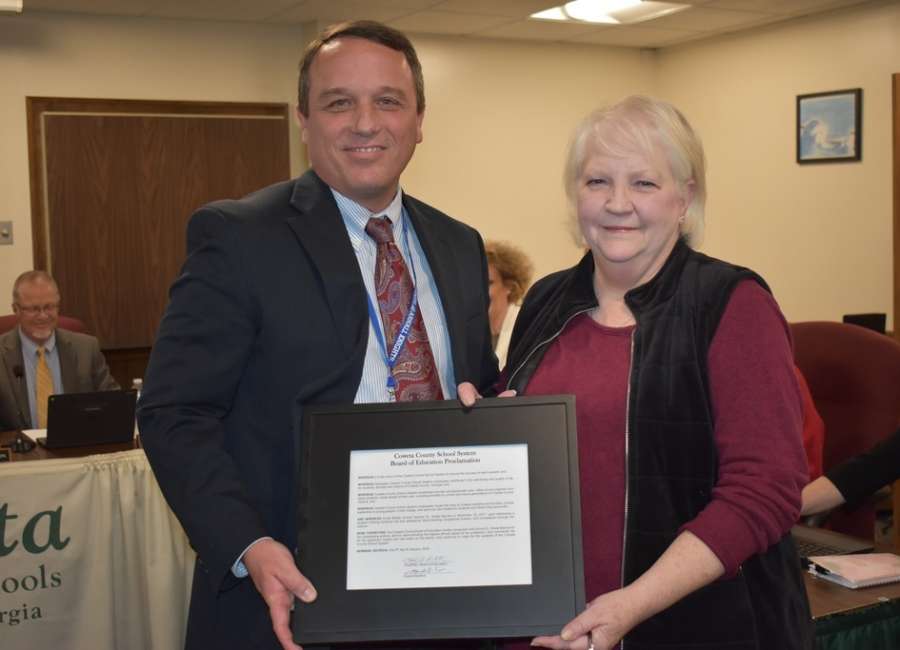 Dr. Sheila Barnes is a lifesaver in the classroom – literally.

Barnes, a science teacher at Arnall Middle School, was recognized by the Coweta County Board of Education Tuesday for performing the Heimlich maneuver on a choking student in November of last year.
"…Upon witnessing a student choking, (Barnes) rendered aid and assistance demonstrating exceptional bravery and compassion through her actions," according to a commendation issued by the board and read aloud at the meeting by Dean Jackson, the school system's public information officer. "…The Coweta County Board of Education hereby recognizes and honors Dr. Sheila Barnes for her outstanding actions, and for demonstrating the highest ethical values of her profession, and commends her for the significant impact she has made on this family, and continues to make for the students of the Coweta County School System."
Arnall Principal Patrick Sullivan said Barnes was doing a "lunch and learn" in her classroom when she noticed a student was choking.
"She performed the Heimlich maneuver not once but twice in order to resuscitate the student," Sullivan said. "The day was saved. I really just wanted to thank Dr. Barnes for her hard work each and every day."
Board members also chose officers for 2018, voting unanimously to keep the same slate as in 2017 after board member Frank Farmer's motion and Winston Dowdell's second.
Officers are:  chairman, Larry Robertson; vice-chairman, Amy Dees; secretary, Superintendent Steve Barker (as required by law); treasurer, Beth Barnett; assistant secretary/treasurer, Keith Chapman; and clerk, Pat Nixon.
In other business, the board:
• Approved mandated Georgia School Boards Association training in 2018, allowing board members to attending training online or in person throughout the year without having to seek board approval for each session.
Board member Linda Menk said she intends to do training online and report back to the board about her experience.
"If that's a good experience and I'm getting what I need, we might want to take a look at curtailing the times we actually need to go," said Menk, who cited in-person training like an annual trip to Savannah as "a burden to taxpayers for all of us to go.
"It may be a way we can trim some money off our budget," she said.
• Set election qualifying fees at no cost to candidates for the board of education, who are not compensated for their work on the board.
• Approved field trips for East Coweta High School's Stomp and Shake Style Cheer Team to the national championship; Evans Middle School's 8th grade French classes to the Quebec City, Canada; Northgate High School's soccer team to Auburn University to be scouted by colleges; and for Elm Street Elementary School's academic team to the national championship.
• Adopted Robert's Rules of Order Newly Revised Eleventh Edition for its 2018 meeting bylaws.