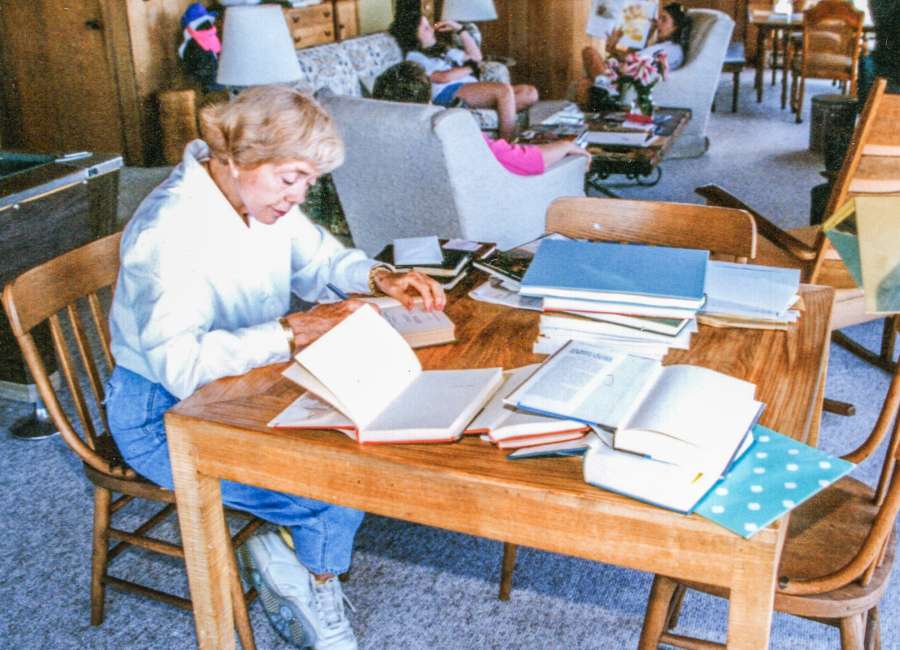 The Newnan Times-Herald's news editor, Winston Skinner, shares his thoughts about his friend, Virginia Caldwell Hibbs, widow of novelist Erskine Caldwell, who died Sunday.
For three decades, Virginia Moffett Caldwell Hibbs, was married to Coweta-born novelist Erskine Caldwell, and for three more she kept careful watch over his legacy.
Virginia Hibbs died Sunday afternoon. As Caldwell's wife, she soothed and encouraged the sometimes temperamental writer and encouraged him to return to the Southern themes that had marked his early successes. After he died in 1987, she worked to get his novels back in print and helped burnish his literary legacy. She was immensely helpful in launching and maintaining the Erskine Caldwell Birthplace and Museum in Moreland.
When she died, she was a member of the Moreland Cultural Alliance board. MCAA oversees tourism activities in Moreland including the Caldwell home and the Hometown Heritage Museum, which includes a tribute to Lewis Grizzard.
I met Virginia in the early 1980s when Caldwell was writer-in-residence at the DeKalb County libraries. I went up to Stone Mountain to hear him speak. Afterward, I introduced myself, and we talked about Coweta County. Caldwell told me they had been down here and had found White Oak Presbyterian Church but could not locate the house where he was born.
When I subsequently sent them copies of an article I wrote about Caldwell's birthplace, Virginia wrote to ask if I could share copies to send to his children. She also expressed an interest in seeing the house restored. Caldwell's father was a Presbyterian minister, and she referred to the small, clapboard farmhouse as "the Little Manse."
At the time Virginia and I corresponded in 1987, Erskine Caldwell was dying. When efforts began to move the house to Moreland and restore it, Virginia was 100 percent on board. She came for Moreland's July 4 celebration in 1990 and signed copies of books by and about Caldwell. In a telephone conversation that May, she told me, "I know that he would have been there."
She returned in 1992 when the museum – still unfinished – was dedicated. By that time, she had married to Ralph Hibbs, a retired physician. Ralph often shared his medical expertise on mission trips, and he wrote a book about his wartime experiences on the Bataan death march.
It was on that trip that Lynn and I and our daughters, Sallie and Jane, became real friends with Ralph and Virginia Hibbs. Virginia and I would talk on the telephone every few months – always  touching on what was going on at the museum and in the Caldwell world, but also talking about our families – sometimes about politics or religion, too.
I remember some very thoughtful reflections from Virginia about the inevitability of aging – and its pluses and minuses.
Virginia had grown up the daughter of a Seventh-Day Adventist pastor. She told me that she and her sister had wondered at times about the life her parents had chosen, reflecting on their financial struggles. Virginia said that at her father's funeral, when a huge number of people came to tell her what a difference her parents had made in their lives, she understood what her father's life and ministry had really meant.
Virginia's stepmother, Promise Moffett, was the daughter of Jethro Kloss, who wrote a natural foods cookbook, "Back to Eden," which has enjoyed something of a revival in recent years.
From time to time, Virginia sent items for the museum's collection. One was a giclee print of a painting she did for Erskine. Virginia had studied art at the Maryland Institute of Art  and at the Farnsworth School of Art in Sarasota, Fla. She illustrated two of Caldwell's books, "Around About America" and "Afternoons in Mid-America" and continued painting  in Oregon, where she moved after Caldwell's death.
She had encouraged Caldwell to write two children's books. She traveled with him for "In Search of Bisco," the only book by Caldwell with a focus on his early days in Coweta County. It was also during their marriage that he wrote "Deep South," which delved into the intricacies and peculiarities of Southern religion.
In 1997, Lynn, Sallie, Jane and I spent several days of a West Coast vacation in Oregon with Ralph and Virginia in Medford, where they made their home, and Brookings, where Ralph had a very pleasant beach house. We all have special memories of that time, and I am thankful I got to know Ralph's son, Jack, who remains a friend today.
Virginia and I have not talked as much in recent years. She called and we talked a long time after the death of her beloved grandson, Brian Erskine Fletcher, in a skiing accident in 2014. Virginia's son, Drew Fletcher, has a website that pays tribute to Erskine Caldwell.
Two of Erskine Caldwell's children, Jan Gooding and Dr. Jay Caldwell, who was kind enough to let me know Virginia had passed away, survive. There also are grandchildren and stepchildren from her marriage to Ralph Hibbs and step-grandchildren and step-great-grandchildren.
Though she lived across the continent, I will miss Virginia Caldwell Hibbs. It always felt as if she were an angel looking over our shoulders as we sought to memorialize Erskine Caldwell in Moreland. Now, I guess she really is.
Today, I think of her insight into life, her commitment to Erskine Caldwell's role in the literary firmament – and most of all, her friendship. I will miss her.