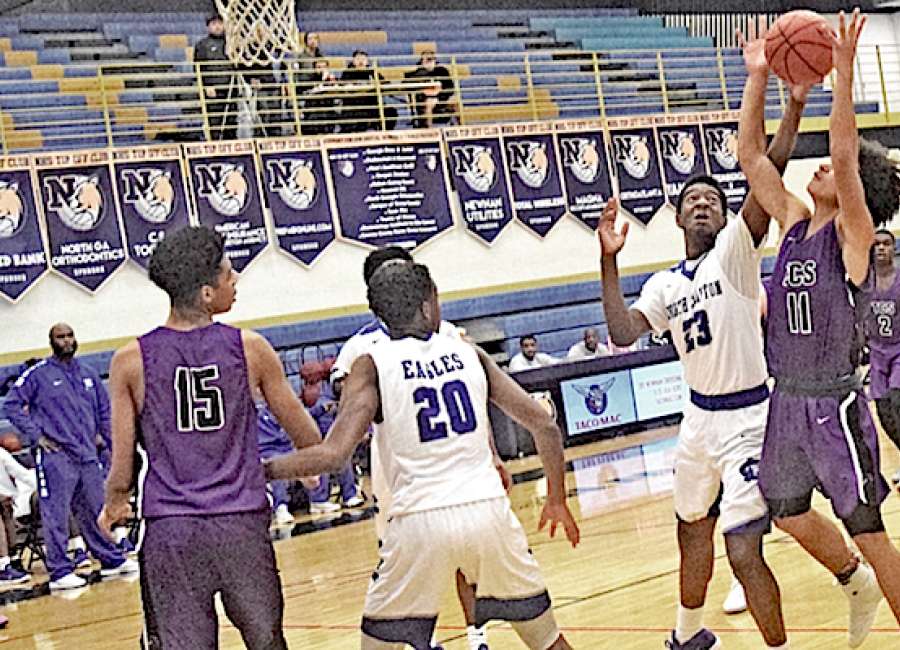 After losing its first game of the season to Redan High School on Wednesday, the Trinity Lions (16-1) got back on track Thursday with a 73-69 victory over North Clayton at the Total Wireless Holiday Classic at Newnan High School.

North Clayton made Trinity work for the victory right down to the final buzzer.
Trinity's Pierce Davis secured the victory with under 10 seconds remaining in the game with two free throws for the final points of the game.
Trinity took a 60-48 lead into the final quarter, but North Clayton whittled away at the lead.
Xavier Valley helped keep the Eagles in the game with his fourth-quarter 3-point shooting. Valley connected on four of the long-range bombs.
With Trinity leading 71-65, North Clayton converted a couple of Lion turnovers into back-to-back baskets.
Layups from Valley and Joseph Wimberly trimmed the Trinity lead to 71-69 with under a minute to go.
Trinity's Erick Valdez hit two baskets for the Lions in the fourth quarter, and the Lions also connected on some clutch free throws.
Jamir Williams hit on five attempts, while Davis connected on both of he attempts to seal the win.
North Clayton led 21-19 at the end of the first quarter, but Trinity worked its way back into the lead with some clutch scoring in the second quarter.
Brade Burnett's free throw tied the game at 31-31 and then Williams gave the Lions their first lead at 32-31 when he hit one of two free throws.
The Lions extended the lead to 38-35 at the half.
Burnett was the scoring catalyst for Trinity in the third quarter connecting on three-straight baskets for the Lions.
His basket early in the period gave Trinity its first double-digit lead at 41-31. 
He added a dunk later in the quarter to increase the lead to 45-31.
Williams finished the game with 24 point for Trinity. Burnett added 10 for the Lions.
Wimberly also finished the game with 24 points for North Clayton. Valley only had two points heading into the fourth quarter for the Eagles, but finished with 14 points after draining the four 3-point shots in the fourth quarter.
Trinity and North Clayton play their final tournament games at Newnan today.
The Lions take on Lovejoy at 10:30 a.m. while North Clayton plays New Manchester at 4:30 this afternoon.
After the tournament, Trinity returns to action Tuesday, Jan. 2 at Holy Spirit Prep in a key GISA Region 1-AAA contest.