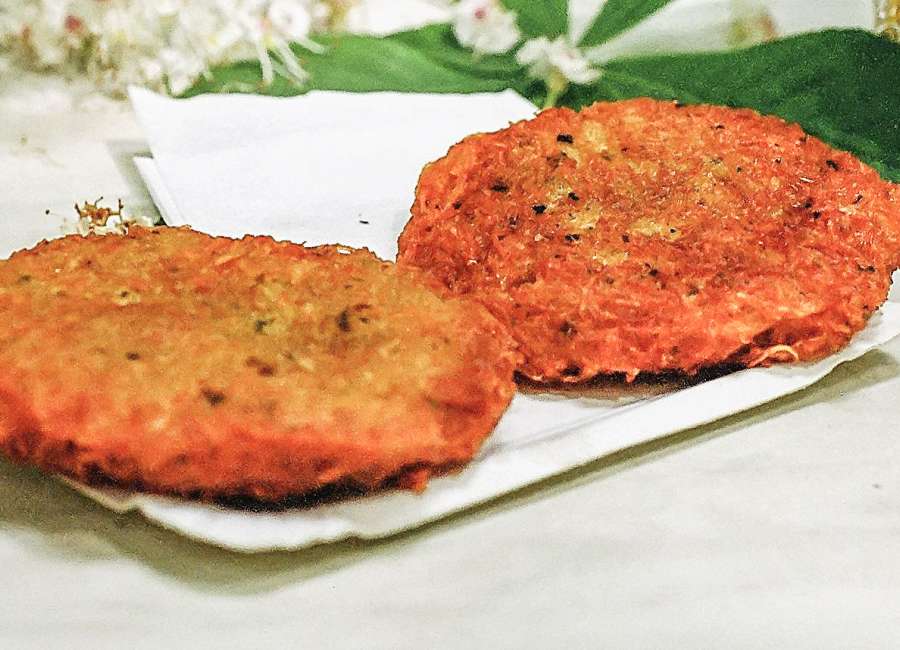 The simple, warm and inviting lights of a Menorah delicately placed near a window during Hanukkah usually catch people's attention first.

The seemingly effortless gesture holds symbolic meaning for those who celebrate the holiday, also aptly named, "The Festival of Lights."
To understand the miracle, one must travel back more than 2,000 years to 165 B.C., when the Syrian-Greek Army conquered Jerusalem and defiled the temple.
Against all odds, a small band of Jews, led by Judah the Maccabee, defeated the Army and drove them out of Jerusalem.
"The Maccabees took back the temple and cleansed it. But they only had enough olive oil in a flask to burn as a light (for the Menorah) for one day," said Don Thomas of Peachtree City. "But a miracle happened. The olive oil burned for eight days. Therefore, we have the miracle of Hanukkah."
The flask of burning oil represented a rededication to the temple, to holiness, purity and godliness, according to Rabbi Yossi Lew, head of Chabad of Peachtree City.
It also shone as a beacon of hope throughout Jerusalem, ideals that still stand today.
"You kindle a flame to dispel darkness. It brings hope," said Lew. "You cannot rest on your laurels. Never sit back and think, 'I've done my job.' As long as you're here, Jew or Gentile, you must bring light and hope to the world.
"The light is lit in the home, because you bring light from the inside to the outside," Lew added. "It is always celebrated in winter to bring light to the early darkness.   
"It means to rededicate oneself to the love of the family, the joy of friendship and the warmth of the community," Thomas said. "We pray for peace, happiness and goodwill throughout the year."
The Hanukkah holiday started Wednesday. At dusk, Jewish families lit one candle on their Menorah. On Thursday, they lit two candles, and they will continue the tradition through Dec. 20.
The Menorah is not the only observance – the Hanukkah celebration continues in the kitchen and dinner table. Oil is used to fry up two popular delicacies: Latkes and sufganiyot, or doughnuts.  
"Eastern European Jews created the latkes. The potato pancakes are a very big deal," Lew said. "Take potatoes, mix it with onions and seasoning and fry them in oil."
"Wednesday evening, around the world, we would expect there were 14 million Jews eating latkes and sufganiyot," Thomas said. "Traditionally, people eat latkes with applesauce or sour cream.  
"We prepared a whole platter of latkes and sent them over to our neighbors, who were Muslims," Thomas said. "My family was happy sharing our potato latkes."
Sufganiyot came from people of the Jewish faith located in the Middle East and Africa, according to Lew.
Hanukkah means 'dedication' in Hebrew. It begins on the 25th day in the month of Kislev, according to the Hebrew calendar.
While Jewish families exchange small gifts during Hanukkah, the holiday has no connection to Christmas, is not considered religious and is not mentioned in the Hebrew Bible, called the "Tanakh," said Thomas.
However, the Christian and Jewish celebrations share common characteristics: Peace, love and goodwill to all.
Hanukkah Recipes
Latkes are made of potatoes and fried. They are eaten to celebrate the miracle of Hanukkah, where a small amount of oil burned in a menorah for eight nights.  
Here are recipes for a few different takes on the Hanukkah favorite.
Chipotle Cheddar Potato Latke
To tone down the heat factor, only use 1 chipotle pepper,1 teaspoon adobo sauce and 1/2 teaspoon crushed red pepper flakes. These can me made ahead and reheated in the oven before you are ready to serve. Just warm at 325 degrees for 10-15 until warm.
Ingredients:
1 oz large baking potato peeled and quartered lengthwise about 10
1/4 onion peeled and quartered
1 clove large garlic peeled
1/4 flour
3/4 cups sharp cheddar cheese shredded
1 egg
coarse salt and pepper
1/2 teaspoon baking powder
1-2 in chipotle chiles minced
1-2 teaspoons adobo sauce
2 teaspoons chili powder
1 teaspoon paprika
1 teaspoon cumin
1 teaspoon oregano
1/2-1 teaspoon crushed red pepper flakes
EVOO or peanut oil for frying
greek yogurt or sour cream for serving
Recipe:
* Using a food processor fitted with a coarse grating disk, grate the potato, garlic and onion; discard any large pieces. Transfer the mixture to a clean dish towel and squeeze out any excess liquid, then transfer to a large bowl.
* Stir in the flour, egg, cheddar cheese, 3/4 tsp. salt, 1/4 tsp. pepper, chipotle chilies, adobo sauce, chili powder, paprika, cumin, oregano, crushed red pepper flakes and baking powder.
* In a medium skillet, heat 1/4 inch oil over medium-high heat until hot but not smoking. Working in 5 to 6 batches, drop 2-tbsp. scoops of batter into the pan about 2 inches apart. Using a spatula, flatten the batter into disks. Cook, turning once, until browned and crisp, about 5 minutes. (Lower the heat if the latkes darken too quickly.) Drain on paper towels.
* serve warm with greek yogurt or sour cream.
(Recipe Courtesy: halfbakedharvest.com)
Apple Cheddar Latkes
This apple and cheese latke is the perfect combination for a latke. Try using both tart and sweet apples, such as Granny Smith and Honey Crisp in the recipe.
Ingredients:
* 4 apples, peeled, cored and halved
* 1 lemon
* 1/2 teaspoon fine-grain sea salt
* 1/4 cup all-purpose flour
* 1/2 teaspoon baking powder
* 3/4 teaspoon freshly ground pepper
* 1 1/4 cup aged sharp cheddar, grated
* 1 large egg
* Vegetable oil
Recipe:
* Using a box grater, coarsely shred the apples, lengthwise, into a medium bowl. Toss the apples with the juice from one lemon and sprinkle in the salt. Allow to stand for 5 minutes.
* Meanwhile whisk together the flour, baking powder and freshly ground pepper. In another small bowl, lightly beat the large egg and set aside.
* After the apples have sat, gather them in the center of a few layers of cheesecloth and squeeze out the excess juice. Place them back in the medium bowl and add the flour mixture and cheese; toss until the apples are evenly coated. Add the beaten egg and mix until completely combined.
* Place a skillet over medium-high heat, and pour in vegetable oil until it reaches 1/2 inch up the sides. Once the oil is hot, for each latke, place a heaping tablespoon of the apple mixture into the pan, slightly flattening the latke with the back of a spoon. Cook the latkes on their first side for about a minute or two or until golden brown. Carefully flip and cook the opposite side for an additional minute. Transfer to paper towels to drain and then place them in a preheated 200˚F oven to keep warm. Repeat the process with the remaining apple mixture. Serve with a dollop of sour cream and a sprinkling of black pepper.
(Recipe Courtesy: acozykitchen.com)
Sufganiyot (Doughnuts)
Ingredients:
* Apricot, red-currant or raspberry jam
* Oil, for deep-frying
* 1 2/3 cups (250 g) flour
* 2 or 3 drops vanilla extract
* A pinch of salt
* 1 whole egg
* 3 Tablespoons sour cream or vegetable oil
* 2 Tablespoons sugar
* 1 egg yolk
* Confectioners sugar to sprinkle on
* 1/4 cup (50 ml) lukewarm milk or water
* 1 teaspoon dried yeast
Recipe:
* Dissolve the yeast in the warm milk or water with 1 teaspoon of sugar and leave for 10 minutes, until it froths.
* Beat the rest of the sugar with the egg and the yolk. Add the sour cream or oil, the salt, vanilla and yeast mixture and beat very well. Fold in the flour gradually and continue beating until you have a soft, smooth, and elastic dough, adding more flour if necessary.
* Knead dough for 5 minutes, sprinkling with a little flour if it is too sticky. Coat the dough with oil by pouring a drop in the bowl and turning the dough in it. Cover the bowl with plastic wrap and leave in a warm place to rise for about 2 hours, or until doubled in bulk.
* Knead the dough again for a few minutes, then roll out on a floured surface with a floured rolling pin to 1/4-inch (1/2-cm) thickness.
* With a pastry cutter, cut into 2-inch (5-cm) rounds. Make a ball out of the scraps so as not to waste them, roll out and cut into rounds.
* Put a teaspoon of jam in the center of a round of dough, brush the rim with a little water to make it sticky and cover with another round. Press the edges together to seal. Continue with the rest of the rounds and arrange them on a floured tray. Leave them to rise for about 30 minutes.
* Heat 1-1/2 inches of oil in a saucepan to medium hot. Drop in the doughnuts, a few at a time. Fry in medium-hot oil for 3-4 minutes with the lid on until brown, then turn and fry the other side for 1 minute more. Drain on paper towels. Serve sprinkled with confectioners' sugar. They are at their best when still warm and fresh.
(RECIPE COURTESY: myjewishlearning.com)
•••