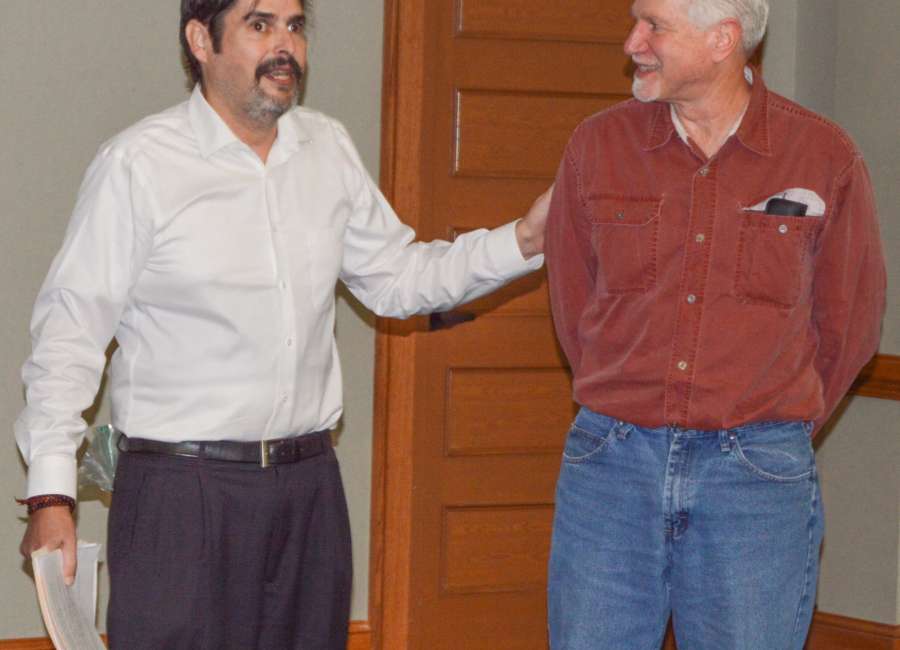 An age-old practice may be the key to feeling healthy and happy.
The simple task of being grateful can change a person's attitude and outlook on life, according to Dr. Louis F. Boynton, a licensed counselor and practitioner at Louis F. Boynton Psychotherapy, LLC.
The act of appreciation was the topic of Dr. Boynton's monthly discussion called, "Gratitude: an Essential Part of a Healthy Life" Tuesday night at the Carnegie Library.
The session was part of a six-part series titled, "Health, Happiness and Harmony," hosted by Dr. Boynton and Dr. Rick Chambers. It is also part of a local community group by the same name.
The Health, Happiness and Harmony series and group aims to help people through the mind, body and spirit.
"We want people to flourish and build healthy practices in life," Boynton explained.
Gratitude is one way to build up self-esteem and stave off some mental disorders, like depression.
"If you build on a practice of gratitude and appreciate what you have … it helps builds a sense of hope," Boynton stated. "The number one thing that points to depression is lack of hope. We try to teach people to have an 'attitude in gratitude' … and treat others as you would treat yourself."
Appreciation also aids in reducing stress and anxiety, which can be especially helpful during the holidays, he added.
Boynton and Chambers teach preventative mental health techniques and basic life skills to keep folks on a peaceful path of mental, physical and emotional harmony. Those skills include changes in eating and sleeping habits.
Too much stress and anxiety can cause harmful, long-term effects on a person's body, Boynton said.
"Research shows it causes changes in the biochemical function in your brain, he explained. "If you're running on all cylinders all the time, you'll have a hard time dealing and processing situations and information. People will have a tendency for excessiveness … if goes on long enough, you could have permanent brain damage.
"But if you build in healthy life practices to deal with stress and anxiety, you can prevent that," Boynton added.
The Health, Happiness and Harmony series will continue in January at the Carnegie Library. The next session is titled, "Healthy, Happy New Year." The date for the discussion has not yet been set.
The sessions are free and open to the public.
Dr. Boynton is the western district representative for the Licensed Professional Counselor Association of Georgia and a clinical supervisor.
He also hosts a weekly radio show called the "Health, Happiness and Harmony Hour" on 99.1 WQEE. The show runs on Wednesdays from 10 a.m. - 11 a.m.
For more information on Dr. Boynkin and the Health, Happiness and Harmony series, visit his website www.flourish2live.org.
Anyone wishing to attend the upcoming discussion on a "Healthy, Happy New Year" or for more information, contact the Carnegie Library at 770-683-1347.