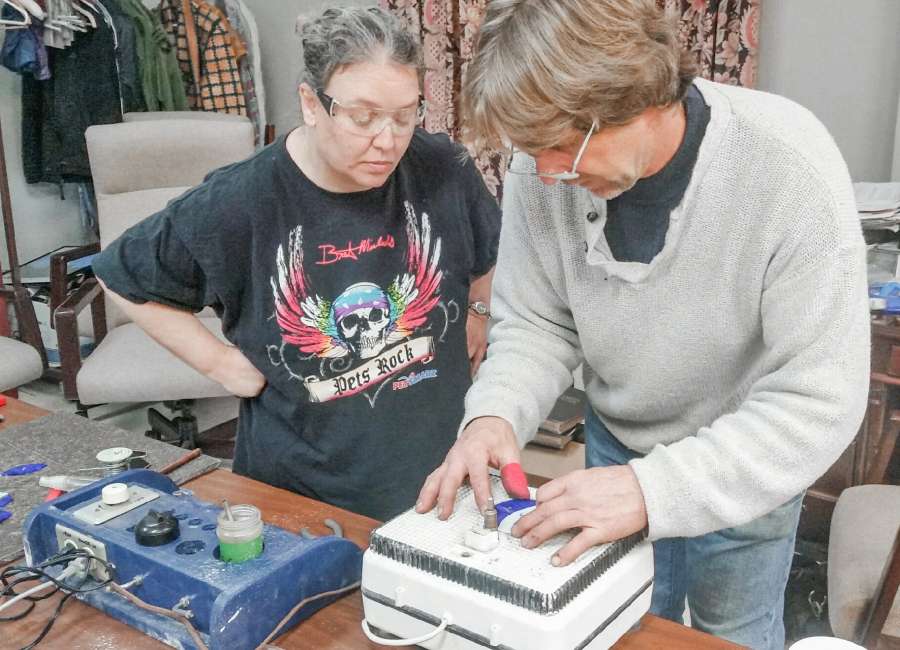 Marge Greer and Melissa Ballard will enjoy the delicate beauty of stained glass glistening off the twinkling lights on their Christmas trees this holiday season.

The women will also bask in the knowledge they crafted the ornaments with their own two hands.
The duo was a part of the stained glass workshop on Thursday at the McRitchie-Hollis museum.
The event, hosted by the Artisans Heritage Guild and the Newnan-Coweta Historical Society, helped guests create Christmas ornaments of every size, shape and color.
Participants learned the history of stained glass before donning smocks  to design, cut, grind, smooth and soder the crystal-like element into an ornament.
"Humans are designed to create things," explained Michael Sebacher, executive director of the Artisans Heritage Guild. "We would create our own food and tools over one thousand years ago. But we don't do it any more … there's power in picturing something in your head, designing it and making it. An hour and a half later, there it is in your hand. That's a powerful thing."
The Artisans Heritage Guild hosted two stained glass workshops in December.
The classes celebrate the holiday season while getting people more involved in Coweta County's burgeoning art scene.
"The idea is to take the knowledge and pass it on," Sebacher said. "If you want to master a skill, learn it, then pass on that knowledge."
The Artisans Heritage Guild regularly holds stained glass workshops, along with classes involving a variety of art media.
For more information, visit www.artisansheritageguild.org.
•••
By Melanie Ruberti
Email: melanie@newnan.com
Facebook: @MelanieNTH