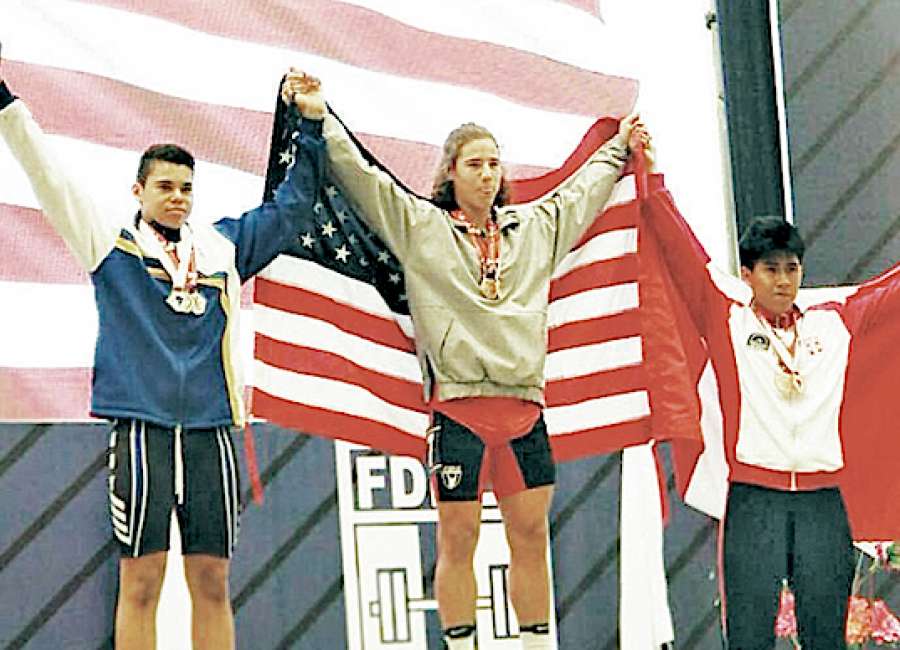 Sports are an integral part of the Goad family dynamic.
Newnan native Robin Goad was into gymnastics, cheerleading and weightlifting in high school and her husband Dean Goad Sr. was big into wrestling, weightlifting and he dabbled in soccer while growing up in the Seattle area.
The two of them met when they were in their 20s at an international weightlifting tournament and moved to Newnan not long after they married.
So it's natural their love of sports would be passed on to their three children: University of West Georgia student Sydney, Newnan High soccer and football player Dean Jr. and and eighth-grade gymnast Ruby Lyn.
"It's part of the kids' genetic makeup to be into sports and to challenge others. It's embedded in their genes," said Robin. "They were constantly in the gym, and they all did gymnastics before they could walk, basically. They were always agile and strong, even when they were kids playing on the monkey bars at the playground."
The Goads have a weight training facility in their basement for their kids and their friends to train any time they can.
"It's super convenient to have the equipment in the basement. That way no one has to have a ride or drive anywhere to train," she said. "If Dean wants to lift at 10 at night, he's able to do it and not have to worry about driving or having his school friends take him to a gym."
Robin said oldest daughter Sydney was into gymnastics and weightlifting in her younger days, and has garnered several accolades in weightlifting during her high school and college years.
"She's now a math major at UWG, and she's taking the fall off to rest," Robin said. "She plans to get back into lifting sometime during the next semester."
Dean Jr. is a sophomore kicker for the Newnan High football team and was on the NHS junior varsity soccer team. While junior Kellen Lynch kicked the field goals for Newnan this fall, Dean's strong soccer leg made him the kickoff specialist after the Cougars scored a field goal or touchdown.
Robin said Dean branched away from gymnastics as he grew up, settling into baseball, football and soccer. Dean is currently in Orlando at a showcase with his travel soccer team.
"I like both soccer and weightlifting the same. The fun thing about weightlifting is pushing yourself to the limit to get the weights up," said Dean, who lifted 288 pounds for first place on the clean and jerk at a recent competition in Peru. "One of the fun things about soccer is that you have teammates you can interact with all the time. It's a really fun sport to play."
Robin, who is a gymnastics coach, said Ruby Lyn is more into gymnastics than weightlifting at this point in her life. 
"Ruby Lyn is a level 10 gymnast right now, which is very good. As far as weightlifting goes, that might be something she does later on," Robin said. "Gymnastics is her passion at this point."