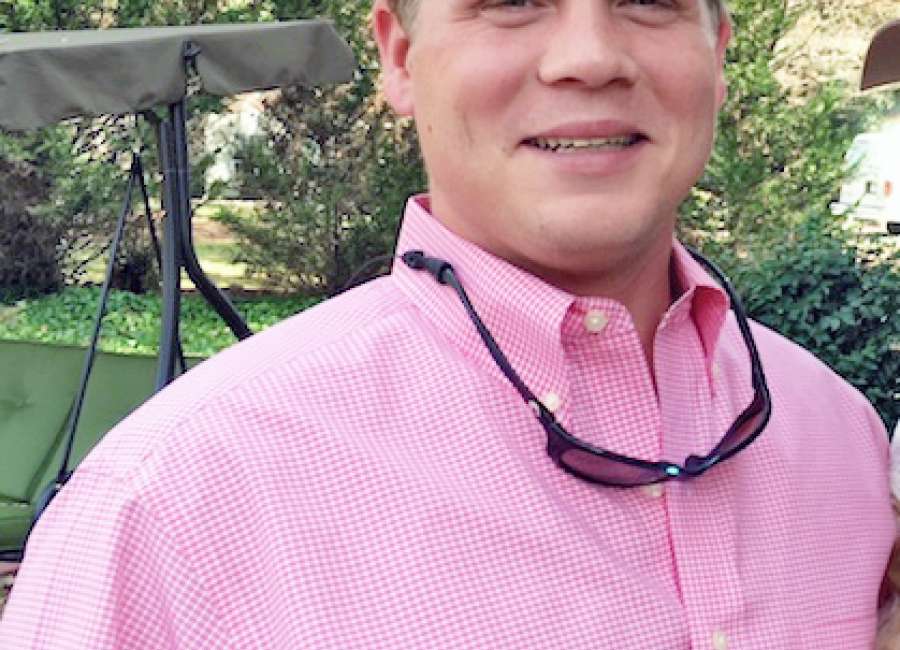 A scholarship fund in memory of a young man whose big smile and caring ways touched many lives has been established with the Coweta Community Foundation.

The Joe Sherwood Memorial Scholarship Fund has been established in honor of Joseph Clay Sherwood, the son of Cindy Sherwood and Mitch and Melinda Sherwood. Joe passed away on May 7 at age 23.
"I was trying to think of some way to honor his memory," Mitch Sherwood said, when he first had the idea to create the fund in memory of Joe.
When Joe was an eighth grader at Arnall Middle School, he and his family were surprised when he was announced as the recipient of the school's first Noble Knight Award. The school mascot is the knight, and the Noble Knight Award was designed to recognize "a student who has wholeheartedly assisted another in a noble and selfless way."
One reason Joe won that award, according to his father, is that he had befriended Ryan Carter, a classmate with cerebral palsy. Joe helped Ryan both physically, sometimes pushing his wheelchair, and socially, enjoying deer hunting with Ryan.
Mitch Sherwood noted that one time, Ryan and Joe were attending a physical education class outside on the track. The boys were jumping over the high jump bar and landing in the foam pit. Ryan wanted to do what they were all doing, so Joe picked him up out of his wheelchair, slung him over his shoulder, ran down to the bar and threw him over it. Ryan was so excited that he asked to do it again, much to the consternation of the teachers. 
After Joe graduated from East Coweta High School, he attended Georgia Southern University.
Joe also suffered from addiction, his father said, noting that "the disease of addiction runs in our family." In May, Joe passed away following an accidental drug overdose. That passing, however, was not the true Joe, according to his father. He noted that his son was an athlete who enjoyed wrestling, football and lacrosse, and he was also someone who never met a stranger.
One of Joe's former teachers was Coweta County's 2015 Teacher of the Year, Martha Milam, who taught him during both his sophomore and junior years of high school. She wrote a blog post about both the joys and the challenges of teaching Joe, whom she described as "charming" and "likable," a student who "smiled big and often."
"Joe's best quality was his genuine personality," she wrote, noting that whether he was happy or sad or excited, those around him knew it. She recalled Joe as a hard worker with "a knack for math and science."
Milam also noted, "My former student, Kiera, told the story of how Joe stayed behind with her and her classmate, Ryan, because their wheelchairs prevented them from joining the rest of the group on a field trip. He made her feel important. He had the self-confidence to stand with Kiera and Ryan instead of going with 'everyone else.' Who has that kind of confidence? Who has the wherewithal to know how meaningful that decision was? (I don't). Joe had that kind of confidence. And because of that, many people in our community are better for knowing him."
Because the Noble Knight Award meant so much to Joe, the Sherwood family is going to present a minimum $1,500 college scholarship each year to the winner of the Noble Knight Award at Arnall Middle School. The funds will be held in trust with the community foundation for the student to receive during his or her senior year of high school as they prepare to continue their education at a technical college or university.
"We are so pleased that the Sherwood family has decided to honor Joe in this way," said Foundation Board Chair Ginger Queener. "Joe Sherwood's wonderful example of service to others will be remembered for many years thanks to this new scholarship fund."
For more information about this scholarship, please contact the Coweta Community Foundation at 770-253-1833 or email info@cowetafoundation.org