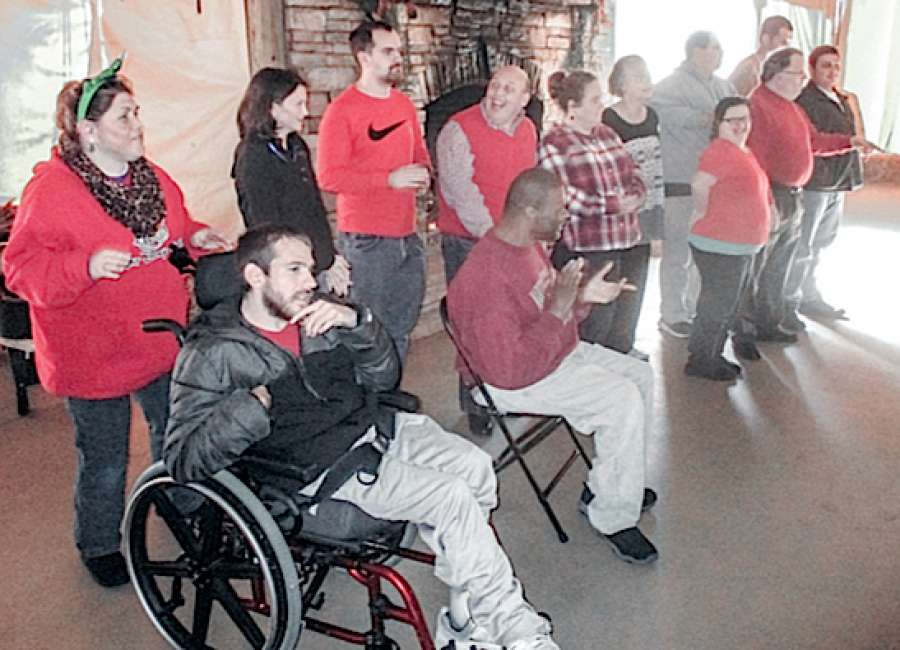 The Rutledge Center's annual Christmas Luncheon featured a heart-warming concert by the Rutledge Choir and the presentation of awards to clients, staff and community supporters.

The annual celebration was held Dec. 11 at the McEntire Pavilion at the Newnan Utilities Cabin on Young Avenue. Rutledge is a nonprofit that provides programs and services to the mentally handicapped.
Mike Barber, president of the Rutledge board, welcomed everyone, referring to the annual dinner as "a very, very special time" and "a very festive time." Approximately 110 people attended the dinner.
"We get to celebrate with our clients and all those who support us," Barber said.
The annual performance by the Rutledge Choir is one regular attendees anticipate from year to year. This year the choir sang "Jingle Bells," "Santa Claus is Coming to Town," "Silent Night," "Rudolph, the Red-Nosed Reindeer" and "We Wish You a Merry Christmas." Choir member Maggie Custodio sang "Mary Did You Know" with the choir backing her.
Bobby Welch, executive director of Rutledge, was honored on the 20th anniversary of his going to work for the nonprofit.
"How fortunate I am to work with this great group of people," Welch said. "Our clients are so involved and supportive. We appreciate them."

Other employees recognized were Lorna Kitchens for 25 years and Amy Dewberry for five years.
The Newnan-Coweta Jaycees were recognized as Community Supporter of the Year. The Jaycees were one of the organizations that sponsored the Powers' Crossroads Country Fair and Arts Festival for decades. After the sale of the Powers' property at the Coweta-Heard county line, the Jaycees distributed their part of the proceeds to local nonprofits, including Rutledge.
Jaycees Mike Barber, Heather Bush and Tommy Hardy were on hand to accept that award.
Rutledge employee Nick Hunt recognized the 2017 Consumer of the Year, Corey Herndon.
"He's always got a smile. All his friends go to him for help for whatever they need," Hunt said of Herndon. "He helps me get through my day."
Herndon, who is president of the Action Club at Rutledge, keeps up with the local news. "He knows everybody in Coweta County," Hunt said.
"He laughs at my jokes, and my jokes are pretty bad," Hunt said. "He helps with his community more than he thinks. He helps out his family more than he thinks."
Client Attendance Awards were presented by Carol Hill. Cora and Lydia Cox, sisters, were recognized for having been clients for 40 years.
Other clients celebrating anniversaries this year were Dexter Harris, 25 years; Jon Barrier, Kristi Boettcher, Michael Laibinis, 15 years; Billy Ray Mashburn, Dwayne Evans, Jimmy Noles, Katie Swanson, 10 years; and Chris Roper, Steven Ferrell, Brandon Arnold, TJ Overton, Cameron Cheatham, five years.
Each client received a personalized gift. The gifts and the meal were funded by Union City Lodge No. 1617, Benevolent and Protective Order of Elks.