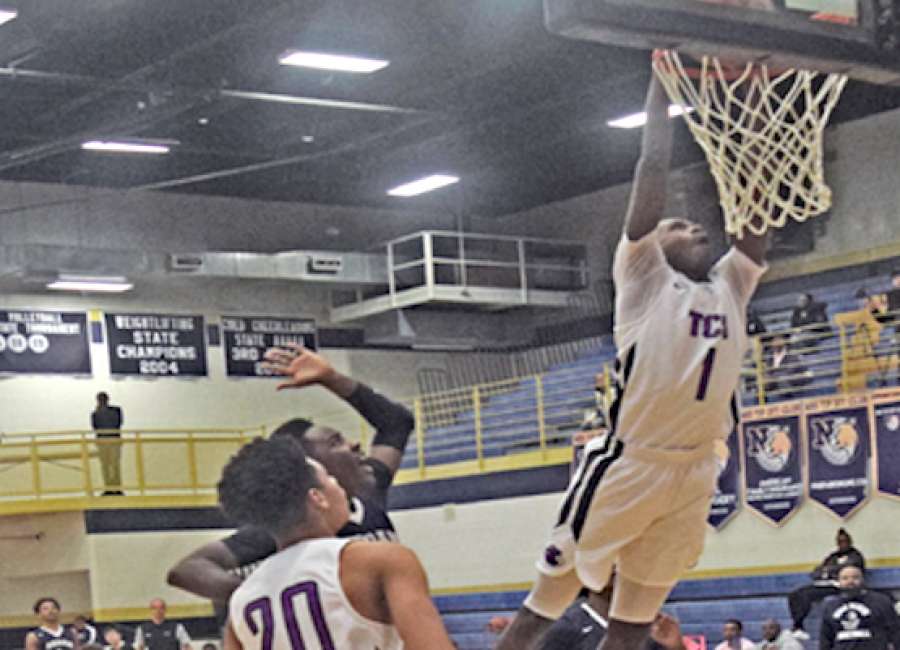 The Redan Raiders did something Wednesday afternoon the first 15 teams couldn't pull off against the Trinity Lions this season.

Find a way to win the game.
Redan knocked off Trinity 84-68 on the first day of the Total Wireless Holiday Classic at Newnan High School to snap the Lions' long winning streak.
Trinity plays in the GISA, but several of its victories this year have come against GHSA teams.
Against Redan, it wasn't to be as the Raiders rallied for the win and then held off the Lions' comeback effort.
Early in the contest, however, Trinity appeared to be headed for its 16th straight victory.
Erick Valdez opened the scoring for the Lions, and when he scored again a few minutes later, Trinity led 7-2.
The Lions' Jamir Williams also got into the first-quarter scoring act and helped push the Trinity lead to 9-2.
Trinity pushed the lead to 11-6 on Daevon Platt's basket before Redan scored the last six points.
Redan's Jordan Davis and Romond Hight each connected on 3-pointers for the Raiders to give them their first lead at 12-11.
Trinity and Redan exchanged the lead three times in first half.
Williams gave the Lions some momentum in the second after his second dunk gave Trinity a 17-12 lead.
Redan, however, kept itself in the contest with two 3-pointers from Hight. The Raiders closed out the first half on a 20-7 run to push the lead to 32-24 at the break.
Trinity stayed in the contest by spreading the scoring wealth in the third quarter.
Valdez scored eight points in the period, and Williams connected on two free throws.
After connecting on the two dunks in the first half, Williams also showed he could connect from the outside after hitting a 3-pointer in the third quarter.
One of Williams' free throws helped cut the Redan lead to 47-43.
The Raiders kept up the offensive attack from their end of the floor. 
Hight continued to help Redan pull away with more 3-point shooting. Redan's Siah Gray also drilled four free throws in the third quarter.
The Raiders pushed the lead to 53-46 heading into the final quarter.
The first loss of the season spoiled a solid outing for the Lions' Williams, who finished with 25. Valdez had 13 for Trinity.
Hight had 17 for Redan.
Trinity and Redan play two more tournament games at Newnan.
The Lions continue action against North Clayton today at noon and play their final game of the event Friday at 10:30 a.m.
Redan plays Newnan today at 6 p.m. and Friday against Greater Atlanta Christian at 1:30 p.m.