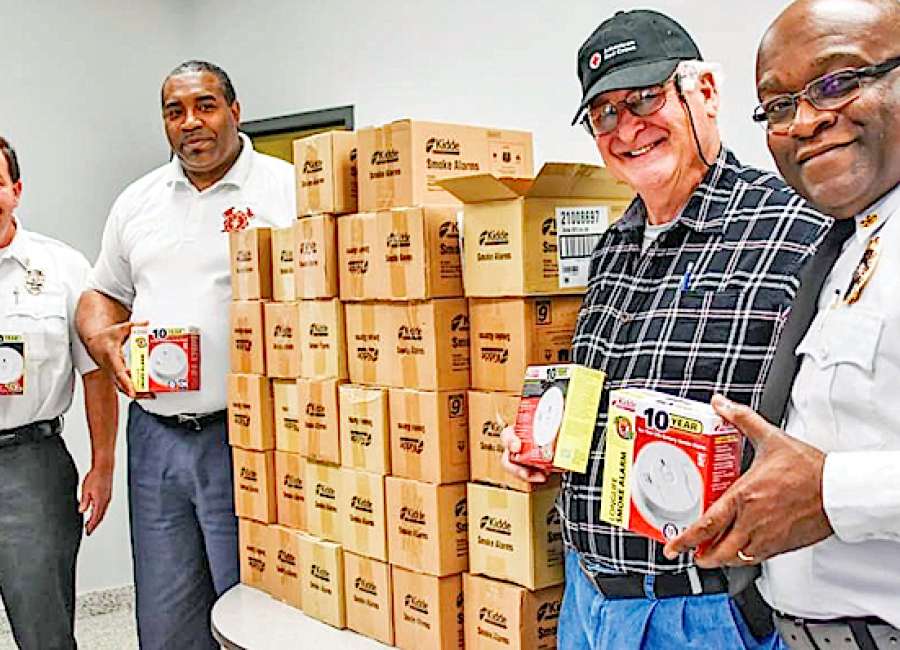 They are the unsung heroes that show up at a disaster just as first responders are leaving the scene.

American Red Cross volunteers lend a helping hand to folks during some of their darkest hours: from house fires to destructive storms, earthquakes, floods, wildfires and beyond.
It's no different for the volunteers in Coweta County.
Pam Gabel serves as a recovery specialist for the Central Midwest Georgia chapter of the American Red Cross, which covers Coweta County. Gabel connects with victims the day after a disaster and helps them on the road to recovery.
"My focus is getting people to a point to where they can recover on their own," she explained. "We'll provide furnishing and clothes ... anything that can help a person rebuild after a devastating experience. It's really hard to feel like you've adequately addressed all their needs, but we know we need to do something."
Gabel has volunteered with the Red Cross for more than a year.
In addition to responding at a drop of a hat to emergencies, Gabel also works full time.
Once a week, she takes off a half day to follow up with clients and answer phones in the ARC Central Midwest headquarters located in LaGrange.  
"She listens to clients when they call and if we don't have resource she'll make a referral," stated Connie Hensler, executive director of the American Red Cross Central Midwest Georgia chapter. "People call all the time and say, 'Can I speak to Miss Pam?' She does a really good job working with them and helping them find solutions."
ARC volunteers like Gaines Harman help the community get ahead of a potential disaster.
Harman is the Volunteer Disaster Committee Chairman. He is instrumental in the American Red Cross' Home Fire Campaign, working alongside local fire departments to install new smoke alarms in homes and educate the public.
Harman, on behalf of the Red Cross, donated 350 smoke detectors to Coweta County Fire Rescue and the Newnan Fire Department in December for the "Twelve Days of Christmas" campaign.
Area firefighters installed 1,120 smoke alarms around Coweta County during that initiative, Harman said.
"That is wonderful … 1,120 alarms is just phenomenal," he said. "It is always nice when people thank you, but the real accomplishment is getting something completed and knowing it helped someone. We know the potential is there to help people."
Harman has volunteered with the American Red Cross for 10 years. He signed up shortly after he retired from Southern Company.
Harman said the organization gave him a new purpose in life.
"It's a worthwhile organization," he stated. "I've met some absolutely wonderful people. There's no personal gain in volunteering. We just do it to help other people."
Gabel agreed.
"I've done a lot of volunteering in my life. The Red Cross has been the most satisfying experience," she said. "Because I live in Coweta, I feel like everyone is my neighbor. Even if they don't live in my neighborhood, they're still my neighbors. People are so grateful for help and I feel like I do make a difference in someone's life. It's a rewarding experience."
None of the American Red Cross volunteers are paid. Everything they do with the organization is on their own free time.
Prospective volunteers go through weeks of training and can serve in different capacities within the organization - from being on the front lines after a disaster and setting up emergency shelters to handling casework and answering phones.
But it's not always so serious.
Gabel and other volunteers in Coweta County meet at least once a month for fellowship.
"Our group of volunteers are really good hearted people," Gabel said. "I've been really impressed, and marvel at the people that go to fire scenes. They're on call 24 hours a day. If a call comes in at 3 a.m., they get up and go. It's an extraordinary effort. They are great of heart."
"The Red Cross fills a gap that no one else does," Harman said. "You have churches and government agencies that provide long-term care after a disaster, but the American Red Cross is there immediately and they fill that gap."
Hensler said the volunteers are the backbone of the Red Cross organization.
"We could not meet our mission without our volunteers," she stated. "We would not have capacity to do follow-up visits and phone calls. We have a great group of volunteers that are always asking, 'What else can I do? What can I learn?' The volunteers are not just the backbone of the American Red Cross, but the eyes, ears, arms and legs of it, too."
The Central Midwest Georgia chapter of the American Red Cross serves 20 counties and is always in need of more volunteers.
Anyone interested in becoming a volunteer can visit www.redcross.org or call the chapter headquarters at 706-884-5818.