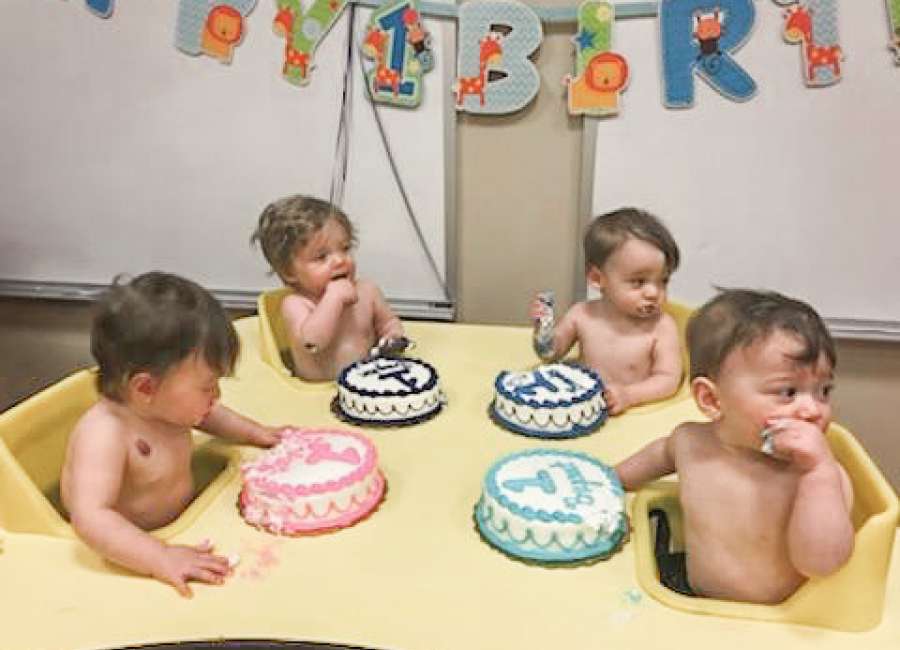 It's been a year of firsts for the Miller family and Piedmont Newnan Hospital.

Kortney Miller, her husband Justin and then-four-year-old son Brentlee, welcomed quadruplets Brandon, Brayden, Bryant and Kenlee into the world on Dec. 16, 2016.
The quadruple birth was a first for the Miller family and for the staff at Piedmont Newnan Hospital.
The special event was celebrated Monday at the medical facility, as medical professionals and staff threw the quadruplets their first birthday party.
The group sang 'Happy Birthday' to Kenlee, Bryant, Brandon and Brayden before the quadruplets each dug into their own birthday cake.
"The quads are all doing great," Kortney and Justin Miller told the crowd. "They're crawling and saying 'dada.' Each (baby) has their own personality.
"Kenlee is the only girl and a princess," the parents continued. "Bryant is mischievous, Brandon is innocent and Brayden is the sweet one."
"Every time one of our NICU babies celebrates a milestone, such as a first birthday, it is a celebration for us all," said Ashley Maxwell, clinical manager of Piedmont Newnan's Level 3 NICU. "We got to know the Miller family early on in Kortney's pregnancy and all worked together for months to prepare for their historical birth. It has been so much fun to watch them grow and see their individual personalities develop this past year."
The Millers conceived the multiples naturally. The couple stated multiple births have occurred several times within their family's history, but Kenlee, Bryant, Brandon and Brayden are the first set of quadruplets.
Once Piedmont Newnan learned of Kortney's pregnancy, they assembled a medical team of experts, including physicians, obstetricians, neonatologists, nurse practitioners and nurses.
Respiratory specialists, pharmacy, blood bank, radiology and an engineering team was also placed on stand-by, officials remembered.  
The group, also known as the "Quad Squad" was given weekly updates on Kortney's progress in order to prepare for the impending birth.
Medical personnel hoped Kortney's pregnancy would progress to at least 27 weeks, officials said.
Kortney made it to 29 weeks before going into labor.
Doctors prepared to deliver the babies via C-section and began the procedure at 1:30 p.m., Piedmont Newnan officials stated.
The babies were delivered at 1:41 p.m., 1:42 p.m., 1:43 p.m. and 1:45 p.m. Each baby weighed approximately three pounds, officials said.
Brandon was delivered first, followed by Braydon and Bryant. Kenlee arrived last, according hospital officials.
"Things could not have gone better," Dr. Adegboyega Aderibigbe, a neonatologist at Piedmont Newnan's Level 3 Neonatal Intensive Care Unit (NICU) stated in an earlier article. "Everyone knew what to expect and when the day arrived, we had a few hours' notice and everything went smoothly, thanks to the Quad Squad's teamwork."
"We are so excited and blessed to have four healthy babies," said Kortney following the delivery. "We can't wait to go with them on their journey as they grow and progress."
The babies remained in the Neonatal Intensive Care Unit, or NICU, for two months before being released to go home.
The quadruplets birth was a big adjustment for Kortni, Justin and Brentlee but the family said it's been an exciting journey.
"It's all about teamwork and having a routine, the couple stated. "The quads all sleep through the night  … Bentlee is such a good big brother and is always entertaining the four (babies)."
***
By Melanie Ruberti
Email: melanie@newnan.com
Facebook: @MelanieNTH