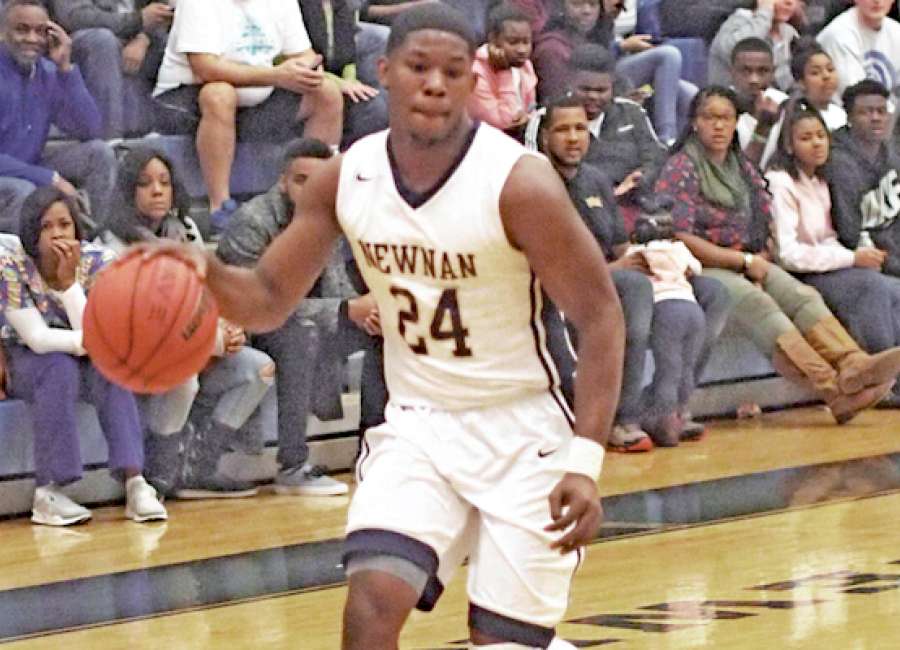 The late games in the Total Wireless Holiday Classic at Newnan High resulted in a sweep Wednesday evening for the homestanding Cougar basketball teams.
Newnan 43, Hiram 36 (girls):
Newnan and Hiram were both sluggish in the first half, but it was the Lady Cougars of Newnan who rebounded to play better in the second half and win 43-36 Wednesday.
Newnan won its fourth straight game to improve to 6-6 while Hiram fell to 5-5.
Turnovers and missed shots were aplenty in the first half, as Newnan led 5-4 after the first quarter. A Janyah Stargell 3-pointer put the Lady Cougars up 12-10 at halftime.
The game was tied at 27-all heading into the fourth quarter, but Newnan played strong defense in the fourth. Jekeria Strickland hit a 3-pointer to give the Lady Cougars a 34-31 lead, and they kept it throughout the game, stifling any attempt at a comeback for Hiram. 
A.J. Judie led Hiram with 14 points. Stargell and Strickland led Newnan with 14 points each, with Stargell dishing out five assists and Strickland getting four steals. Newnan's Miranda Hill had five points, and grabbed seven rebounds and had three blocks. 
The Lady Cougars host Grayson High at 7:30 p.m. today in Classic action.
Newnan 65, Lovejoy 57 (boys):
The Newnan Cougars had four players in double figures Wednesday, leading to a 65-57 win over the Lovejoy Wildcats in the final Classic game of the evening.
The teams battled each other shot for shot in the first half, with Newnan (5-7) holding slim leads of 12-11 after the first quarter and 27-26 at halftime.
The action heated up in the second half. The Cougars started hitting shots in the third quarter, and junior post player Tay Watson grabbed nearly every rebound in the period to pull away from the Wildcats (6-6). Newnan sank five 3-pointers in the third quarter – two from junior Harrison Drake – as a 33-27 lead rose to 43-31 in the span of a few minutes. 
Watson even showed some shooting range, sinking a deep trey at the buzzer to give the Cougars a 50-33 lead heading to the fourth quarter.
The Newnan lead was 15 in the fourth at 55-40, but Lovejoy hit three straight treys to cap an 11-3 run which cut the Cougars' lead to 58-51 with 4:00 left in the period. After a Newnan timeout, freshman guard Jamar Stargell sank two free throws to make it 60-51. Will Gates had a breakaway dunk and the Cougars held on for the 65-57 win.
Omari Callahan scored 13 points and Jamal Reynolds added 12 for Lovejoy. 
Stargell came off the bench to lead Newnan with 16 points, including 3 of 6 from 3-point range.
"When my name is called, I just try to go out and perform and do what I can to help us win," said Stargell. "I put up a lot of shots and work on getting better each day."
Watson scored 15 points, grabbed 17 rebounds and had five blocks, Drake added 14 points – 4 of 5 from deep – and Keith Williams chipped in 11 points, five rebounds and three assists for Newnan.
"Since I'm 6-foot-6, I need to get as many rebounds as I can. Rebounds are key to the game and give us extra possessions," said Watson. "If we play together like we did tonight, we can win this tournament and win games during the rest of the season."
Newnan hosts Redan High at 6 p.m. today in Classic action.