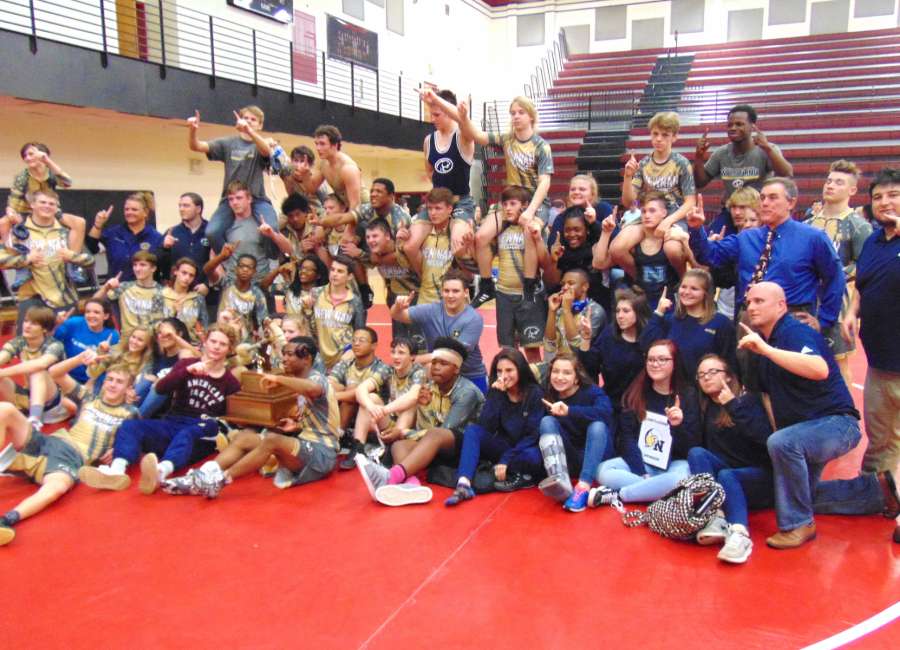 The Newnan High Cougars defeated the two-time defending champion East Coweta Indians 40-31 Tuesday evening to win the 2017 Coweta County Wrestling Championship at Northgate High's Johnny Brown Gym.
It's the first time Newnan has received the Adrian Anderson War Axe trophy in six years.
"I'm glad I was able to participate in the county meet, and I'm extremely happy with how we wrestled," said Newnan senior Colton Olmsted, who wrestles at 152 pounds. "We won the county meet as a team, and that was fantastic. And it's always great to beat our rivals at East Coweta and knock them off their high horse."
In the 2016 county meet, EC had four straight pins over Newnan in the higher weight classes to win the county championship in dominant fashion. This year, the Cougars were determined to stay away from pinning predicaments. Several of the EC-Newnan matches lasted the entire time limit.
"Our coaches told us no pins for EC this year," Olmsted said.
Instead it was Newnan who was able to pin more of the East Coweta wrestlers in 2017. And if the Cougars didn't get the pins on EC, they did whatever it took to stay out of dangerous situations.
"We did pretty good, but we gave up too many pins to Newnan and that cost us the championship," said EC senior Aryaan Adams (152). "We just have to work a little harder and regroup for our area matches."
Newnan coach Tim Johnson said the coaching staff is proud of the wrestlers for their efforts.
"The team worked very hard to get this championship, and it's great momentum for us in the upcoming area matches," Johnson said. "Coming in here, we knew it would be a battle with EC. It took everything we had to beat them."
The match of the evening was actually the 120-pound division match between female wrestler Charlotte Kinsey of Newnan and male wrestler Tyler Harrison of Northgate.
Harrison, a freshman, bested the senior Kinsey early, getting good positions and nearly getting a pin. But Kinsey, who missed last year's county meet because of an injury, rebounded late with a nice headlock takedown on Harrison and she eventually pinned him – to the delight of the Newnan wrestlers and the Newnan crowd.
After the pin, an elated Kinsey was hugged by her coaches and mobbed by her teammates.
"That was a rough match at first. But I kept going because I didn't want to be yelled at by my coaches," Kinsey said, laughing. "I saw that he left his arm too far up, and I took advantage of that mistake. I grabbed his arm, slammed him down and got the pin. That felt really good."
Both Newnan and EC defeated Northgate in early action Tuesday. East Coweta beat the Vikings of Northgate 52-30, and Newnan beat Northgate 74-5.