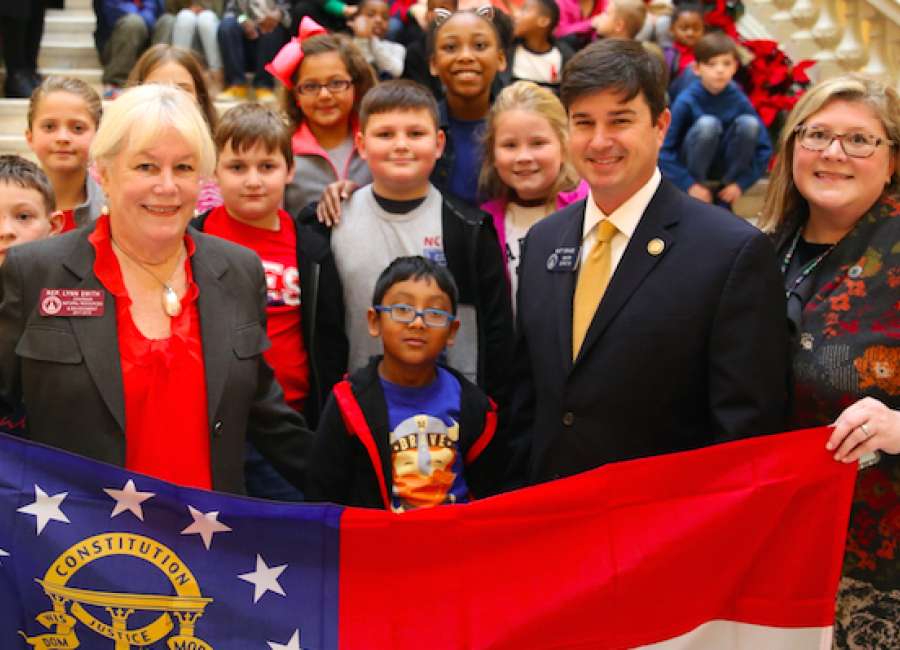 On Dec. 7, 160 third graders and teachers from Newnan Crossing Elementary took their first field trip of the year to the Georgia State Capitol, and had the added excitement of riding along with their state senator.

Newnan Senator Matt Brass (District-28) accompanied the students on their school bus ride to the Gold Dome. 
"Several students, knowing the senator resides in Newnan, asked if he would be going to and from the capitol with us on the school bus," third grade teacher Ashley Vasconcelles said.
Her students used their writing time to send Senator Brass persuasive letters inviting him to ride the bus with them. A theme was established - "Ride the Bus With Us!" 
Each student created a rough draft and Vasconcelles helped them work on sentence structure, details and conventions. Their final letters were typed, printed and delivered. 
Student Kennady Duncan was concerned that the senator would be lonely and not have anyone hear his singing voice if he drove by himself.  
"(If you ride with us) you will have people to talk too and you can sing pretty loud and won't have to sing by yourself," Duncan wrote.
Azaria Newton used the negativity of Atlanta traffic to help convince him. 
"Atlanta has the worst traffic ever," Newton wrote.
Jaida-Lee Morrison wrote, "...Mrs. V's hair is curly like Mrs. Frizzle's hair on the Magic School Bus. If you rode the bus with us it would be like one big adventure." 
Cidney Zamora wrote, "You can also get to know us. If you do not ride with us, then we will talk a lot when we get there."
The Senator took them up on their offer. He and state Representative Lynn Smith, of Newnan, helped them tour the Capitol building and took photos with the students and teachers.
"Sen. Brass showed our students what it means to be a caring and thoughtful legislator," Vasconcelles said. "The students were going to see first-hand our social studies standards in action. Sen. Brass and his staff organized our day and made sure we were exposed to the many different parts of our state government."