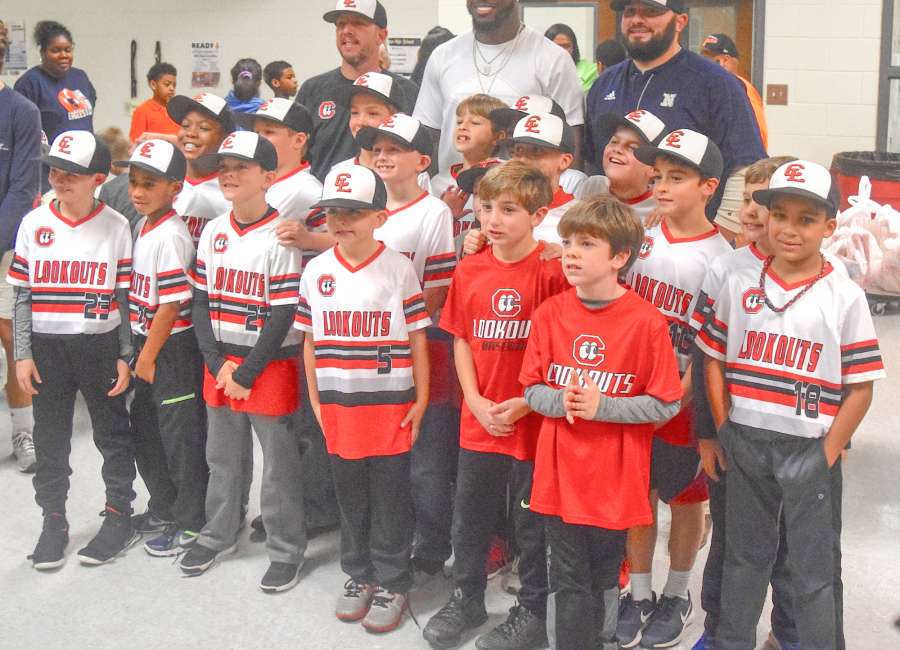 For the new Coweta Lookouts youth baseball team, baseball and charity go hand in hand.
The Lookouts — which are comprised of youth teams from 9-under, 8-under and 7-under — may have fun playing their sport, but their coaches ensure the kids have fun doing community service.
Local coach Wes Clark established the Lookouts in January 2016 in an effort to start an organization for the kids in Coweta County to have the experience of playing competitive baseball in the area. He started with a 7U team, and now he's currently coaching the 8U team while Marty Phillips coaches the 7U Lookouts.
"I wanted the boys here in Newnan to have a great baseball experience, have great coaching, learn the game's fundamentals and truly have fun," said Clark, an assistant football coach at Newnan High. 
"I wanted to give young boys an opportunity to play ball at a very competitive level and make it as inexpensive as possible. In short, we wanted the local youth to stay here in Coweta County to play baseball."
The Lookouts as a group have won a decent amount of games for a new team, and they are no strangers in the Newnan community, especially in times of need. Clark, along with his coaches and the parents, makes sure the boys learn the value of giving back to their community.
The Lookouts helped the Newnan High softball team provide aid to Hurricane Harvey victims in Houston during the Newnan/EC softball game, helping donate school supplies and kids' clothing for young Houstonians in need. 
The Lookouts were also present at Newnan High on Nov. 21 when Newnan native and current NFL player Alec Ogletree had his fourth annual turkey donation drive. 
Each Lookouts player in attendance took turns picking up a frozen 11-pound turkey and handing it to Ogletree, who in turn handed it to community residents.
"I love that the Lookouts are involved in the community because I am big advocate of giving back. I coach my boys to treat others like they would want to be treated," Clark said. "I think it is awesome to teach these boys that everyone is not fortunate to have all the things they have and explain to them that it's important to give back to others in need. They listen well."
Clark said he's grateful for the parents of the Lookouts players, who have done a great job making sure the boys are focused on both baseball and charity work.
"I have to especially thank our 'dugout Mom' Monica Matthews. She's the best in the business," Clark said. "She is the one who contacted the Ogletrees for us to be involved in their turkey donation drive."
The Lookouts' coaches have not only gotten the boys to understand the value of helping others, they have also coached them well on the field.
"In the spring, the 7U Lookouts ended the season with a winning record and we received one ring for our good play," Clark said.
In the fall, the 8U Lookouts finished with a .500 record and the 9U Lookouts, coached by Andy Brown, finished 3-2 and won a few rings for their play in the fall. That's good for a first-year franchise.
Several of the Lookouts players enjoy playing baseball and helping others.
"I love playing with my friends, and we have great coaches," said Lookouts player Dawson Enger, 8. "It also felt good that our team could help others in need after the hurricane in Houston."
"We have really nice coaches that help build our confidence and work hard to make us better players. I also like getting together with my team and doing things other than baseball," said player Anderson Brown, 8. "I know that helping Mr. Alec hand out turkeys really helped a lot of people have a better Thanksgiving. I think Mr. Alec is a really nice man for doing that, and it was really awesome to meet a real NFL player and be able to talk to him. That's pretty cool."
Lookouts player Brian Moore, 9, said he likes being a member of the team.
"We have good coaches. We work together to win, and we are all good friends," Moore said. "It was amazing and great to meet Alec Ogletree. He was very nice, and I liked getting a poster signed by him. It felt great to help him pass out turkeys to help people for Thanksgiving."