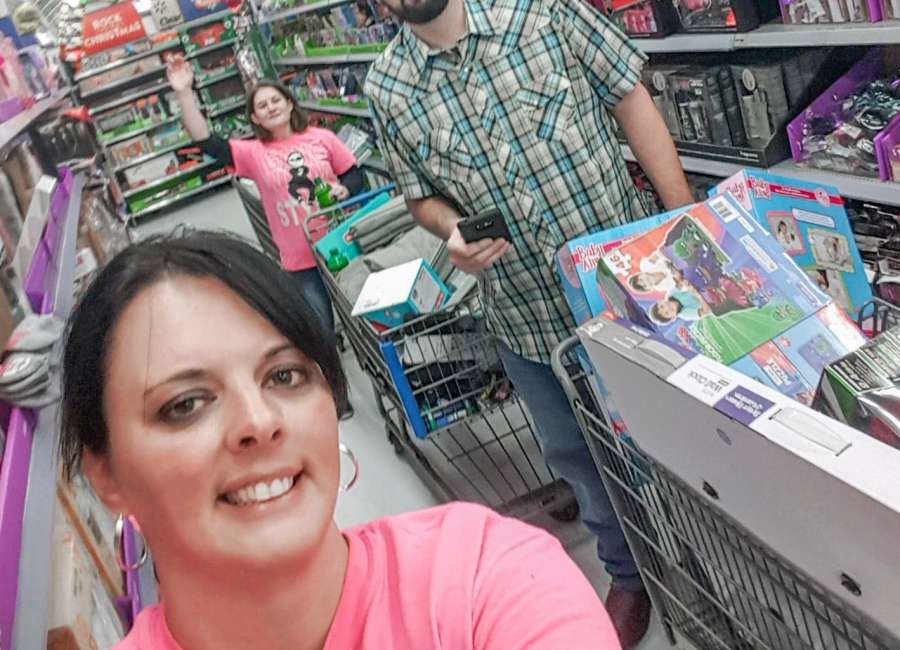 Santa Claus may ditch his reindeer and sleigh for a race car this year, if Cassie Dingler-Still has her way.
The Coweta County woman is helping Jolly Old St. Nick gather toys for local children whose stockings might be empty Christmas morning.
Dingler-Still, who has a penchant for hitting the race track behind the wheel of a mini stock Mustang, is head of the Racing for a Cure foundation.  
The race car driver started the nonprofit organization in honor of her grandmother, a breast cancer patient.
The group helps families with children suffering from life-threatening illnesses or born with special needs.
"I take them to the track, treat them like VIP's and make them feel like they're in the spotlight," Dingler-Still said. "They can sit in the race cars or ride in a two-seater."
Racing For a Cure also hosted a walk for Suicide Awareness Month.
During the holidays, Dingler-Still takes off her racing helmet, puts on a elf hat and focuses on bringing Christmas joy to families in need through the Racing for a Cure Toy Drive.  
This year will be the fifth annual event.
Dingler-Still began scooping up toys and clothes last year during the after-Christmas sales.
"I'm the person in Walmart you don't want to get behind in the checkout lines," she said with a laugh. "Last year, I had like six buggies full of stuff."
Dingler-Still buys everything from toys and electronics to clothing items and movies. She also purchases a fleece blankets for every child, plus necessities such as toothbrushes and toothpaste.
Dingler-Still relies heavily on donations and fundraisers at the West Georgia Speedway in Whitesburg to buy toys. But more often than not, she uses her own money to buy holiday items.  
""I'll give up my next paycheck and go to the Five Below store 10 times in one day just to get (more gifts) …  I don't mind at all. It works itself out somehow," Dingler-Still said. "I just love helping other people. As a child, I know we struggled a lot, although my parents always made sure we had what we needed. I just want to help out where I'm needed."
The first year Dingler-Still held the toy drive, she started off with two families, which quickly multiplied into 50 families.
This year, Dingler-Still's wish list to Santa is longer than ever.
Racing For a Cure is helping 90 families from Coweta, Troup and Carroll counties this Christmas. The organization had to place 50 families on a waiting list.
"I've never had to do that and it breaks my heart," Dingler-Still said. "When my daughter found out I had a waiting list, she said, 'Mom just take my presents. It not a big deal.'"
Dingler-Still hopes more people will have a giving spirit like her daughter. She needs more donations.
In addition to placing toy donation bins around town, Racing for a Cure hosted its annual toy drive – called "The Frost Bite" – at the West Georgia Speedway.
All the proceeds will help local families during the holiday season.
"We are one big happy family at the track and everyone pulls together to make it happen," Dingler-Still stated. "We do this (toy drive) out of our home, so it gets a little crazy but it is worth it in the end."
Racing for a Cure has drop boxes in several locations for folks who would still like to donate an unwrapped toy:
American Truck Showrooms (ATS),  69 Newnan South Industrial Drive, Newnan
Buck's Tires, 160 Temple Ave., Newnan
Advanced Chiropractic Center, 35 Jackson Street, Newnan
A + Towing, 6805 Roosevelt Highway, Fairburn
Just Cuts, 2121 Fairburn Road, Suite A, Douglasville
For more information, visit the Racing For a Cure page on Facebook.
•••
By Melanie Ruberti
Email: melanie@newnan.com
Facebook: @MelanieNTH