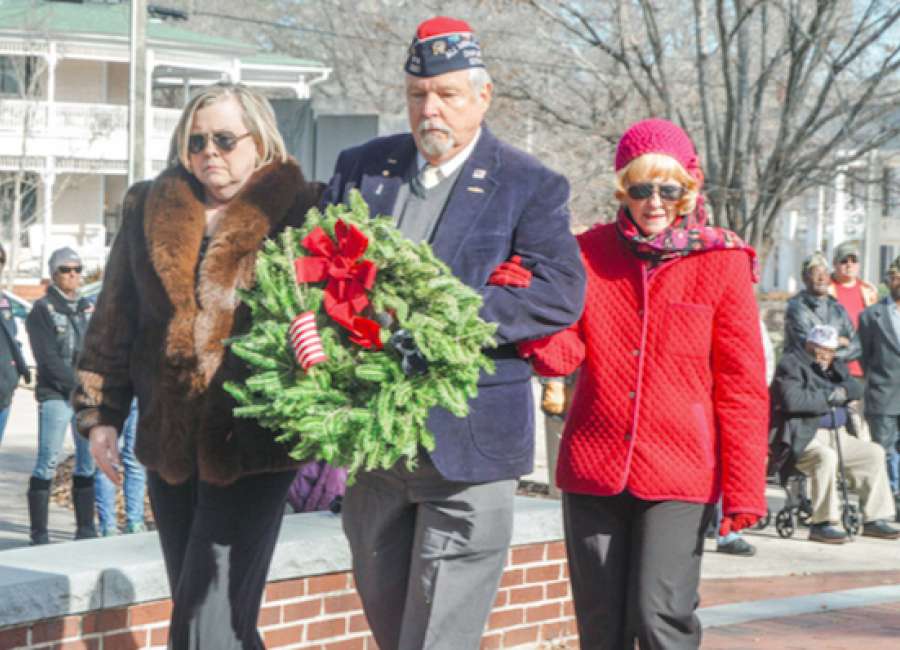 Wreaths of green now adorn the fronts of seven bronze plaques and one statue inside Veterans Memorial Park off Temple Avenue.

Military service men and women, plus family and friends, gathered at the park on Saturday for the ninth annual Wreaths Across America ceremony.
One by one, retired service members laid Christmas wreaths at the foot of the wall of honor to commemorate local heroes who made the ultimate sacrifice during each war.
A wreath was also placed in front of the plaques honoring the five branches of military service and for those service members who were prisoners of war or missing in action.
The eighth wreath was laid in front of the Veterans Memorial statue by a Northgate High School student.
"Our freedoms have not come without a price," said Tim Smith, commander of American Legion Post 57. "Men and women gave their lives to live in a country with freedoms without fear."
Wreaths Across America ceremonies took place across the country on Saturday.
More than 1.5 million wreaths were placed at 1,400 locations in the United States, including Arlington National Ceremony.
The annual event remembers fallen soldiers, honors military members currently serving their country and teaches people the value of freedom.
"It's meaningful during the holiday season to see people pause and think about those who made the ultimate sacrifice," said organizer John O'Connor. "... the gifts of freedom and peace that we cherish are only possible because men and women died to preserve them. These wreaths are our way of saying, 'Merry Christmas and thanks.'"
The sound of "Taps" echoed throughout Veterans Memorial Park at the end of the ceremony.
The ceremonial wreaths are adorned with an American flag, plus a flag representing each branch of American military service and one for prisoners of war and missing in action. All the wreaths were donated.
A ninth wreath was also placed at the grave site of Lt. John Hammond at Oak Hill Cemetery, said O'Connor.
Hammond, a Newnan native, was reportedly killed in World War II after his plane was shot down over Nazi Germany.