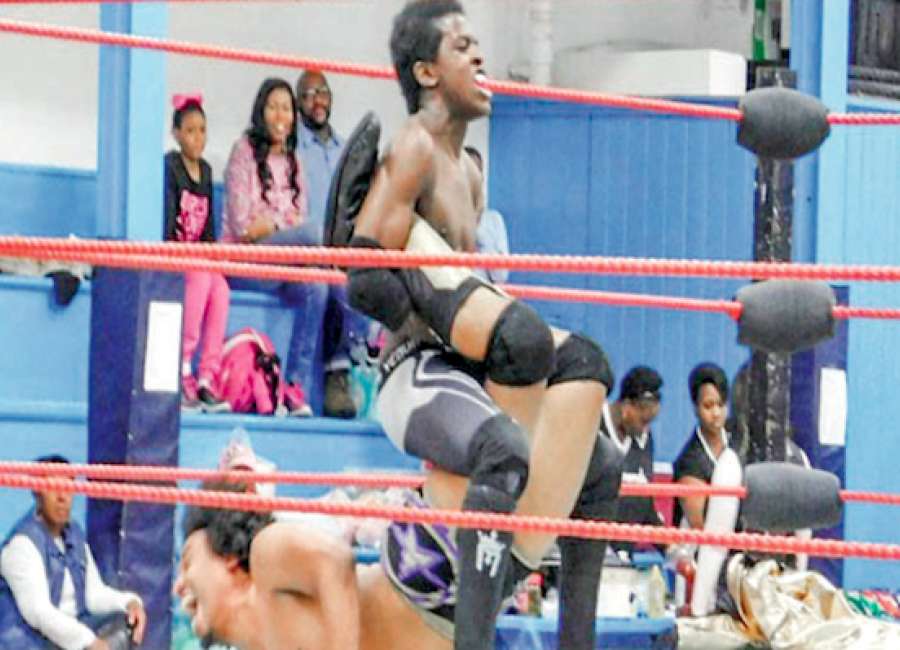 Recent Northgate High graduate Ezekiel Wright knew he wanted to be a professional wrestler at an early age.

How early? Try age 6.
"When I would go to my grandmother's house as a kid, she would sit me in front of the TV after playing with me so she could finish working around the house," Wright said. "But instead of cartoons on her TV, pro wrestling was on, and I was fascinated with it. I knew that I had to be a part of that one day."
Most young boys may enjoy pro wrestling, but eventually they grow out of it and may just attend shows when they come to town when they become adults. Many know how rough pro wrestling is and wouldn't entertain the thought of becoming a pro wrestler.
Wright wasn't one of those guys. 
He kept watching wrestling as he grew up, idolizing World Wrestling Entertainment wrestlers like Eddie Guerrero and The Undertaker. And even though he played sports like football, track, baseball and basketball through middle school, he never lost the passion to become a professional wrestler.
Wright, 18, got to see his dream come true at a very young age. When he was just 16, Wright went to an Independent Wrestling Entertainment-Southeast (IWE) show in LaGrange and met promotion co-founder and booker Tony Calhoun after the wrestling show ended.
Wright told Calhoun what he wanted to do, and Calhoun gave the teen a chance to show him what he knew about becoming a wrestler.
"I showed Tony all my moves in the ring and how fast I could bounce off the ropes," said Wright, who graduated from Northgate in May. "He was impressed and said I had what it takes to join the IWE."
After working with Calhoun throughout 2015, Wright wrestled in his debut match at the age of 16 – a singles match at the Wesley Street gym in Newnan against Joseph Andrews, known as "The Heart Attack Kid." Wright called himself "Zeke Version 1" at the time.
"I won my first match in front of my friends and family, so that was pretty cool," Wright said. "The Kid and I have gone on to do tag team matches as well in the IWE."
Wright hasn't stopped wrestling, but he stopped using "Zeke Version 1" not long after his first match. He wanted to get past his debut name and find a name that fit his in-ring persona. After weeks of deliberation, he finally came up with his current ring name of "Tyson Creed."
"It took a while for me to come up with Tyson Creed. I keep putting all kinds of names to paper and when I finally joined those two, it all seemed to fit," said Wright, who will turn 19 in January. "Tyson Creed is a name that better suits me. I like it."
Wright said Tyson Creed has a "bounty hunter" type of personality. He's not really a bad guy, but he's not a good guy, either.
"Bounty hunters are like that. They aren't necessarily bad people, but they can get down and dirty to do their job," he said. "That's the kind of outlook I was going for when I chose Tyson Creed. I wanted to look out for only me; I'm trying to make sure I get what I want."
Wright said when he started wrestling, he was surprised to learn that some ring ropes aren't ropes at all, but elevator cables wrapped in rubber. He said he prefers actual ropes to the elevator cables.
"The high-flying guys like the cables because they give them more spring when they jump off of them," he said. "I stay on the ground more, so I'm good with just regular ropes."
Another interesting part of pro wrestling is the "bumps" — which is how wrestlers fall on to the mat. Wright said you have to learn how to fall on the mat, because if you fall the wrong way a concussion is almost guaranteed to happen.
Wright, the youngest of five siblings, doesn't look like your typical pro wrestler. Standing at 5-foot-8 and weighing 162 pounds, Wright wouldn't pass the eye test on the street. But he said he's putting on weight and doctors have told him he might grow a few more inches, even at his age.
The fact that he's not the biggest guy around is probably one reason why his family was against him wrestling from the start.
"My mom and dad thought it was dangerous, and my brothers and sisters were initially against me being a wrestler. They tried to do everything to convince me to do something else," Wright said. "It didn't work."
Wright's father Ervin wanted his son to concentrate on the family business they own together, a landscaping company called Dirt Pushers. Wright still works at Dirt Pushers with his dad, but he always makes time to wrestle. 
He said he eventually wants to get his two older brothers in the business, so they can take over when his dad retires and he can then wrestle all over the country.
Wright said his family has come around and they have no problem with him wrestling. He said he eventually wants to wrestle for companies like New Japan Pro Wrestling, Ring of Honor, Defiant Wrestling, Pro Wrestling Guerrilla and Impact Wrestling.
"I had to learn to be patient in this business. I see some guys my age get opportunities to shine, and I was a bit jealous," Wright said. "I learned not everything goes as quickly as you want it to in the business. I'm not going to rush anything; I've got plenty of time to shine."