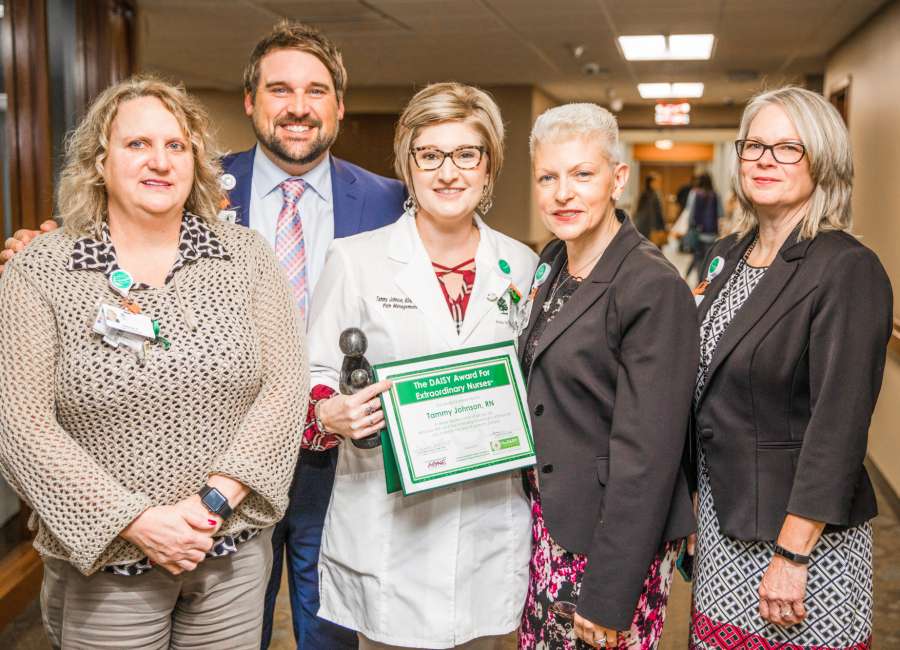 An inpatient pain management nurse at the Cancer Treatment Centers of America's Southeastern Regional Medical Center in Newnan is the latest winner of the DAISY award. 
Tammy Johnson was recently presented with the honor by hospital officials.
DAISY, which stands for Diseases Attacking the Immune System, is a national award that recognizes extraordinary nurses who go above and beyond to provide care to patients and show compassion to a patient's family, according to www.daisyfoundation.org.
Tammy's responses:
When they announced I had won the DAISY Award, I was truly in disbelief and blown away. I was shocked and thrilled at the same time. I have always heard others say "when you love what you do, it does not feel like work."  I think  winning the DAISY Award made me realize for the first time what that really feels like. Being honored for something I love to do is incredible.
I have been a nurse for 21 years.
For me, nursing is such a great career because it allows so many opportunities and areas of specialty. Having a love for pain management and palliative care, I became board certified in both pain and palliative nursing. Nursing allowed me to find my niche and use my specialized area of expertise to focus on a career I individualized for myself to pursue the specific areas I am most passionate working in.  Patients always know the difference in a nurse that is working in their calling versus a nurse just covering a shift.  
In a challenging time for healthcare even the most passionate and satisfied nurse can be exhausted, frustrated, struggling with compassion fatigue and burnout.  For me, winning the DAISY Award was such a refreshing reminder that all the hours and countless late evenings and patient encounters are worth the effort just knowing that doing what I love and pursuing my passion really does make a difference. The DAISY Award for me is a visible reminder that anytime the fatigue, burnout or frustration sets in, seeing the DAISY reminder on my office shelf is like saying "never give up" or "don't quit" what nurses do really does make a difference.  It will be a positive reminder going forward that we do impact the lives of our patients and refuels the fire and passion to keep on giving.
Her managers include Patrick Brown, Director of Medicine Support Services, and Deborah Robichaux, MBA, BSN, RN, CCRN, CEN, Manager, Cardiology/Continuity/Infectious. Outlined below is what they shared on Tammy.
Pat on Tammy:
Tammy is one of the true experts in her profession.  Her knowledge content and anticipation of what a patient needs today, tomorrow and next week is truly impressive to watch.  That type of coordination and care is what truly resonates with our patients and it makes them much more comfortable in an otherwise uncomfortable situation.
I was not surprised when we heard, more proud than anything.  Proud that Tammy is a part of our team and proud that she was recognized for the work she has done.  It's certainly a special moment when any of our clinical staff earns a DAISY Award and if it were allowed, I think we could justify a DAISY Award for everyone at CTCA.  It's just what we do.   
Deborah on Tammy:
Tammy is a subject matter expert in her field.  She is passionate about patient care and will go above and beyond to ensure patients are taken care of.
I was pleased and proud when I learned Tammy was being recognized with the DAISY Award, though not surprised. Tammy and the entire team at CTCA perform extraordinary acts daily to ensure our patients are cared for. She is an important part of what makes the Mother Standard of Care at CTCA possible on a daily basis.
The winners of the DAISY award are nominated by their colleagues.
Johnson is a board certified hospice and palliative nurse.
She said she was inspired to become a nurse following the sudden death of her grandmother.
Johnson stated she strives to provide treatment to all her patients, the same way she would to her own grandmother.
***
By Melanie Ruberti
Email: melanie@newnan.com
Facebook: @MelanieNTH