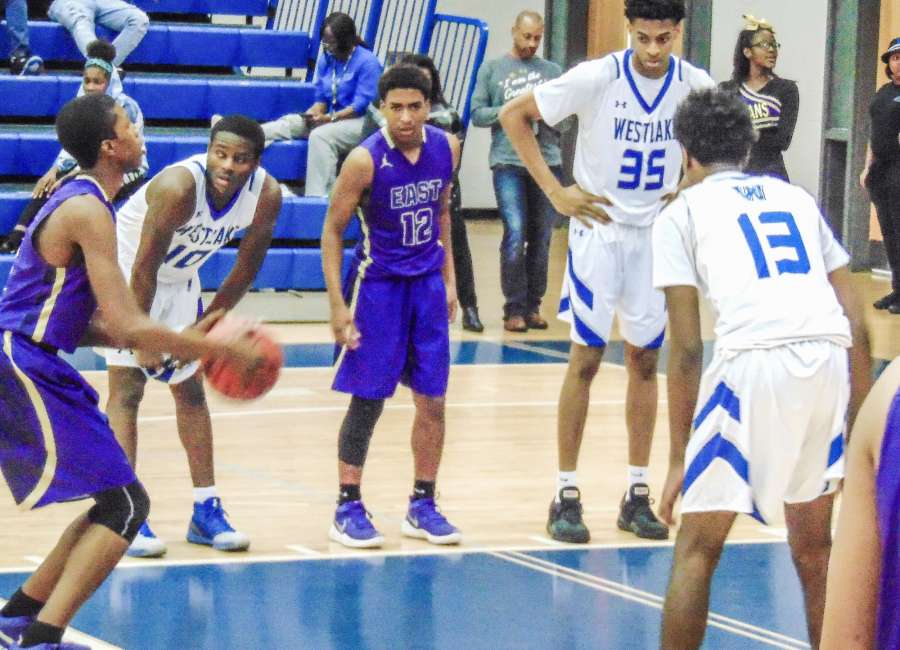 ATLANTA — The East Coweta Indians basketball team rallied from a 16-point deficit to get close in the fourth quarter, but the Westlake Lions hit their free throws in the waning seconds to escape with an 84-76 win Friday night in Region 2-AAAAAAA action in The Lions Den.

Westlake got its first win of the season to improve to 1-2 overall and 1-0 in the region. EC dropped its third straight game to fall to 4-3, 0-1.
The game started with plenty of action. The Indians got off to a hot start, with point guard Derrick Emory scoring seven points in the first quarter, including a 3-pointer, to give EC the 10-7 lead. The Lions answered EC's play with their own run in front of their fans, as Brandon Olivari sank three of four 3-pointers to give the Lions the lead. Westlake went on a 20-5 run to lead 27-15 after the first quarter.
EC played better in the second quarter, as Emory and his teammate Jamal Kennedy led the charge after trailing 30-19. Both players combined for 17 points in the period and Fernandez Jones sank a trey to outscore Westlake 20-16 in the second. EC trailed 43-35 at halftime.
Westlake came out on fire in the second half, keeping a double-digit lead throughout the third quarter. The Lions led 63-48 heading to the fourth quarter, then led 70-54 early in the fourth and it looked like the Indians were about to be run out of the gym. But EC sophomore Brandon Stroud started driving to the basket and getting fouled, connecting on his free throws, which stopped the clock and cut into Westlake's lead. Minutes later, Stroud sank a trey and suddenly the Lions led by only 10 points, 73-63.  
EC's ball pressure forced Westlake turnovers and Jones hit another trey to cut the Lions' lead to 76-71 with 1:30 left in the game. After a steal by Kennedy, Emory made a nice driving layup to trim Westlake's lead to 78-74 with 43.7 seconds left, but the Indians could not get any closer. Westlake made its last six free throws to come away with the win.
The Indians had chances to get a road win Friday, but they missed a few layups during their final rally and they missed 13 free throws overall.
Chase Hunter led four Westlake players in double figures with 20 points.
Stroud led EC with 28 points, making 19 of 23 free throws, and he had three steals and three rebounds. Emory finished with 16 points, Kennedy added 13 points and four steals and Demetrius Freeman snagged seven rebounds for EC.
****
Westlake 82, East Coweta 32 (girls):
The Lady Lions of Westlake led 24-11 after the first quarter and 45-19 at the half, rolling to a dominant Region 2-AAAAAAA win over the EC Lady Indians Friday evening.
The Lady Indians have performed well under first-year head coach Karen Frady, but they were no match for the size and skill of Westlake's girls. Westlake (4-0 overall, 1-0 region) kept bringing in wave after wave of talented players into the game, and all of them except one scored Friday. The Lady Lions had four players in double figures, led by Taylor Hosendove with 12 points.
Miaa Berry led EC (3-4, 0-1) with 10 points.