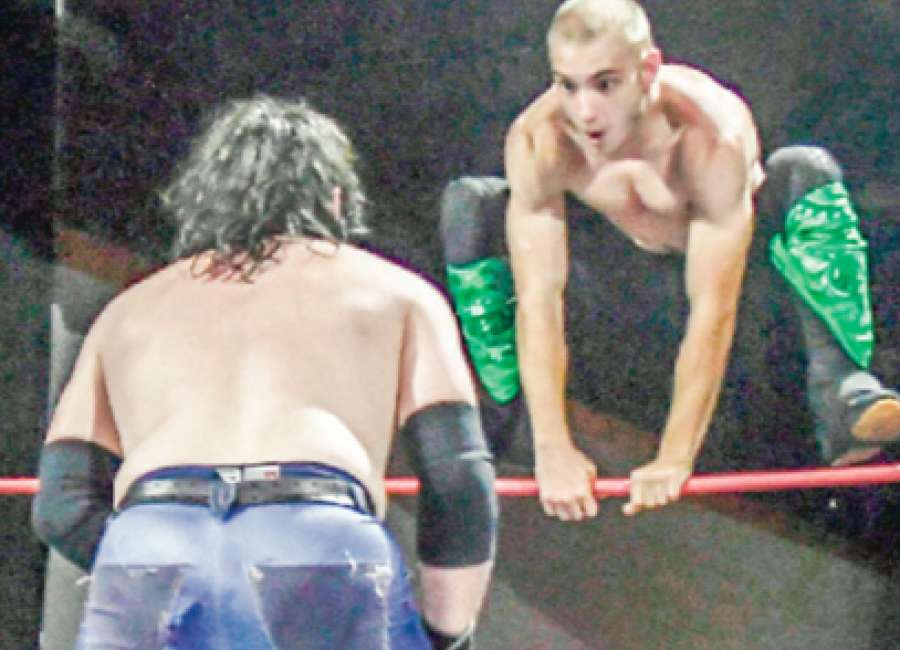 Newnan High graduate and former prep wrestler Lucas Malcom decided when he was in high school that his goal in life was to become a professional wrestler.

Malcom, who graduated from NHS in 2011, decided to start training early this year and he has put in the time and effort to be a pro. He made his professional debut in March and has been wrestling non-stop ever since.
"Late last year, I started to realize that I can actually chase this dream. I knew then I wanted to put in the work to be a pro wrestler," said Malcom, 24. "I started training in January and I haven't stopped."
Like the majority of men and women who are pro wrestlers, Malcom grew up watching wrestling on a regular basis. His favorite wrestler as a child was Rey Mysterio, Jr. and he also likes current World Wrestling Entertainment (WWE) wrestler Randy Orton.
"Growing up, I was a big fan of the cruiserweight wrestlers, guys who were about 220 pounds and lighter. I was always fascinated by Rey, who was lighter than most wrestlers, but he moved so well and beat bigger wrestlers," Malcom said. "Randy Orton is a big wrestler, but I like the way he moves and maneuvers around the ring. I enjoy watching him."
Malcom parlayed his love of pro wrestling to the high school mats, competing on Newnan High's varsity team for all four years. He started wrestling as a freshman at 130 pounds and finished his prep career as a 145-pound senior. Love of the sport carried him back then, because the Cougars weren't a great team.
"When I started wrestling at Newnan High, there was only eight people on the team. There was no JV squad and the team was struggling," he said. "By the time I graduated, we had full varsity and JV teams and they were significantly better. It's incredible to see the progress Newnan has made. I heard we won the county wrestling championship this year — that's awesome!"
Malcom, who has transformed himself into a 5-foot-9, 160-pound pro wrestler, said his wrestling style is similar to Rey Mysterio's, a high-flying Lucha Libre style where wrestlers tend to jump off the ropes and fly through the air on to their opponents.
Malcom's wrestling name is "Bobby Flaco" and his persona is someone who isn't a bad guy or "heel," but isn't really a good guy or "face."
"The girls seem to like my character and the guys don't," he said. "I try to appeal more to the ladies and have the guys boo me. That's a lot of fun."
While he enjoys what he does, what isn't the most fun for Malcom is spending the majority of time working on wrestling while trying to deal with the trials and tribulation life has to offer. 
"Being committed to wrestling and being able to get better every single day while still balancing life is hard, but the best part is simply being able to wrestle and chase the dream," he said. "I've seen first-hand how hard work pays off in this business. It's encouraging and it motivates me." 
What also motivates Malcom is the training for his chosen profession. He trains at the World Wrestling Alliance 4 school (WWA4) in Atlanta, which features experienced instructors and state-of-the-art equipment for the wrestlers to get in the best shape possible. The WWA4 also has live wrestling shows every Thursday at 8 p.m., where the trainees build their characters and become comfortable performing in front of a live audience.
"I am truly blessed to have all this training. The WWA4 is an incredible school and training there is the ultimate way to prepare for matches. We also have workout equipment which makes it easier to be in top shape," Malcom said. "The three training sessions a week plus the shows on Thursdays help me prepare for the weekends on the road."
Malcom said the training consists of repetitive moves and sequences, along with body control drills and body rolls. There are also free weights and a punching bag.
"As wrestlers, being in total control of our bodies and extremities is a big thing. We also spend a lot of time practicing strikes and kicks," he said.
For Malcom, all the hard work he's doing every week is preparation for his ultimate goal in wrestling: Performing in the WWE.
"My goal is to be in the WWE — that's the only thing on my mind. Since this whole journey is dangerous and so many sacrifices are made, I need to chase it to its full potential," Malcom said. "This is only the beginning for me, as I've just been performing for less than a year. I fully intend on putting in more work than everyone else and being the best."