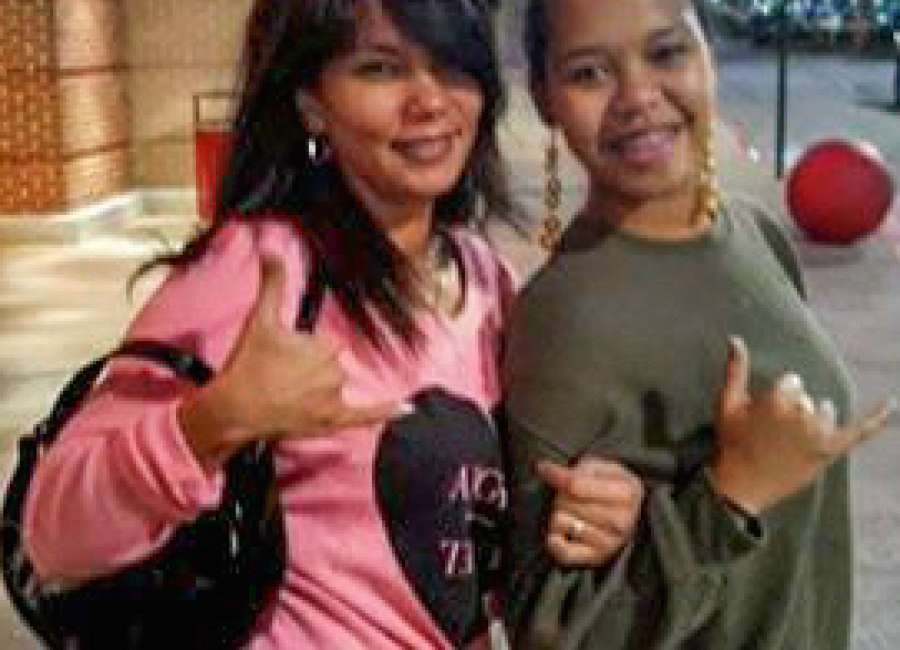 Sherrylee Gonsalves says she tries not to make excuses for her daughter, Mina Ellery.
Instead, she attempts to understand how her daughter's life got so far off track that the teen now sits in a Meriwether County Jail accused of a vicious murder.
Ellery, 18, of Newnan, is one of four suspects charged in the brutal beating death of 83-year-old Dot Dow.
According to the indictment, Ellery, Justin Pierce Grady, 39, of Grantville; Cortavious Deshun Heard, 19, of Grantville; and Angel Latrice Harmon, 18, of Newnan broke into Dow's Lone Oak home on Aug. 4, 2016.
The group allegedly beat her with a gun before setting the elderly woman on fire.
Dow died nearly a month later in an Atlanta hospital from her injuries.
Gonsalves, who lives in Nevada and did not have custody of her daughter, heard about the then-17-year-old girl's arrest from the media.
"The first thing that came to mind was, 'How could she have done this?'" Gonsalves said through tears on Thursday during a phone interview. "She had just lost her brother and knows the pain of losing someone you love so much ... why would you want to put another family through the feeling? I couldn't understand that part. To this day, I can't wrap my mind around it …"
Gonsalves said she noticed a change in her daughter two months before Dow's murder.
Gonsalves had flown to Newnan to bury her 21-year-old son.
Michael Dimitri Johnson was shot and killed by a Coweta County Sheriff's deputy on June 1, 2016.  
The 21-year-old man reportedly shot at deputies near the Wells Fargo Bank off Bullsboro Drive. Deputies returned fire and killed Johnson.
Gonsalves said her daughter was on the phone with her brother right before he was killed. Gonsalves noticed Ellery's life went quickly downhill after Johnson died.
She said she discovered the reason why two months later, after the teen was arrested.
"I needed to know the truth. I asked her, 'Why did you do this? What did you do to have these accusations brought against you? This isn't you. This isn't your life.' She finally admitted to me she was doing drugs at that time and she was hanging out with the wrong crew," Gonsalves said.
Ellery was being raised by her former stepfather in Newnan.
The unidentified man allegedly gained custody of the girl when she was 10 years old, after her guardian died, Gonsalves said.
Ellery was conceived from a brutal rape, her mother stated.
Gonsalves said she handed the girl over to a family who could hopefully give her baby a better life. According to Gonsalves, Ellery was never formally adopted.
Though Gonsalves lived in Nevada, she remained in constant contact with her daughter through phone calls, letters and social media. She said she would visit often and take Ellery on family trips.
Despite having a shaky start in life, Ellery seemed well adjusted.
"She was passionate in church. She was in the choir and a praise dancer," Gonsalves said. "She was taking college classes before she was out of high school. She never got in trouble and was an 'A' plus student.
"She was raised in church, and she believed in God. That's why I don't understand how all this happened and how she strayed away," Gonsalves added.
According to Gonsalves, Ellery was going to move in with her when she turned 15. The Nevada woman said she even flew to Georgia to pick her daughter up.
For reasons that still remain a mystery to Gonsalves today, her daughter stayed behind.
The move is one that now fills Gonsalves with regret.
"I wish I could have brought Mina back at the age of 15. If I had, she would have been raised with my other two children, she wouldn't be hanging out with the wrong crew or in certain situations," Gonsalves stated. "Being so far away, I wasn't there to help her work through the death of my son or know that she was doing drugs at the time. If I was, maybe this wouldn't have happened."
Gonsalves said she talks to Ellery every day as the teen sits behind bars awaiting trial.
Both Gonsalves and Ellery are aware of the negative attention toward the teen, especially after a photo surfaced showing the girl laughing and smiling while in jail.
"I got upset by it because I knew the (Dow) family lived in town and would not appreciate seeing that. But that (picture) doesn't represent my daughter," Gonsalves said. "Mina explained to me, 'I was trying to do my time and stay positive.'
"She wants to say 'sorry' and let the Dow family know she has a letter she wants to read to them. But her attorney won't let her. She doesn't want Mina to talk," Gonsalves added.
The Nevada mom has also written a letter to the Dow family. She has not yet mailed it.
"I am so sorry. I can't say sorry enough. I would like the Dow family to know my heart is mourning for the loss of Mrs. Dow. I know she was loved by many and had a big heart ... and I know she will continue to live on in hearts of loved ones," Gonsalves said. "I want the family to know I am grieving with them and keep them in my prayers.
"I wish Mina could have returned home," she continued. " … my daughter is a loving girl. She went down the wrong path after brother passed, but she would give anything to anybody. I know that's a conflicting statement, given what she's accused of, but Mina loves life and she loves people."
Gonsalves is currently ill and cannot fly to Georgia. She is hoping to get medical clearance and visit Ellery in March.
Gonsalves said she wished she could turn back the hands of time.
"I'd give up myself to make sure she gets a chance in life," she said.
***
Email: melanie@newnan.com
Facebook: @MelanieNTH