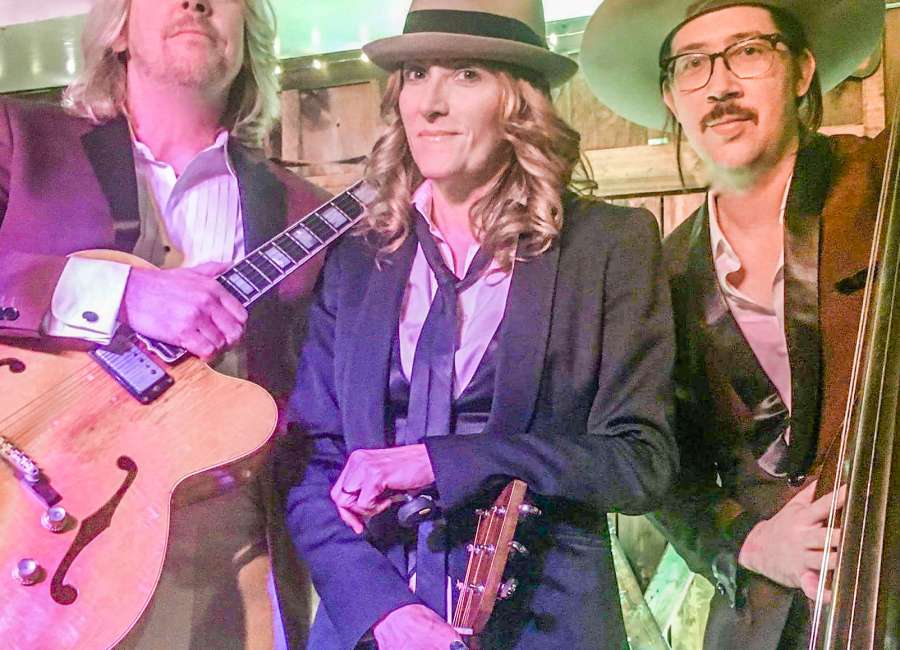 Some familiar faces will be spreading Christmas cheer throughout downtown Newnan when they hit the stage every Tuesday night at the Cellar on Jefferson Street.

Singer, songwriter, guitarist and Georgia native Michelle Malone will join Doug Kees, guitarist and owner of Musicology in Newnan and Bassist Robby Handley to perform as the "Hot Toddies" for a series of holiday-themed shows.
The event will feature jazz versions of popular Christmas tunes.
"We'll play 'Rockin' Around the Christmas Tree,' 'Let it Snow' and several others. We'll change up one or two of the arrangements to make it Latin and bluesy," Malone explained. "We also sing the 12 Days of Christmas, which is fun. We act out the song on stage. We also do a Louie Armstrong Christmas song that not a lot of people know about. We took 'Blue Christmas,' turned it on its head and made it a little darker Christmas."
Malone, best known for her rock-n-roll, folk and blues sound, has produced 15 albums. She was signed by Clive Davis at Arista Records before striking out on her own as an independent artist.
Malone's resume includes high profile collaborations and performances with artists like, Gregg Allman, the Indigo Girls, Drivin' and Cryin' and ZZ Top.
She has won numerous awards and received two Grammy nominations.
Kees and Handley helped Malone record her most recent album, which will be released in March of 2018. But the trio has never performed as a group outside the studio until now.
The three musicians formed the Hot Toddies specifically for the holiday-inspired shows.
"We chose the name to convey the feeling of the holiday season … something that was lighthearted and fun," Kees explained.
"I've always loved Christmas music," Malone said. "Most people know me for rock and blues. This time around, it's just Christmas songs. The Hot Toddies is a Christmas group, but we don't just perform. We have sing-alongs and a whole lot of audience participation."
According to Kees, Malone makes the show fun for everyone.
"I've known Michelle forever and she is a world-class performer- A singer, songwriter and wonderful entertainer," he stated. "She's just a ball of energy. She interacts so well with the audience. It's been interesting for me to stand beside her on stage."
The Hot Toddies performed their first holiday show in front of a packed house on Nov. 28 at the Cellar.
For Kees, playing for a local crowd is nothing new.
The guitarist grew up in Atlanta, played in bands, received a music degree and "chased record deals."
In the late '80s, Kees began giving guitar lessons in Newnan a few times a week. He decided to make it his full-time job in 1993 and eventually moved to town, where he opened his own business called Musicology off Spring Street.
Kees is also the band director at The Heritage School, teaches lessons at the Central Educational Center, and still plays gigs in Newnan and throughout the state of Georgia.
He's watched the music scene grow and flourish in Newnan, but said it is still rare for non-local acts to play here.
"Just the chance to see someone of Michelle's caliber ten minutes from home is a great thing," Kees explained.
Malone agreed.
"I don't usually play Newnan unless it's something like this," she stated. "So these performances are a chance for folks to come out and hear me sing and perform."
She believes the Hot Toddies show will be meaningful for guests of all ages.
"Live music is so much more impactful than listening to music on your laptop or in your car," Malone explained. "This is an event, not just going to a bar and listening to music. People can participate in the show and create a nice memory with their children and families.
"We try to make sure everyone is having a good time," she added. "I know my job is to make people happy and I enjoy it."
The Hot Toddies will perform at The Cellar on Tuesday, Dec. 5, 12 and 19. The shows will begin at 7 p.m. The event is free and open to the public.
The Hot Toddies will also play at Eddie's Attic in Atlanta every Thursday up until Christmas, The Crimson Moon in Dahlonega and at private events.
Anyone wanting more information about the Hot Toddies or the shows can visit www.michellemalone.com/shows or contact the Cellar at 770-683-6328.