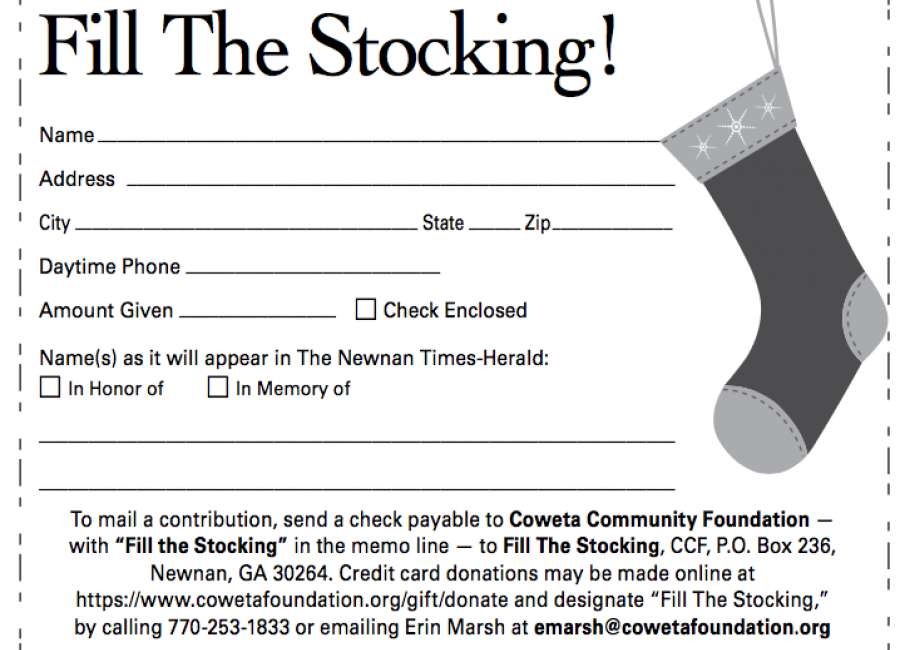 Fill the Stocking is back.
The Newnan Times-Herald's program that lets generous people make donations to help the needy at Christmas – and recognize family, friends and people and organizations they admire – is now active again as Christmas time draws near.
Through gifts to the "Fill The Stocking Fund," donors make tax-deductible contributions in honor or in memory of a loved one. The donor's name, along with the name of the loved one, will be printed in the newspaper.
The amount of each contribution will not be listed, although total contributions will be reported on a regular basis.
Contributions will be divided among three local groups focused on helping children during the holidays — Bridging the Gap, the Newnan Service Center of the Salvation Army, and Toys for Tots.
Beth and Clay Neely, publishers of The Newnan Times-Herald, said the paper wants to join hands with its readers to help Cowetans at Christmas. "This has been a great way to share the Christmas spirit – helping people who need it and honoring someone you care about," Beth Neely said.
To make a contribution, send a check payable to Coweta Community Foundation — with "Fill the Stocking" in the memo line — to CCF, P.O. Box 236, Newnan, GA 30264.
Credit card donations can be made online at www.cowetafoundation.org/gift/donate and designate "Fill The Stocking," by calling 770-253-1833 or by emailing Erin Marsh at emarsh@cowetafoundation.org
The project will be ongoing through Dec. 24, and a coupon that can be used will be published at least once each week on the Opinion page of the newspaper.
"The Coweta Community Foundation makes Fill the Stocking work, and we greatly appreciate their partnership," Clay Neely said.
Fill the Stocking began in 2013. For the past two years, a significant number of Fill the Stocking donors chose to give anonymously.