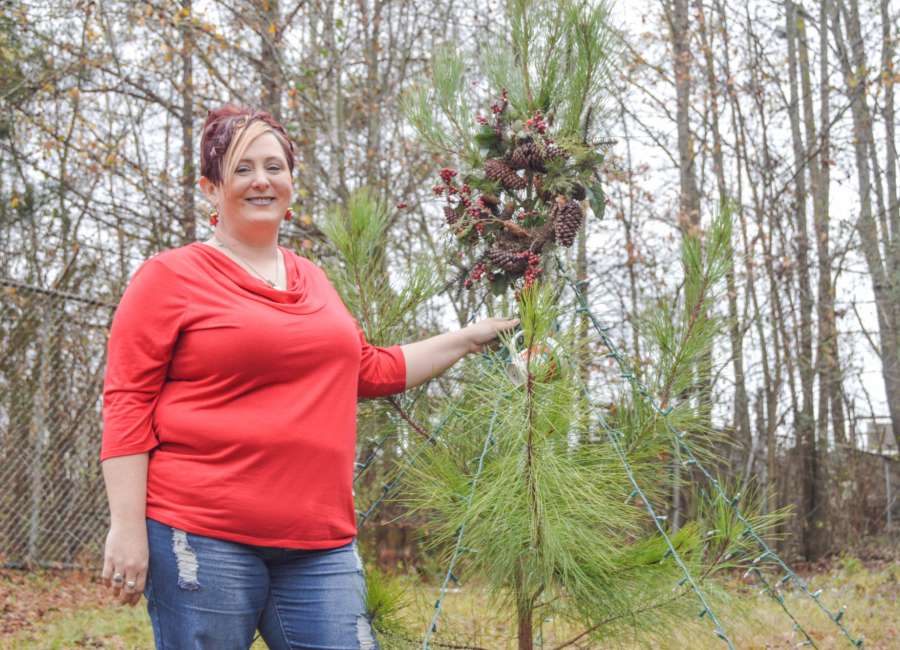 Christmas presents will be sparse underneath the tree inside Aimee Newson's home this year. 

But that isn't stopping the Newnan woman and her family from getting into the Christmas spirit and creating warm, holiday memories for a family who needs it more than them. 
It started when Aimee spotted a makeshift Christmas tree on the side of East Newnan Road while on her way to work. 
The five-foot pine tree was anchored to a small hill by strings of Christmas lights. A pine cone wreath and holiday coffee cup hung on branches as ornaments. A small baseball served as the tree topper. 
Aimee said she immediately knew who put up the tree. 
She knows him as "Mr. Don," a homeless man who lives with his wife in the woods less than a mile away from her house off E. Newnan Road. 
Aimee and her husband noticed Mr. Don around six months ago walking through the neighborhood. The couple would give the man food and water whenever they saw him, Aimee said. 
But she wanted to do more. 
"I thought, 'How cool would it be if he woke up on Christmas morning with presents stacked underneath it,'" Aimee stated. "That tree just changed everything. It was a 'calling' for me. God was telling me to do something right now," she said. 
The Coweta woman spoke with her husband and four children who were immediately on board with the idea. 
Aimee also posted her plan on Facebook and asked for donations. People responded immediately and dropped off items such as hand warmers, socks and pants, she said. 
One person generously donated a tent to give Mr. Don and his wife at least some shelter from the elements, Aimee added. 
She said she immediately took the tent and a few necessities to the couple. 
"When I gave him that stuff, he was so thankful," Aimee stated. "For someone to be that down and out but still have Christmas spirit is amazing. It's exciting to see." 
Mr. Don's holiday enthusiasm spread over Aimee and her family. 
It's been a tough year for them too. 
Her young son became very sick and was in and out of hospitals all year, Aimee stated. 
At one point, the Coweta mother of four quit her job to take care of her son full time. 
Fortunately, Aimee's son became well enough that she was recently able to go back to work. 
But money is tight. She told her children not to expect a lot this Christmas. 
"I prayed to God, 'Is there a way my kids will not be disappointed at Christmas?' The next morning I saw the tree," Aimee said with a laugh. "God works in mysterious ways. It turns out, I was praying wrong. Now they're (kids) learning it is better to give than receive. 
"Everyone is content and happy that we're helping out," she continued. "It makes all of us more thankful for what we have." 
Aimee's 15-year-old daughter, Sierra Arnold, agreed. 
"This is what Christmas is about: giving to others, not getting presents," she said.
But not everyone has been as enthusiastic to help out Mr. Don and his wife, Aimee said. 
Shortly after her Facebook post, rumors swirled on the social media site about why the couple was homeless, she stated. 
Those accusatory posts caused some people to cancel their contributions, Aimee said. Donations have dwindled since then. 
Aimee and the Times-Herald stopped by Mr. Don's homeless camp on Friday. He was not there. 
Aimee said rumors or not, she is still determined to give the couple a Merry Christmas. 
"It doesn't matter how he got there. It's about being in the Christmas spirit," she stated. "We can still provide blankets and jackets for them. 
"It only takes one person to help another person to change their life around," Aimee added. "No matter what they've done, we should show them that there's still someone out there who loves them … The main thing I thought of was, 'What would Jesus do?' When (Mr. Don) put up that tree, it sealed the deal for me." 
Aimee and her family plan on wrapping up the other donated items and placing them under Mr. Don's Christmas tree Monday morning. 
The family also intends to invite Mr. Don and his wife to their home for Christmas dinner. 
Aimee believes this will be the best Christmas yet for her family. 
"This is a 'win' for me," she said. "This is a huge blessing. This is a 'win' for my children and for humanity." 
The Coweta County woman plans on collecting items for the homeless couple through January. Food, water, thick jackets and hygiene products would be appreciated, Aimee said. 
Anyone wanting to donate supplies or canned food can contact Aimee through Facebook at www.facebook/aimee.bays.
•••
Email: melanie@newnan.com
Facebook: @MelanieNTH