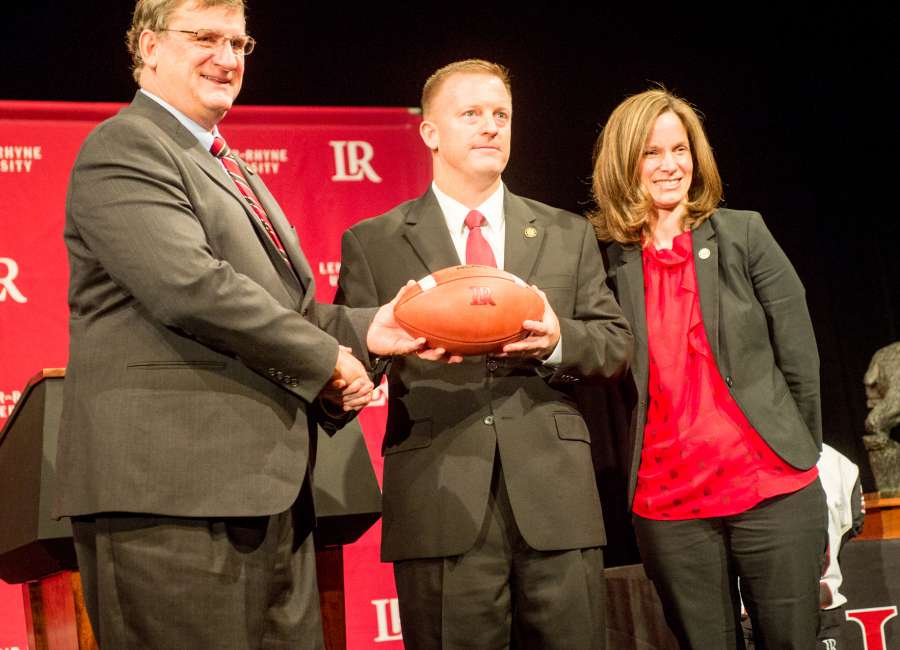 Drew Cronic, who played for his father Danny at East Coweta High School, has been named the new head football coach at Lenoir-Rhyne University in Hickory, North Carolina.

"We are excited to welcome Coach Cronic to Lenoir-Rhyne," said Dr. Fred Whitt, University president. "Drew was our top choice among an impressive group of over 200 applicants, and we could not be more pleased to have him as our head football coach. He is highly regarded and respected by his players and colleagues, and his recruiting success and network throughout the Southeast will help us become champions both on and off the field."
Cronic comes to Lenoir-Rhyne  after a successful year at Furman University. The No. 22-ranked Paladins ended the season with an 8-5 overall record and a 6-2 Southern Conference (SoCon) record.
"I am so excited to be the head football coach at Lenoir-Rhyne University," said Cronic. "I feel blessed to have this opportunity at such a tremendous academic institution with great football tradition. I have been so impressed with the people here, and am impressed by the vision Dr. Whitt and (athletic director) Kim Pate share for the Lenoir-Rhyne athletic programs. Starting today, we will put every ounce of our energy into rebuilding a culture of excellence, to achieving success in the classroom, in the weight room, on the field, in relationships, and in life. I can't wait to get started."
The Paladins posted a second-place finish in the Southern Conference and earned an at-large bid to the NCAA FCS playoffs, where they advanced to the second round.
"I am pleased to welcome Drew Cronic along with his wife Amelia and their three boys Noah, Elijah, and Isaiah to the Bear Family," Pate said. "He brings tremendous experience and a true passion for developing young men and preparing them for success in life. He understands how to build a culture of excellence and truly values the student-athlete experience. I feel confident he will build a championship-caliber program that will make our campus, community and alumni very proud."
Prior to Furman, Cronic served at Reinhardt (Ga.) University for five years, during which he played a key role in the establishment of Reinhardt football as a startup program beginning in November 2011.
He spent the first three years as assistant head coach, offensive coordinator, quarterbacks coach and recruiting coordinator for his father. He was named head coach following the 2014 campaign.
In his first year, he directed the Eagles to a 9-2 record. During fall 2016, he led the Eagles to a 13-1 campaign, Mid-South Conference championship, and semifinal finish in the National Association of Intercollegiate Athletics (NAIA) playoffs with a squad that averaged 51.1 points and 550.6 yards per game.
In addition to leading the NAIA in scoring and total offense, Reinhardt's revved up offense topped the country in rushing offense (360.0 ypg) and rushing touchdowns (71) while also boasting the nation's second highest passing efficiency rating (178.0) and registering 25 touchdown passes. Likewise, the Eagles' defense finished second nationally in points allowed (13.8 ppg) and sacks (46), and fifth in total defense (283.5 ypg).
In his two seasons as head coach at Reinhardt, Cronic was twice named Mid-South Conference West Division Coach of the Year and American Football Coaches Association (AFCA) NAIA Region I Coach of the Year.
In 2016, Reinhardt produced 14 all-conference selections and 24 academic all-conference honorees — which were both league highs.
Cronic's teams also excelled in the classroom as demonstrated by the team posting an impressive 3.11 GPA for the fall 2016 semester and a 3.04 the previous year. Of the 147 student-athletes in the program in the fall of 2016, 97 had a grade point average of 3.0 or better. Of those, 54 had a 3.5 GPA or better, and 18 had a perfect 4.0 GPA.
At Furman, Cronic worked for nine years under Coach Bobby Lamb (2002-10) and served in a number of key roles, including wide receivers, running backs, and tight ends coach, as well as recruiting coordinator.
Lamb, who is now the head coach at Mercer, had plenty of praise for Cronic.
"Drew is a proven competitor, recruiter and committed mentor of student-athletes who has shown the ability to succeed as a collegiate head coach. I have no doubt that he can lead the Lenoir-Rhyne football program back to the level of success it expects," Lamb said
Cronic's first Furman tenure was highlighted by several outstanding seasons, including the 2004 Southern Conference Championship (10-3) season and 11-3 campaign in 2005 resulting in the Paladins advancing to the NCAA FCS national semifinals. During this tenure, Furman made four trips to the FCS post-season.
Cronic joined the coaching staff at James Madison as receivers coach and assistant recruiting coordinator in 1999, where he worked for three seasons before heading to Furman in 2002. During 1999, JMU garnered an Atlantic 10 Championship earning a bid to the NCAA 1AA playoffs.