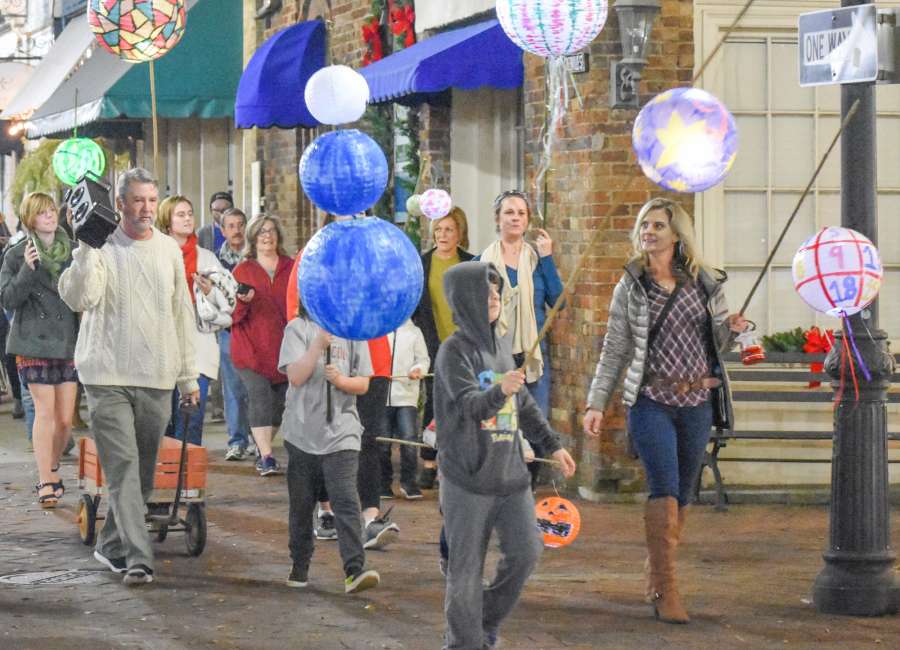 Downtown Newnan played host to a different kind of holiday promenade Friday as paper lantern-bearing walkers wandered the Court Square to the sound of Christmas bells from an old-school boombox.
"Phil Kline's Unsilent Night," organized by local writer and educator Dale Lyles, was the first of what Lyles says he hopes will become a Newnan tradition.
Unsilent Night began in New York City in 1992, when composer Phil Kline created four musical works to be played simultaneously in a public space. Anyone could bring boomboxes to Washington Square, where Kline would give them a cassette tape with one of the four pieces.
On his signal, everyone would start their boomboxes and spend the next 45 minutes walking around the park, creating an overlapping sound space of bells and choirs.
"I first encountered Unsilent Night in CD form in 1993, soon after … Kline wrote it in 1992," Lyles said. "I thought it was a beautiful idea for a performance piece, four new age tracks playing simultaneously on boomboxes, constantly shifting as people walked around with their sound systems."
Lyles said he emailed Kline, asking if it was possible to do the piece in Newnan, but he didn't hear back.
"Last year was the 25th anniversary of Unsilent Night, and in the intervening years the technology has gotten easier —there's an app for that  — and Kline actually has a website," Lyles said. "I applied and was given permission to stage the piece."
Backstreet Community Arts sponsored a series of workshops allowing those who wanted to participate in the event to create paper lanterns. Dozens of walkers gathered in Greenville Street Park, and Lyles led them on a 45-minute stroll through downtown. He said he's looking forward to an even bigger turnout in the coming years, now that more people understand how Unsilent Night works.
"I think it's going to be a lovely tradition for downtown," Lyles said.