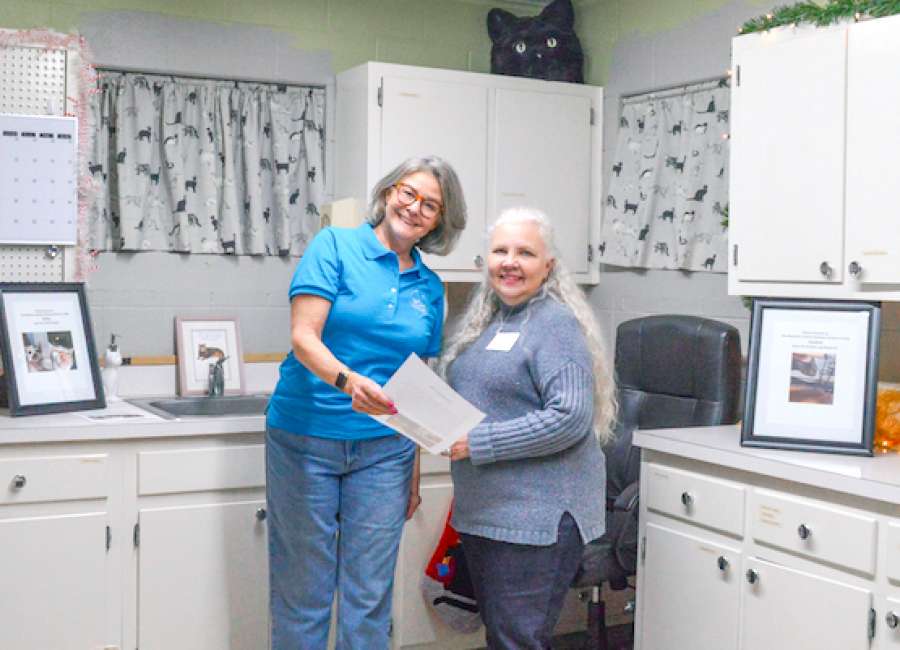 The Newnan-Coweta Humane Society's new building is almost ready, and society volunteers welcomed donors for a sneak peak at an open house Thursday. 
The former veterinary clinic has fresh coats of paint, and the kennels are ready for occupants. A cat room – which it's hoped will one day become a neonatal nursery for orphaned kittens – displays some of the society's success stories of caring for ill and injured cats. 
The building – the first-ever home for the county's oldest humane organization – will house dogs and cats that are awaiting foster homes or transport to other states, as well the organization's pet food pantry. It will also be a place for volunteers to come for training or to walk and socialize dogs, and it will be a central office for the organization. 
Many of the dogs that the humane society pulls from Coweta Animal Services are heartworm positive, and the new headquarters will be a place where they can stay while going through treatment, said Kim McCurry, dog foster coordinator. 
The purchase of the building was made possible by an overwhelming response from the community. Through a fundraising campaign, the entire purchase price for the building – more than $172,000 – was raised in just six weeks. 
"It's an amazing thing," McCurry said. "It shows the support for animals in the community – and what animals mean to people."
And it's only with the support of the community that the humane society is able to continue its work. 
Several areas at the new building will be named in honor of major donors. 
Donations also helped get the building ready. NCHS volunteer Jeff Turner got his company, Sto Corp, to donate paint for the exterior and interior, and he and several co-workers volunteered time to paint the building. A special odor-absorbing paint was used for the ceiling. 
"It's a great place to try it out," Turner said. 
Cranford Homes donated services as well. 
Many items that were needed for the renovation, from a television to roofing and gutters, were either donated or sold to NCHS at cost. 
The next big step is fencing in the rear of the nearly 2-acre property. There are plans for three separate play yards for dogs. 
Exercise and enrichment are very important for rescue dogs, McCurry said. 
Volunteers will be able to come and take dogs outside to play, said volunteer Sandy Hiser, and to eventually bottle-feed kittens. 
Hopes are to have veterinarians and vet techs donate time to help out with rabies shots and microchipping. 
The building should be fully operational in January. 
Cindy Hoover, who runs the pet food pantry, hopes to have February's food distribution at the new headquarters. The pantry is for Cowetans who can't afford to feed their pets. Distributions are held the first Saturday of the month, currently from a shed in the parking lot of the H.E.L.P. Spay/Neuter Clinic, at 12 The Crescent in nearby Avery Park. An application must be filled out to show financial need. 
Pets must be spayed or neutered, and assistance is limited to three pets. "We try to give a month's worth of food, but that is based on our supply," Hoover said.  
Donations of food for dogs and cats, as well as money to buy food, are always needed. Contact Hoover for more information at 678-416-6170 or johnhoover@numail.org
Volunteers and foster homes for animals are always a need for the humane society, and donations are also needed to help cover vet bills. Because the healthiest pets typically are the ones adopted from the animal shelter, NCHS often rescues dogs and cats with medical needs, such as those with heartworms. 
NCHS has a great working relationship with Coweta Animal Services and Coweta County, according to McCurry. 
"We are so proud of the relationship we have with them," McCurry said. "That it what we hope to continue to expand."