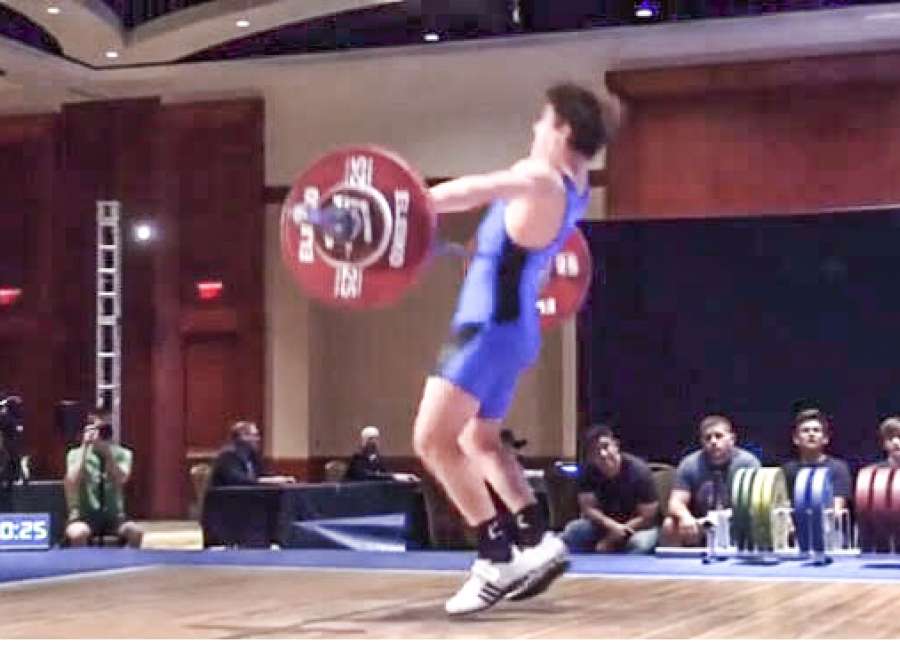 Newnan High School sophomore Dean Goad Jr. is a talented multi-sport athlete, donning uniforms for the Cougars in both football and soccer.

But it's the third sport – weightlifting – where Goad is trying to carve out a serious niche for himself.
Starting this weekend, he will travel as a member of the United States' Weightlifting Team to Lima, Peru, where he will compete in the Ajan Cup South American Championships.
Nobody should be surprised by the 15-year-old weightlifter's early success in the sport.  
After all, weightlifting is in his genes.  
Both his mother Robin, and father Dean Sr., had impressive careers of their own on the international weightlifting stage, and these days, older sister Sydney has competed at a high level, too.
Dean Jr. couldn't have had better teachers or role models once he decided to get serious about competing in weightlifting about five years ago.
His mother Robin is not only his coach, but also a former Olympian who finished fifth at the 2000 Summer Olympics in Australia. She has passed on plenty of knowledge to her young son.
She was the American record holder in the snatch and clean and jerk events from 1986-1992 and the senior national champion in 1988, 1991-96 and again in 1999 and 2001.
In 1999, she won the Gold Medal at the Pan Am Games. Goad's father was a medalist at the Pan Am Games in 1986.
Goad knows he has big shoes to fill as he tries to follow the path his parents set during their own highly successful weightlifting careers.
"My parents were weightlifters, but they didn't really put pressure on me to do it," he said. "Once I started competing, they really encouraged me."
Like amatuer wrestling, weightlifting is divided into weight categories, and the Newnan sophomore will be competing in the 69-kilogram division when competition starts Friday in South America.
The young weightlifter will be competing in his first international event.
Goad was chosen to help represent the United States by three-time Olympic Champion Pyrros Dimas, who now serves a technical advisor for the United States weightlifting team and spotted the Newnan resident's skill and potential while scouting weightlifting tournaments.
He'll head to the South American event after already setting several records and winning a National Title earlier this year.
"It should be a great experience," he said. "It is something I am really excited about."
Like his parents, the second-generation weightlifter's success has come with hard work. He spends several hours a week training and getting tips from his Olympian mother.
Weightlifting allowed his parents to see the world and experience different cultures.
Robin is excited her son now has the same opportunities.
"This is going to be great for him," she said. "It will give him a chance to experience something totally different."
There's a another benefit to weightlifting for Goad when it comes to playing football and soccer for the Cougars.
"It definitely helps with those sports," he said. "It definitely makes me stronger and better conditioned."