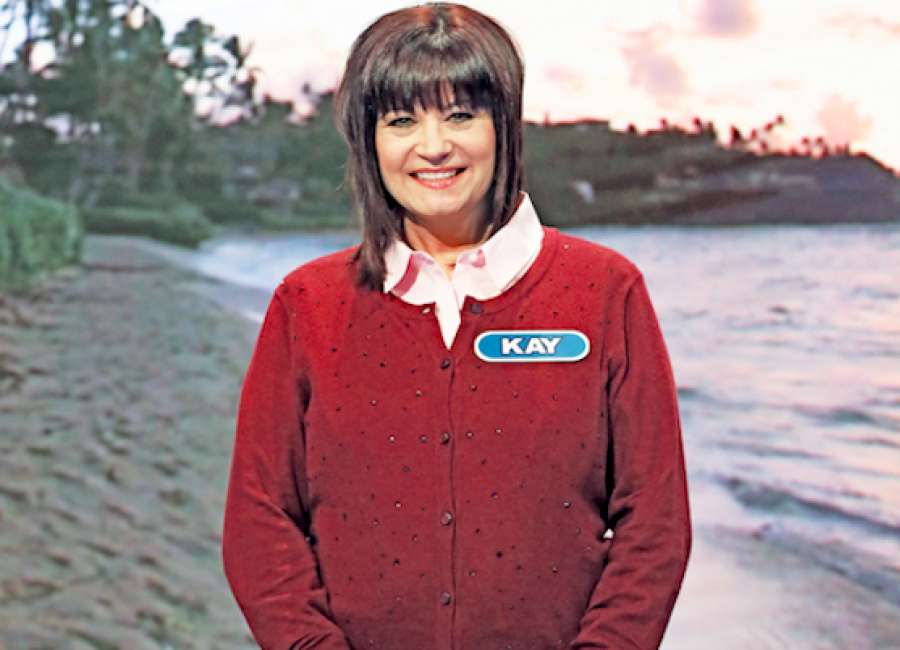 Kay Williams has been a fan of "Wheel of Fortune" for most of her life. 

Earlier this month, she headed to Hollywood to spin the wheel herself – and won big. 
Williams solved two word puzzles – "Remarkable Resemblance" and "Wild and Unpredictable," to win a total of $14,500 – including a trip to Hawaii. 
Williams' episode aired Wednesday night, and she enjoyed a viewing party with family and friends. 
"We had so much fun," she said. 
She's been watching "Wheel of Fortune" since the 1980s. 
"I have always loved that show," she said. "I knew it came on at 7, and that was going to be the one show I did not miss." 
Her kids remember mom watching it when they were young. 
Williams has always loved to solve puzzles – crosswords, word find, riddles, so "Wheel of Fortune" appealed to her. 
"Just like some little girls dream of being Miss America, I was like – gosh, I wish I could be on that show. I bet I could win," she said Thursday.
Several months ago, at the end of an episode "they said something like – want a chance to spin the wheel? Have you always loved the show? Then send us a video."
She thought – how hard could that be? So she made the video, sent it in. And waited. 
She didn't have to wait long. A few weeks later, she got an email. 
"They said we like your video. We want you to come to the live auditions in Atlanta," she said. 
At the live auditions, prospective contestants played a simulated game and did a written test – 18 word puzzles in five minutes. At the end, some contestants were invited to stay. 
"They said they wanted to get to know them a little better," Williams said. 
She wasn't one of those chosen to stay. But someone told her not to worry – that didn't mean she wasn't going to be picked. 
A few weeks later the official letter arrived, asking her to come to LA. She had to arrange her own travel and hotel stay. Luckily Williams' husband, Royce, travels for a living and they had plenty of airline miles and points to cover the flight and the hotel stay. 
They had to be at the studio early on the morning of Dec. 1, Kay's birthday. There was paperwork to fill out and practice puzzles to solve. 
"Then we finally went out and got to spin the wheel," she said. 
They needed some practice – the wheel weighs 2,400 pounds and they had to make sure they could get it to go all the way around. 
Vanna White popped in to speak with them, to wish them luck and tell them not to be nervous. 
"She was very down-to-earth," with no makeup, Williams said. 
That day, six episodes were filmed. Williams was chosen for episode three. 
"I was glad about that," she said. 
She said she didn't want to have to go first, but she didn't want to wait until the end, either. 
Watching the show every night this week, she would see her fellow contestants. 
"I'm like – oh my God, I know him," she said. 
Actually competing in "Wheel of Fortune" is not like watching on TV, she said.
"It's very different when you're up in the spotlight than sitting on the couch at home going 'oh my gosh, why can't she solve that? It's so obvious,'" Williams said. 
"When you're in the moment, you're looking at the puzzle, wondering should you buy a vowel, do you have enough money to buy a vowel – there is a lot going on that people don't know," Williams said. 
Between the show taping and the broadcast, contestants have to keep quiet. They can't tell how they did or what they may have won. 
"I tend to be the one that shops for Christmas presents and unwraps them and wraps them back up because I can't stand the suspense – so that was not the easiest thing in the world to be quiet about," Williams said. 
Williams has never been to Hawaii, so she said she's quite excited about the trip. She has between now and Christmas of next year to take the trip. She can't get the cash, however, until April. 
She said she's glad her husband was able to come with her and that his job made it possible for them to get to LA. 
Pat Sajak and Vanna, and the entire staff, "were just super professional, down-to-earth sweet people," Williams said. "They just took care of us from the moment we got there until the moment we left."
And all the contestants were rooting for each other. 
"It was great – it was just awesome," she said.