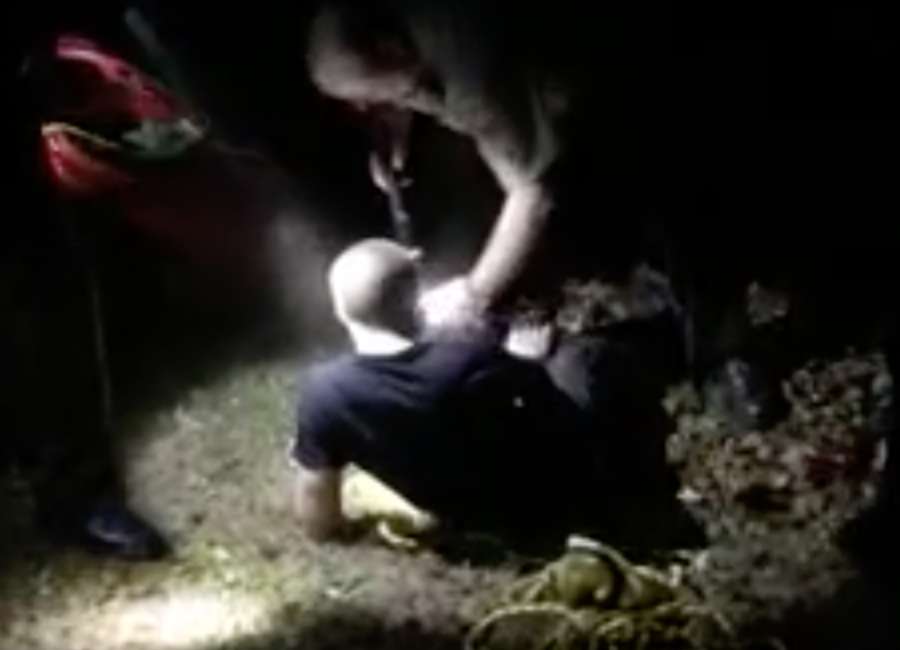 A Texas man remains hospitalized with hypothermia after running from police and then capsizing in a stolen boat.
On Friday night, Sgt. Jeff Bugg with the Coweta County Sheriff's Office was patrolling the area of Hwy. 154 near Interstate 85 when he saw a U-Haul pickup truck run a stop light near the entrance ramp.
Bugg attempted a traffic stop on the driver, later identified as Sean Douglas Demore, who then pulled the truck into the parking lot of Mac's Marathon, but then sped around the building, nearly hitting a parked tractor trailer, according to Chief Deputy James Yarbrough with the Coweta County Sheriff's Office.
Demore then cut across all lanes of 154 and continued west toward Highway 29 where he jumped the tracks and continued going against traffic into Arbor Springs Plantation, Yarbrough said.
After the truck nearly struck a car head-on, Bugg disabled the truck being driven by Demore before it got any farther into the neighborhood. Demore immediately got out of the truck and began running, but his passenger remained inside the truck and was detained by deputies, according to Yarbrough.
The passenger, identified as Frankie Corinthia Palmer, 29, was found with several identification cards from Texas under different names.
She later told police she was wanted for violation of probation in Florida for aggravated assault and drug trafficking charges. She was arrested and charged with two counts of first-degree forgery.
Inside the truck, investigators found a backpack believed to be Demore's that contained 10 grams of suspected methamphetamine, along with a window punch tool, commonly used for entering autos, Yarbrough said.
The U-Haul truck was reportedly rented under a different name and overdue. The truck was also missing the standard U-Haul graphics on the side and had aftermarket tint on the windows, according to Yarbrough.
"Based on what we found in the truck, Demore used someone else's identification to rent the vehicle," Bugg said.
Members from the Coweta County Sheriff's Office K-9 unit began an extensive search for Demore through the Arbor Springs neighborhood for several hours, but called off the search just after midnight on Saturday.
Jose Casablanca and his wife are longtime residents of Arbor Springs. After an email blast alerted the neighborhood about the ongoing hunt for Demore, Casablanca went on high alert. Around midnight, he heard his dogs barking in a peculiar way.
"I knew something was different," he said. "I went outside and looked around, but didn't see anything."
Around 1:45 a.m., Casablanca began driving around the neighborhood in his golf cart. When he reached the area by the lake, he saw police activity on the other side and a commotion coming from what appeared to be the middle of the water.
"I heard a man screaming for help, holding on to a kayak in the middle of the lake," he recalled. "I heard sirens and the fire department arrive."
According to authorities with the sheriff's office, Demore allegedly stole a kayak from a homeowner and attempted to cross the lake, but later capsized.
Members for Coweta County Fire Rescue used a jon boat to retrieve Demore who was reportedly 200 feet from shore, according to Captain Craig Sherrer with Coweta County Fire Rescue.
From the shore, Casablanca watched the rescue unfold and remarked how professional the first responders handled the situation.
"After spending the entire night chasing this guy in the cold, they treated him with kindness and concern," Casablanca recalled. "It was a great example of first responders doing good work and treating people right."
Demore was transported to Piedmont Newnan Hospital to be treated for hypothermia. Sherrer estimated Demore was in the water for around an hour based on his symptoms.
"He's incredibly lucky to be alive," Sherrer said.
Demore has remained hospitalized since Saturday and is facing several criminal charges including reckless driving, fleeing and attempting to elude police and being party to a commission of a crime, investigators said.