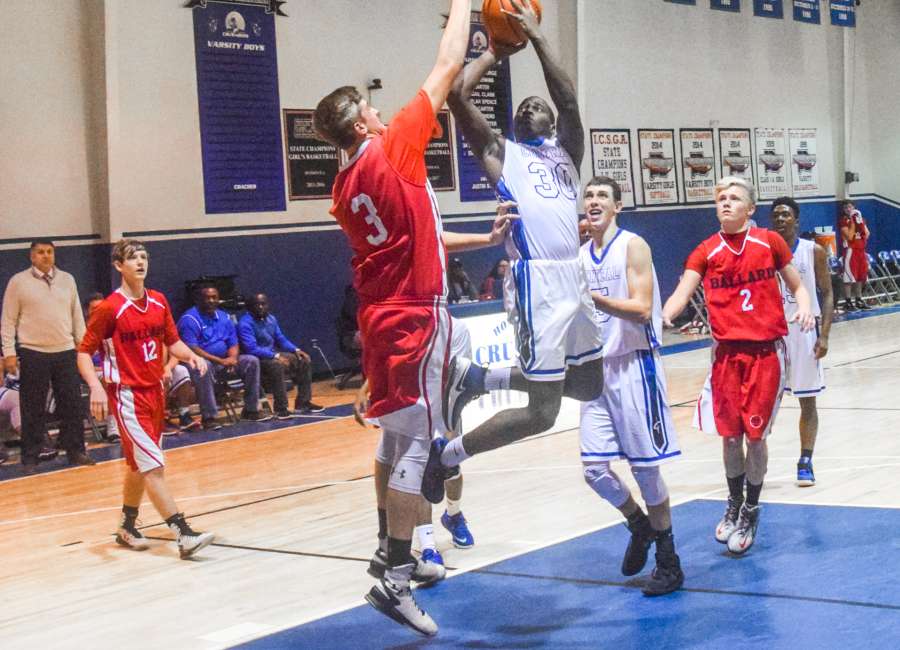 The Central Christian basketball teams tipped off their Christmas Tournament Friday with a sweep of Ballard Christian, and neither game was close.

In girls action, the Lady Crusaders built a 37-2 lead at the half and turned it into a 45-13 victory.
The Central boys also led from start to finish.
After building a 31-12 lead at the half, the Crusaders kept firing on all cylinders in the final two periods, winning 64-34.
Central's girls are trying to win the GICAA state title for the third year in a row, and so far this season nobody has been able to challenge the Lady Crusaders.
With Friday night's victory, the Lady Crusaders improved their record to 6-0 and extended the winning streak to 45 games in a row.
The Lady Crusaders' last loss was a 53-34 decision to Skipstone on December 15, 2015.
Friday night with the starters playing mainly in just the first half, the Lady Crusaders spread the scoring wealth with Madison Morge scoring nine.
Anna Carter added seven  and Ivy Shepherd five.
All three players also connected on one 3-pointer each  for the Lady Crusaders.
In the boys game, Central improved to 5-1. With the win, the Crusaders extended their winning streak to three games.
The Crusaders jumped out to a 9-0 lead helped on a 3-point jumper by Marcellus Johnson.
Central eventually pushed the lead to 14-5 at the end of the first quarter. Ballard's 6-foot, 8 inch, power forward Jordan Saylor scored all five points in  the quarter, including a dunk.
Central didn't let up as Giles scored six of his nine points in the second quarter. The Crusaders led 31-12 at the break.
Ryley Byers continued Central's offensive push with eight points in the third quarter to help the Crusaders extend the lead to 50-26.
The Crusaders outscored Ballard 14-8 over the final eight minutes. Nathan Finley put an exclamation point on the 30-point victory with a 3-pointer in the last seconds of the game.
Central closes out its Christmas Tournament in action Saturday afternoon with games against Alleluia Christian. Girls action starts at noon and the boys game follows at 1:30.