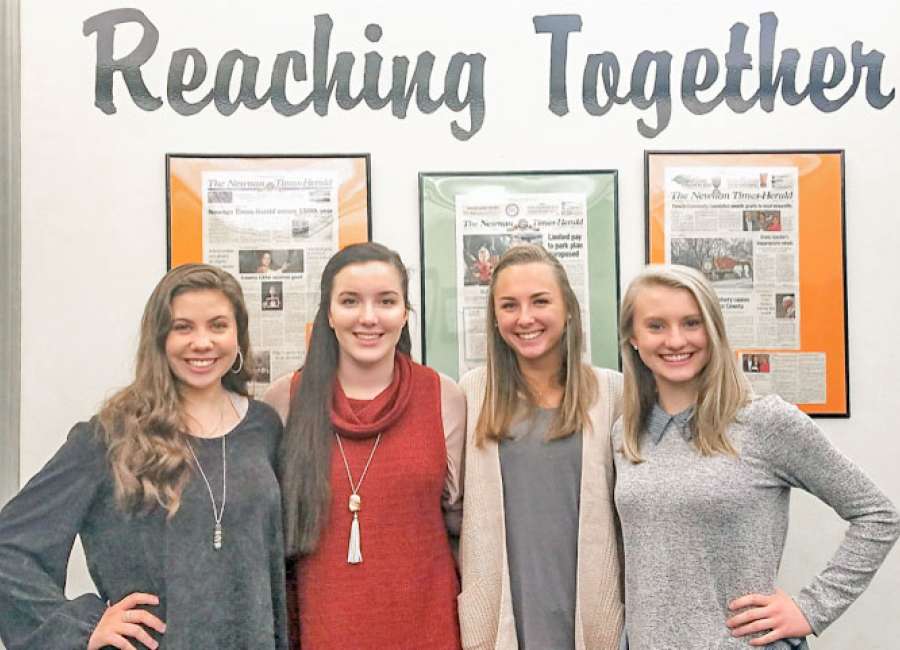 The Coweta Community Foundation's Community Service Team recently elected its executive board for the 2017-2018 year.

Board members include Ashley Stephens, a Northgate High School 12th grader,
chairman; Samantha Morrison, a Northgate High School 11th grader, vice chairman;
Ashlyn Carney, a Northgate High School 11th grader, secretary; Michelle McGrath, a
Northgate High School 11th grader, treasurer; and Sam Huynh, an East Coweta High
School 12th grader, social media and public relations coordinator.
In the fall of 2015, the Coweta Community Foundation launched its first Community
Service Team for local freshmen and sophomores. Members of the team met monthly to study local nonprofits and learn more about how they operate.
At the end of the year, the team chose to give a grant to the Community Welcome House. 
Building on its successful first year, the group added even more members for the 2016-2017 school year, and they awarded their second grant, this time to the Coweta Organization for Riding, Rehabilitation and Learning (CORRAL).
In the fall of 2017, the third group of community-minded high school students, CCF's
largest yet, was selected. "They're already busy learning about the world of Coweta
nonprofits and will again be awarding a grant before the end of the school year," said Ginger Jackson Queener of the community foundation.
The objectives of the Community Service Team are to build awareness of local
nonprofits among high school students, provide an opportunity for active participation in local nonprofit organizations, train young teens to serve as auxiliary board members of local nonprofits during their junior and senior years, bring new ideas and youthful energy to local nonprofit agencies and provide an opportunity for the team to research and select one local nonprofit to receive a grant for a special project or program.
"Membership is determined through an application and interview process among high school students," Queener said. Participants attend monthly meetings during which they are introduced to the various nonprofit organizations serving Coweta citizens, and they also participate in two workdays with a nonprofit agency.
At the end of the student's two-year participation, nonprofits may invite the participant to serve as an auxiliary member of that group's board of directors. In addition, a standout team member each year is awarded a $500 scholarship from the Coweta Community Foundation.
Leading the program are foundation board members Cynthia Bennett, director of
programs for the Newnan-Coweta Chamber and a retired Coweta County educator;
Deidre Bembry, a local State Farm insurance agent; and Michael Nix, executive director, local government, 911 Authority for the State of Georgia.