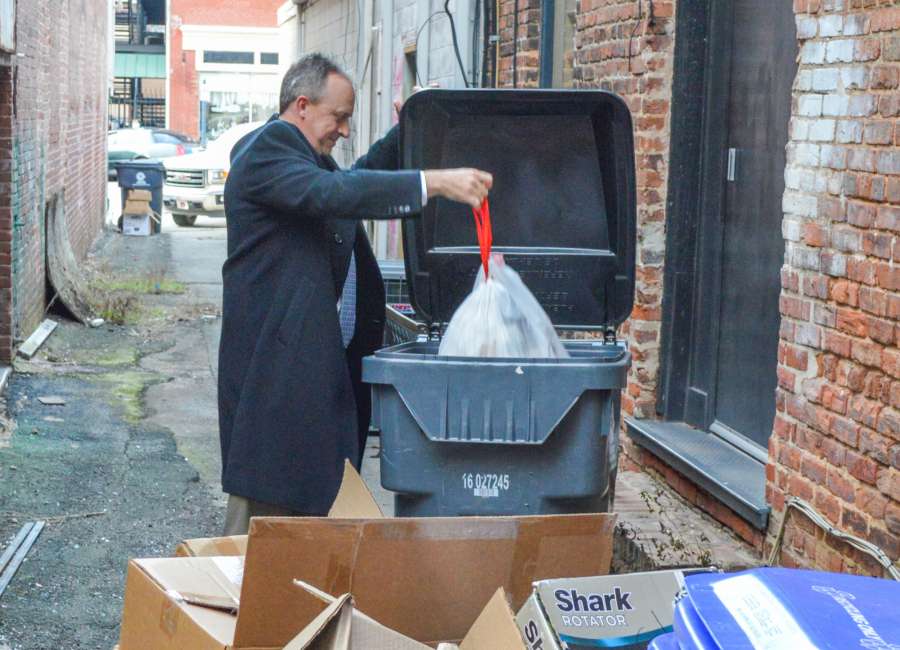 Downtown Newnan's new sanitation service begins Jan. 1, promising cleaner alleys and sidewalks as well as trash pickup six days a week.
Three public hearings were held as the city worked on putting together a plan for cleaning up downtown, according to Hasco Craver, assistant city manager.
Unlike a modern commercial district, downtown Newnan wasn't built to deal with the garbage created from restaurants and other businesses. Some alleys downtown have large numbers of garbage cans that serve businesses, and many alleys aren't particularly sanitary.
"It's disgusting," Craver said. "There are vermin and rodents because people are just throwing food and other trash outside."
The need comes from a thriving downtown business district with more than 95 percent occupancy.
At the public meetings, there were several options discussed. Those included leaving things like they were, starting a new city department or requiring garbage service through private haulers.
While most businesses downtown already have trash service, some don't. Some owners of smaller businesses were just taking their trash home with them, or putting it in other businesses' cans or in the decorative trash cans downtown, Craver said.
Under the new plan, almost everybody will have to have trash service. The only exemptions are for businesses that already have their own dumpsters, or government offices – all of which currently have their own dumpsters, he said.
With service six days a week, there won't need to be nearly as many garbage cans to serve businesses. For businesses that don't have direct alley access, sanitation workers can come in and pick up the trash from inside.
Outside grease containers for restaurants will no longer be allowed on public sidewalks or in public alleys, Craver said. Some alleys downtown are private, and restaurants can still have the grease containers in those.
The downtown sanitation department will have two full-time staff members who will also be able to spend time pressure-washing sidewalks and cleaning up alleys.
But all of this service comes at a cost, and some business owners aren't happy with it.
"My big whopping one bag of trash a month is going to cost me $30 a month in forced sanitation service," said Chris Doane.
He's not sure the system of calculating "touches" – how often a sanitation worker would need to empty a trash can – that was discussed at the public meetings is fair for every business.
"I expect that it's difficult to accurately calculate the amount of trash that many businesses create," Doane said.
As a website development business that does most everything electronically and has three employees in the office, "I feel as if I'm being forced to help pay for another business person's trash," Doane said. "For business owners that don't create any trash or very little, that's basically what will happen."
Doane said several business owners were discussing the issue over coffee Thursday morning.
Lori Duncan of Blue Fern merchant will see her trash service go from $30 a quarter to $79 a month – and that's only after she called the city to complain about the $155 bill she received on Monday.
The bills for the new service are based on the type and size of business. Small offices get the lowest rate, $29 per month. Downtown's largest restaurants will pay $500 a month to have their trash hauled away.
Duncan's original bill was based on her retail store being more than 2,900 square feet. But the store isn't nearly that big. She heard that a fellow business owner had called the city sanitation department about his bill, so she called, too.
Someone from the city came out and measured the store and found that it was well under 2,900 square feet, Duncan said.
Business sizes were taken from tax records, Craver said. Prices were based on "industry standards that showed us how much solid waste is potentially created by restaurants of a certain size, retail of a certain size," he said.
"Those numbers aren't arbitrary," Craver said. "If a measurement was taken that was incorrect, we're happy to go out and talk to whoever the property owner or business owner is."
Multi-tenant offices with more than eight tenants have the option of consulting with Sanitation Department Director Ray Norton to develop a unique billing structure, Craver said.
The costs are designed to support the sanitation service.
"This isn't a profit-making venture," Craver said. "But there is a cost associated with it."