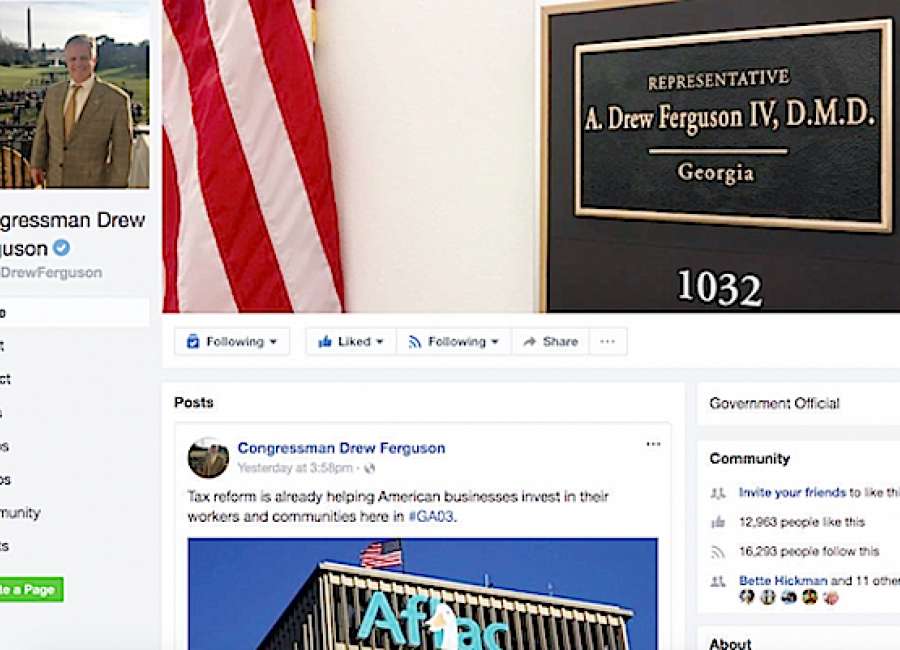 One day in late summer, Ellen Wright went to Congressman Drew Ferguson's Facebook page, as she does fairly regularly. 

When she went to make a comment on a post, she found that she could not. The "comment" and "like" buttons didn't exist under posts, only "share." She realized she had been blocked from commenting on the page. 
"I thought – wait a minute. What the heck?" Wright, who lives in Meriwether County, said this week. She also noticed that some of her comments on Ferguson's posts were gone. 
Ferguson, R-West Point, represents Georgia's 3rd Congressional District, which includes all of Coweta. He was elected in 2016 to replace retiring Congressman Lynn Westmoreland. 
Wright said she doesn't know what particular post got her blocked from the page. 
"Knowing me, it was probably pretty strongly worded," she said. "I'm not prone to using profanity, so I know that wasn't it."
She quickly sent an email to Ferguson's press secretary, Amy Timmerman. 
"Amy started sending me letters on email that said you're not blocked," Wright said. "I'm going – excuse me, I'm sending you you screen shots that say yes I am."
After some back and forth with Timmerman, Wright decided to contact the American Civil Liberties Union about the issue. 
"I have a little bit of exposure to the law, so I knew exactly what it is that they were looking for – this is my complaint, they are violating my First Amendment rights and we've got a problem here," Wright said. "This is an elected official who is blocking his constituents from speaking up."
It took several weeks to hear back from the ACLU but when Wright did, they told her they would be taking the case. 
On Dec. 18, the ACLU sent a letter to Ferguson's office. In it, ACLU of Georgia Legal Director Sean Young wrote that the letter's purpose was to address Ferguson's office's apparent attempt to silence his own constituents in violation of the First Amendment to the United States Constitution.
"It is unconstitutional for your office, a governmental entity, to silence the voices of those with whom you disagree," Young wrote. "Because your government Facebook page has been opened for any member of the public to post comments, it is considered a 'limited public forum' under the law, regardless of how your office chooses to characterize it. And when a limited public forum has been created, it is unconstitutional for the government to discriminate against certain speakers because of the viewpoints they express." 
Young wrote that while legal challenges to censorship on government social media sites are a relatively new phenomenon, at least one court has already found that targeted censorship on government Facebook pages is unconstitutional. 
On the same day Ferguson's letter was sent, the ACLU sent similar letters to the Henry County Police Department, the Habersham County Sheriff's Office and the Worth County Sheriff's Office. 
On the "about" section of Ferguson's official page, it says that "this is a moderated online discussion site and not a public forum. Comments posted to this page will be monitored."
The policy states that profanity, fighting words, promotion of illegal activities, threats, spam, commercial posts, posts identifying others, posts that misrepresent the commenter's identity and posts that constitute campaign-related communications, electioneering or fundraising will be removed and "may result in the inability of the author to comment on future posts."
Ferguson's staff said in an email that the social media policy posted on the page is consistent with rules of the House of Representatives, Supreme Court and other judicial precedent and "widely accepted best practices."
Wright said she thinks Timmerman was referring to Ferguson's personal/campaign page when she said that Wright wasn't blocked. Wright has never been blocked from that page, but even if she had been, that would be OK. Ferguson has the right to say whatever he wants on his personal page, she said. 
If you scroll back through Ferguson's official page to the summer, "the tone of the posts on that page were extremely favorable," Wright said. "Everybody loves Drew, he's wonderful, he's the best Congressman ever, yada yada. If you look at it now the tone is very critical – that's because they can no longer take off any of the critical posts." 
Wright said she knows that critical posts other than hers were also deleted. 
After she contacted the ACLU, Wright, a Democrat, contacted a few groups she is involved with and found other constituents who had been blocked or had their comments deleted. Gwen Moore and George Cantrell are specifically mentioned in the letter from the ACLU. Cantrell could not be reached for comment on this story. 
Moore, who lives in Lamar County, said she has never been blocked and posts frequently, but it was brought to her attention that some of her comments had been deleted. When she started paying attention, she started noticing some were gone. One in particular was a comment urging the congressman to have a town hall meeting. 
It was a very innocuous comment, she said. At times, "I've been a little snarky, but my snarky ones are still on there.
"He is a public figure. He is our representative," Moore added. "And if he is not going to meet with us at a town hall, then this the only place that we can put our feelings about what he is doing – for him to understand what his constituents are thinking. I think Facebook and social media are a very valuable tool to get the word out on what is going on," she said. 
"If he is going to have a Facebook page as Representative Drew Ferguson then he needs to pay attention to what all of his constituents are writing," she said. "He represents us all. Therefore, he has a duty to listen to all of us."
The day the letter from the ACLU was sent, Young contacted Wright and suggested she go check and see if she was still blocked from the page. She wasn't. 
"Well, what do you know?" Wright said. "It's amazing what happens when you get the ACLU involved."
Wright was asked what she thinks would be victory in this issue. 
"I would like to see Drew actually paying attention to all of his constituents, not just those who agree with him," she said. 
She feels that he's not posting as often anymore, to cut down on critical comments.
"If he doesn't post, you can't reply," she said.
Wright said she understands that there need to be some standards for comments, such as no profanity or threats. 
"But as far as just saying – I think your policies stink – we need to be able to be heard," she said.