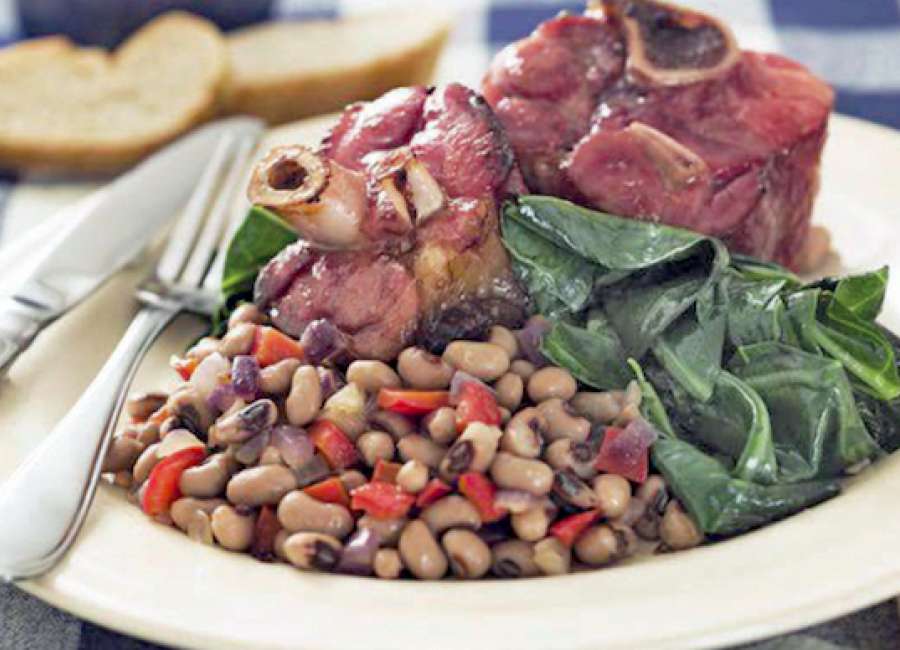 Some southerners take their New Year's meals very seriously. 

"Every New Year's Day we have ham, black eyed peas, collard greens, potato salad and deviled eggs," said Debra Davenport McDaniel.
"Ham, black eyed peas, collards, mac n cheese and potato salad," stated Felicia Wade Wheeler.  "Oh, and cornbread!" 
 
A typical southern meal might include collard greens, black-eyed peas, ham and cornbread. Of course, any variation of greens, beans and pork dishes will do. 
Each dish has a special meaning and eating them will (hopefully) ensure a healthy, happy and prosperous start to the new year. 
"My family does collard greens and black eyed peas, as it is supposed to bring good luck and money for that year. Plus any other foods we want to cook with it," Kassie Hooks stated. 
"(We eat) black eyed peas for luck and collard greens for money in the new year,"  said Cyndi Perry. 
There are several explanations behind the symbolism of black-eyed peas. 
Some surmise the legumes demonstrates humility and a lack of vanity; others believe the dried beans resemble coins.
 
A third interpretation is the dried beans greatly expand in volume and  symbolize expanding wealth.
 
Monetary wealth is also associated with greens, since it is the same color of U.S. currency. 
Some believe pork represents "moving forward," in a positive motion since pigs root forward when foraging. 
The cornbread is usually just for taste, although some said it symbolizes gold. Either way it is a great addition to any southern meal. 
Some people mix the black eyed peas and pork with rice, onion and salt to create the popular dish Hoppin' John. The savory mixture is typically served with a side of collard greens. 
Southern cuisine is not the only thing on the menu on New Year's Day. Some folks honor their heritage during the holiday. 
"My family has New York/Italian roots, so we make homemade pizza every New Year's Day," explained Hannah Woodruff. 
According to theculturetrip.com, Italians typically dine on lentils and cotechino, a pork sausage. The beans, which are shaped like coins, are thought to bring prosperity for the year ahead. The cotechino with its rich and fatty qualities symbolize future prosperity. 
Eating a dozen grapes, one during each stroke of midnight, is a Spanish New Year's tradition, according to theculturetrip.com. 
The flavor of the grapes reportedly foretells a person's fortune. A sweet grape predicts a good year; a sour one means rocky times ahead. 
The use of fruit on New Year's Day continues in Turkey.
People smash the delicious sweet and sour red fruit onto their doorways on New Year's, stated officials with theculturetrip.com. The more seeds that burst out, the more good fortune you will acquire. 
The seeds also symbolize fertility and abundance for the coming year.
But not everyone puts credence into eating traditional foods during the New Year's holiday. 
"... If you get caught (up) in superstition, then it's going to be more of what it was the year before," stated Keith Patton. "So, (I'll have) Alaskan King crab and my beautiful wife to help me eat it."
No matter what is being served this New Year's weekend, the staff at the Newnan Times-Herald wishes everyone a safe and happy holiday. 
***
Here are some recipes with a unique twist on those classic, southern New Year's Day favorite meals. 
Chili-Roasted Black Eyed Peas
These flavor-packed peas will bring good luck in the new year, with a little extra "zing." 
Roasting the peas gives them a crispy texture that's perfect for snacking or serving as an appetizer on New Year's Day.
Ingredients: 
* 2 (15.8-oz.) cans black-eyed peas, rinsed and drained
* 3 tablespoons olive oil
* 1 1/2 teaspoons chili powder
* 1 teaspoon pepper
* 3/4 teaspoon ground cumin
* 1/2 teaspoon salt
Recipe:
* Preheat oven to 425°. 
* Combine all ingredients in a medium bowl. Transfer mixture to a lightly greased 17- x 12-inch jelly-roll pan. 
* Bake 45 to 50 minutes or until crispy and dry, stirring every 10 minutes. Let cool 20 minutes.
(Recipe Courtesy: www.southernliving.com)
Loaded Cornbread
A twist on classic cornbread. Loaded cornbread packs a punch with a lot of flavor by adding Cheddar cheese, bacon, onions and peppers. It is hearty enough to use as an appetizer or accompany a meal. 
Ingredients: 
* 1 (20-ounce) package frozen creamed corn, thawed
* 1 (8-1/2-ounce) package Mexican cornbread mix
* 1 cup (4 ounces) shredded Cheddar cheese
* 8 bacon slices, cooked and crumbled
* 2 green onions, minced
* 1/4 teaspoon ground red pepper
Recipe:
* Preheat oven to 400 degrees F. 
* Stir together all ingredients until blended. Pour into a greased 8-inch square pan.
* Bake 25 to 30 minutes or until bread is lightly browned and a wooden toothpick inserted in center comes out clean. Cut into squares to serve.
 
(Recipe Courtesy: www.mrfood.com)
New Year's Good Luck Dip
A different and fun way to eat collard greens on New Year's Day, especially for those not fond of the leafy greens. While similar to spinach dip, the thick dressing combines several colorful flavors into one dish. It can be paired with veggies, crackers, chips or spread on a toasted baguette. 
Ingredients: 
* 2 slices bacon
* 1 small sweet onion, chopped (about 1 cup)
* 1 medium red sweet pepper, seeded and chopped (3/4 cup)
* 1 lb. fresh collard greens, trimmed of stalks and veins and finely chopped (6 cups)
* 3 cloves garlic, minced
* 1 (8-ounce) package cream cheese, cubed and softened
* 1/2 cup (2 ounces) Monterey Jack or Parmesan, shredded
* 1/2 cup sour cream
* 1/4 teaspoon salt
* 1/4 teaspoon red pepper flakes (optional)
Recipe:
* Preheat oven to 350 degrees F.
* In a skillet, cook bacon until crisp. Drain bacon on paper towel. Set aside.
* Discard all but 2 teaspoons of bacon drippings from skillet. Add onion and sweet pepper to skillet and cook over medium heat until vegetables are tender, about 5 minutes.
* Add collard greens and garlic; cover and cook until tender, about 10 minutes. Remove from heat.
* Add cream cheese, cheese, sour cream, salt and red pepper flakes (if using) to the collard mixture, stirring until combined.
* Crumble bacon and add to collard mixture.
* Spread mixture in a 1-1/2-quart casserole dish or pie plate. Bake uncovered for 10 minutes. Then serve.
(Recipe Courtesy: www.ezrapoundcake.com)