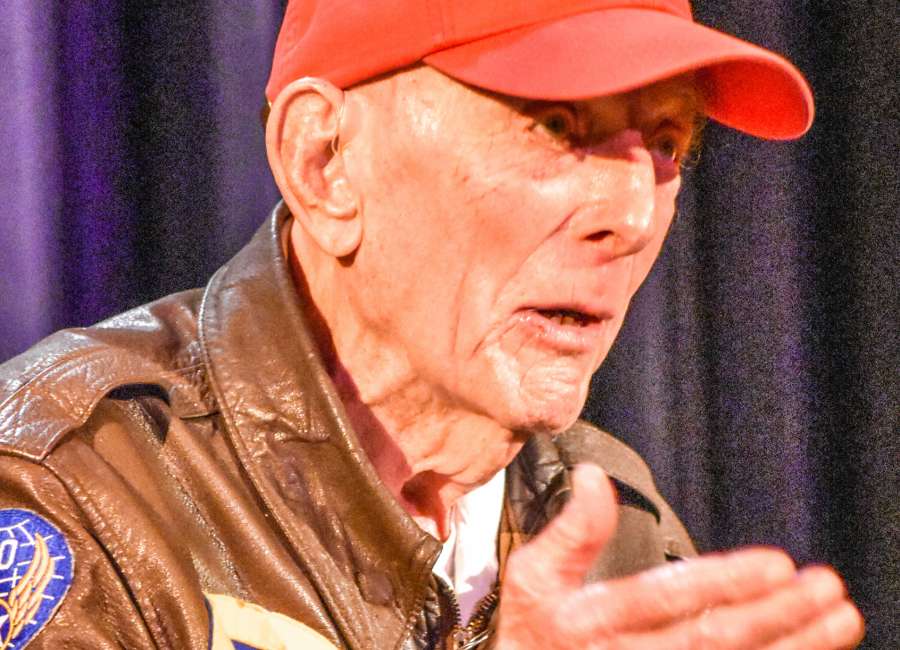 Jerry Yellin was working the night shift at Crucible Steel in late 1941, socking away $80 a week to pay for living expenses to augment the academic scholarship he'd won to Rider College, when he picked up a local paper and read about the Japanese attack on Pearl Harbor.

He'd grown up in Hillside, New Jersey, building models of World War I airplanes. Yellin's heroes were Charles Lindbergh, the Flying Tigers and the Spitfire and Hurricane pilots of the Battle of Great Britain. Despite never having been in an airplane himself, the 17-year-old made a decision that day: He'd pass on college and enlist.
"I said, 'I'm going to fly fighters against the Japanese,'" Yellin said.
Now 93, the retired Army Air Corps captain traveled to Newnan High School to share his story Monday as part of the NHS History Speaker Series.
It started with a trip to the armory in Newark, where he picked up the papers that would allow him to become an aviation cadet. The man who gave Yellin his papers asked him if he was smart, because he'd have to have two years of college or pass an equivalent examination. On Feb. 15, 1942, the day he turned 18, Yellin enlisted and aced the exam that proved he was smart enough. Seeing well enough was another matter.
"I flunked the physical because I had 20/30 vision in one eye, and I needed to have 20/20 vision in both eyes," he said.
He was advised to stay in a dark room, eat lots of carrots and not read anything for three days, but he had a better idea. Yellin asked his mother, who was on the draft board, to bring him a copy of the eye chart. He memorized it, aced the eye exam and was inducted into the the Army Air Corps in August of 1942.
After undergoing mental, physical, psychological and agility tests to see if he was best qualified to be a pilot, a navigator or a bombardier, Yellin qualified for all three. He chose pilot and in early 1943 was sent to Santa Ana, Calif., for preflight training in a Spearman open cockpit plane with a 220 horsepower engine. After training in incrementally larger planes in Tucson and Phoenix, Az., he was ready for a P-40… and a solo flight.
"When they thought you were ready, they put you in the cockpit of a P-40 and blindfolded you," Yellin said. "You had to touch every switch and tell them what every control and instrument was. If you passed that test, they took the blindfold off and told you take off. It had a 1,200-horsepower engine that was very powerful."
Yellin said the smell of the fuel and the feel of the airplane was completely different.
"I got to 8,000 feet before I even thought about hitting the switch to put my landing gear up," he said.
After a couple of easy turns, steep turns, a roll and a loop, "You know you can fly the airplane but now you have to land it," Yellin said. "There's been no practice. You just do it."
Ten hours of training in the P-40 and 10 days away from graduation, Yellin already had bought his uniforms at Goldwater's Department Store in Phoenix when he took his final physical… and flunked the eye test.
"My eye was still 20/30 but they changed the eye chart," Yellin said.
The examining doctor told him he could graduate with his class but he'd be flying transport, not fighter planes. Yellin objected and asked who could change that order. He followed the chain of command and found himself in front of the commandant of cadets, to whom he pleaded his case.
"Without blinking an eye, the colonel said, 'Anybody that's got the guts to come and see me is a fighter pilot,'" Yellin said.
After graduating from Luke Air Field as a fighter pilot in August 1943, Yellin spent the remainder of the war flying P-40, P-47 and P-51 combat missions in the Pacific with the 78th Fighter Squadron. He flew eight-hour strafing missions in the narrow seat of a P-51, attacking Japanese targets with bombs and machine-gun fire.
In 1945, he was pulled into a briefing room and shown a relief map of a small island called Iwo Jima, where on Feb. 19 of that year, 67,000 American Marines landed to fight against 23,000 Japanese soldiers. In that battle, 21,000 Japanese and 7,000 Americans were killed.
"That's 28,000 rotting bodies in the sun over a period of 36 days," Yellin said. "You can emulate the sights in films and snapshots and you can emulate the sounds of the guns firing, but you can never, ever emulate the smell of 28,000 rotting bodies in the sun. That smell, sight and sound are with me to this day."
For 30 days, Yellin's squadron dropped napalm and bombs, strafing the island while Marines took it "by the yard," he said. On April 7, 1945, they took their first long-range flight from Iwo Jima, escorting B-29s on bombing missions to Japan.
Assigned to be high cover for 12 airplanes from the 78th, Yellin watched from 12,000-14,000 feet as little fires from the bombs being dropped on Tokyo became huge fires covering many square miles.
"It never occurred to me that there were human beings on the ground," Yellin said. "To me they were the Japanese, incredibly dangerous people who to me were not part of the human race. I saw their atrocities on the dead Marines on Iwo Jima, with their faces bashed in and their teeth pulled out so they could get the gold (fillings)… It was a horrible sight."
He had already lost five friends to training accidents in Hawaii, and another 11 were killed in combat over Japan. Three of Yellin's wingmen were killed. One died when his plane went down in a storm, and one bailed out of his damaged plane and made it to a life raft, where he was killed by mortar fire. The next squadron was ordered to fire on and sink the raft to prevent cannibalization of his body.
The third was 19-year-old Phillip Schlamberg.
On Aug. 6, 1945, the atomic bomb was dropped on Hiroshima. Yellin was strafing an airfield somewhere over Japan, so he didn't hear about it until his return, when one of his buddies jumped on the wing of his plane, props still spinning, and said, "We dropped one bomb, wiped out a city!"
"I said, 'What are you drinking? I'd like some,'" Yellin said. But it was true. And on Aug. 9, another atomic bomb was dropped on the city of Nagasaki.
"We knew the war was over and no more guys were going to be killed," he said.
But they were called once again to a briefing, shown a relief map and told they would be flying a strafing mission over Japan on Aug. 14. Japan was negotiating, they were told, but there was no movement and the 78th would have to go up "to keep them honest."
"With that, Phil Schlamberg leaned over to me and said, 'Captain, if we go on this mission, I'm not coming home,'" Yellin said. "I said, 'Phil, what are you talking about?' and he said, 'It's just a feeling I have.'"
On the morning of Aug. 14, Yellin briefed Schlamberg to stay on his wing, expecting any minute to hear the code word "Utah," which would have indicated the end of the war and directed them to abort the mission. More than three hours into the mission, they hadn't heard the code word so they completed the strafing mission and headed back to the island.
"I looked over at Phil and gave him the thumbs-up, and he gave me the thumbs-up," said Yellin, who then led the planes into "very, very heavy weather" on the way to the navigating B-29.
"We I flew out into clear skies, Phil was gone," he said. "There was no radio contact, there was no visible sighting. He was just gone."
Phillip Schlamberg, at the age of 19, became the last man killed in combat in World War II – as it turned out, after the war had officially ended.
"When we landed on Iwo Jima, we found out that when were started the mission, started strafing those airfields, the war with Japan had been over for three hours," Yellin said. "'Utah' was broadcast but we never picked it up."
For 30 years following the war, Yellin said, he struggled with undiagnosed post-traumatic stress disorder. His wife decided to try transcendental meditation after seeing Maharishi Mahesh Yogi on the Merv Griffin talk show, and learning to meditate led Yellin to a better mental state, he said.
"I got my life back within two or three weeks," he said. "I became a human being again. The stress was just completely eliminated from my body."
In October of 1983, Yellin visited Japan on business and became enraptured by the people he had once considered less than human. The youngest of his four sons vacationed there, stayed to teach English, married a Japanese woman and raised a family there.
"My enemy became my family," Yellin said. "Through my children, I have discovered something that I think is of major importance. That is that we are not the color of our skin, we are not the language we speak, we are not the religion we believe – we are all human beings together.
"The evil in the world is those who believe something strongly enough to kill to promote it," Yellin added. "That's the height of evil."