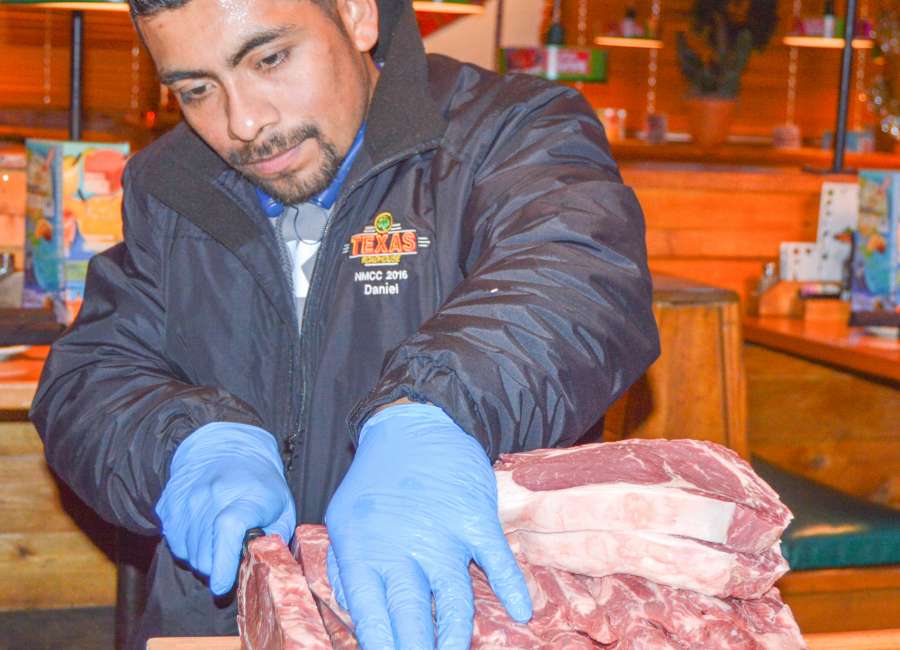 Daniel Castro's job as a meat cutter at the Texas Roadhouse restaurant off Bullsboro Drive in Newnan is propelling him to the top of his field.

For the third year in a row, Castro competed in the Texas Roadhouse Meat Cutting Challenge in Kissimmee, Fla., in early November.  
The man beat out nine other meat cutters, won the contest and will compete against other regional finalists in Orlando, Fla., in March.
Castro began working at Texas Roadhouse 10 years ago as a line cook. He was pulled into the main room to try his hand at meat cutting - and never looked back.
"I like being by myself. I'm in my own world. No one bothers me and I can do my own thing," Castro explained.
Drigo Celis, manager and partner of the Texas Roadhouse in Newnan, said Castro's skills play an important part in the restaurant's success.
"He's the most key employee. He cuts almost every steak back there - about 80 percent of the meat," Celis stated. "We have thousands of patrons that come through here every week, so he helps all those customers have a great meal in here."
The meat cutting competition is fierce. Castro and his competitors sharpen their knives and must skillfully cut and carve up different meats such as sirloin, ribeye and a filet within a certain amount of time.
When Castro won the competition in early November, he was presented with a large, crystal-encrusted championship belt and a trophy.
If Castro wins the regional contest, he will move on to the finals where the stakes are much higher. The winner of the national competition will be crowned "Meat Cutter of the Year" and receive a grand prize of $20,000.
He said he is not nervous about the upcoming competition, but he is hoping third time will be a charm.
Castro, Celis and colleagues have been holding mock trials in the restaurant to keep the meat cutter's competition skills as fresh as possible.
"We're all very proud of him here," Celis said. "He's been doing this a long time and we're excited that he's here."
Celis will travel to Orlando in March with Castro for the regional competition.
Castro is not looking too far ahead, but said if he wins the national title he will spend the money on his family.
Until then, Castro is content with his restaurant responsibilities.
"Right now, I really like what I'm doing," he said. "Maybe in the future I'll try something else."