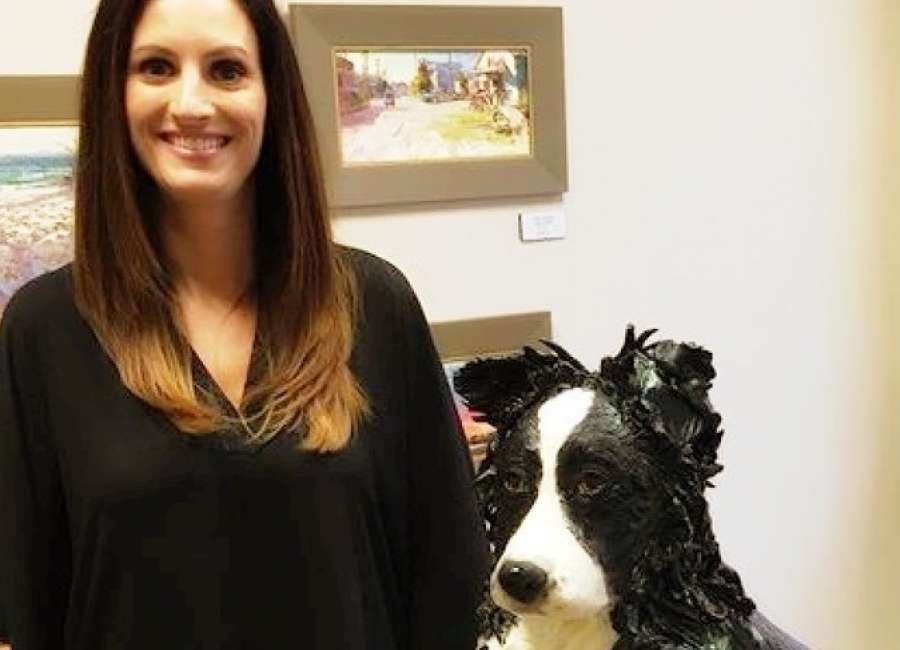 Bonne Bedingfield's artwork is painstakingly detailed, ornately decorated and almost always destroyed within hours by her customers.
Bedingfield's artistic talent resides not only with a paint palette, but also with a food palette. The Newnan native bakes cakes, creates and decorates the sweet treats into almost anything imaginable: from lifesize, realistic looking dogs to architecturally correct buildings and sculptures to "theme" cakes and everything in between.
Bedingfield is the owner of Beautifully Baked and said her inspirations for creating elaborate cake concoctions came from Martha Stewart and oil painter, Bob Ross.   
"I remember looking at Bob Ross' palette of paint on Saturday mornings and wondering if the paint would taste as good as it looked. I never tried it, but I wanted to," she laughed. "I suppose I've found my perfect balance - food and art.
Bedingfield said she's always had a strange fascination with cakes since childhood. "It the art of it; the creation. I specifically remember watching Martha Stewart in a trance while she decorated a cake with gobs of Swiss meringue buttercream. I was drawn in and mesmerized."
Bedingfield's love of the arts started with oil painting. It wasn't until she became pregnant with her first child 12 years ago that she traded her paint and brushes for frosting and fondant.
"I had to call it quits due to some of the toxic materials used to paint," Bedingfield explained. "I found cake design equally as gratifying, if not more so; you can't eat paintings."
In the beginning, she wasn't sure if she would enjoy baking. "I saw it as a vehicle that would take me to design. But now it's just as much of an art as the other aspects that go into my creations. It's the calm before the storm. It's my zen."
Bedingfield bakes for birthday parties, graduations, reunions and business milestones. Next week, she will create cakes for the Newnan-Coweta Historical Society's Possum Supper and the Feast for Habitat with the Newnan-Coweta Habitat for Humanity. 
She also designs elegant wedding cakes and produce entertaining grooms' cakes. 
"I like the sense of accomplishment each time I finish a really tough cake. I like knowing that I've given a little piece of my soul for others to enjoy," stated Bedingfield. 
"A lot of people ask me if it's painful to see someone cut into one of my cakes. It's not painful to watch, but some cakes that I've grown to love, I'd rather not cut. That being said, I don't mind someone manning the knife while I watch.
"You spend hours of your time investing in this creation only to have it eaten, " she continued. "But that's the point. That's the goal. I want it to be eaten! It's something that can be enjoyed with all of the senses. The taste is as equally important as the design. And unlike art, you get to taste it."
All of Bedingfield's sweets are freshly prepared, so time is of the essence when working on a large cake. She assembles as much as she can ahead of time and leaves the baking production until last.
Her biggest and longest production took 144 hours to prepare, bake and assemble, Bedingfield said. The prep work took the most amount of time - about 134 hours.
The lifesize creation included a large dog curled up on a rug in front of a fireplace, complete with drinks and books on the mantle, plus paintings on the wall. Everything was edible, including the clear, spun-sugar drinking "glass."
The Newnan native is partial to chocolate cake, but said caramel, carrot and lemon creme flavors top her favorite's list.
While she still dabbles in oil painting, Bedingfield's edible creations are now the main artistic medium.
"I'm a mom of three, and I'm fortunate to have fallen into a career that allows me to balance family and business," she said.
****
Melanie Ruberti